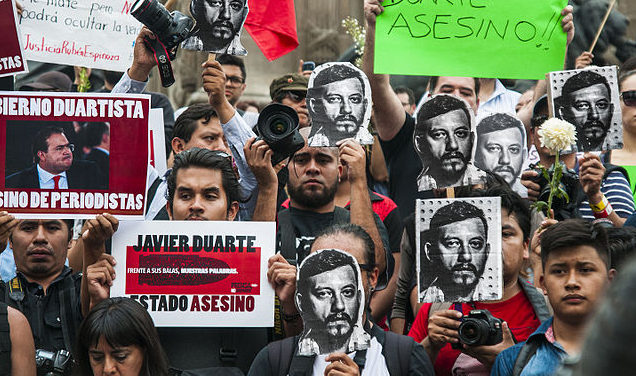 Protesters hold Duarte responsible for 2015 murder of photojournalist Rubén Espinosa
Photo: EneasMx, via Wikimedia Commons
Mexicans Indignant over Light Sentence in Infamous Corruption Case
September 28, 2018
By Staff
TODAY IN LATIN AMERICA
MEXICO: President-elect Andrés Manuel López Obrador channeled the general outrage in the Gulf state of Veracruz yesterday, dismissing former Governor Javier Duarte's nine-year sentence on organized crime and money laundering charges as a "circus." "How many typefaces, how much ink, how many words, how many images, what a show over these matters, only to end in a sentence like the one we just found out about," López Obrador vented. Speaking at a press conference outside his transition headquarters, the firebrand leftist took the opportunity to renew a campaign pledge to seek harsher penalties for official corruption.
Duarte's case has been cast as emblematic of pervasive corruption in the long-dominant Institutional Revolution Party, whose deep unpopularity and perceived decadence contributed to López Obrador's overwhelming election victory. Between 2010 and 2016, Duarte embezzled tens of millions from government coffers and reportedly maintained extensive ties to various drug trafficking organizations. Once dubbed a rising star in the party by outgoing President Enrique Peña Nieto, he fled to Guatemala before the end of his term and was captured and extradited last year.
In accordance with the terms of his plea agreement, Duarte forfeited some $120 in moneys and properties. But aside from a small penalty, he will not be required to make reparations to pensioners, hospital patients, students, and other Veracruz residents defrauded and deprived of basic services by his administration. Nor will he have to answer for his suspected involvement in widespread forced disappearances and the assassination of journalists. Instead, he will be credited for time already served behind bars and eligible for parole after just three additional years in prison.
HEADLINES FROM THE WESTERN HEMISPHERE
NORTH AMERICA
MEXICO: President-elect Andrés Manuel López Obrador met for the first time with oil and gas executives yesterday to assuage fears that he plans to alter or reverse existing contracts. Following the closed-door meeting, incoming Energy Secretary Rocio Nahle told reporters that the López Obrador administration will even work to eliminate regulatory delays. Recent auction winners expressed optimism that their projects will advance quickly once the transition of power takes place in December.
CARIBBEAN
MULTIPLE COUNTRIES: Heavy rains caused flooding throughout the eastern Caribbean yesterday as Tropical Storm Kirk continued its northwest trajectory. Forecasters issued warnings of strong winds, flash flooding, and possible mudslides for Barbados, St. Lucia, Dominica, Martinique and Guadeloupe, but the storm is expected to subside by the weekend.
CENTRAL AMERICA
GUATEMALA: For the second time in five years, a Guatemalan court acquitted former intelligence chief José Rodríguez Sánchez of crimes against humanity. In the same decision, the judges, who split 2-1 on the question of Rodríguez's guilt, unanimously ruled that the country's decades-long civil war was indeed a genocide. Rodríguez had been previously acquitted in 2013, but was ordered retried by the court that overturned the conviction of the dictator under which he served, General Efraín Ríos Montt. Prosecutors have argued that both men ordered the killings of 1,771 indigenous Ixil Guatemalans in the 1980s.
GUATEMALA: Archaeologists identified more than 61,000 ancient Mayan structures within a largely overgrown 800-square-mile section of northern Guatemala, in what one of the archaeologists called "the largest survey of its kind in Mesoamerica to date." The study, backed by the Maya cultural heritage foundation PACUNAM and published yesterday in the journal Science, employed Lidar laser-mapping technology to see through dense jungle cover.
ANDES
BOLIVIA: In a surprise announcement yesterday, President Evo Morales granted amnesty to two predecessors, Jorge "Tuto" Quiroga and Carlos Mesa, who faced charges for alleged contracting irregularities and the unlawful expulsion of a Chilean mining company, respectively. Morales, who is running for a controversial fourth consecutive term next year, said the decision was strictly "personal," made in the interest of enlisting both presidents in Bolivia's pending international case against Chile over access to the Pacific Ocean.
ECUADOR: After six months in Ecuador's London embassy without internet access, Julian Assange will be stepping down as Wikileaks editor-in-chief, the transparency gadfly President Lenín Moreno said Wednesday that he is working with Britain for a legal solution to allow Julian Assange to leave the Ecuadorian embassy in London. Although he declined to provide more details due to the sensitivity of the case, Moreno said that Assange's safety and the preservation of his human rights are a top priority.
SOUTHERN CONE
BRAZIL: The national oil company Petrobas agreed to pay more than $850 million in fines for the billions it paid in bribes to Brazilian politicians and political parties. Of that sum, 80 percent will go to Brazilian coffers, while the remainder will be split between the U.S. Securities and Exchange Commission and Department of Justice, which helped investigate the international corruption scandal.
BRAZIL: The federal electoral authority's website experienced intermittent technical difficulty yesterday as Brazilians checked to see if they were among the more than 3 million voters stricken from the formal registry. In a 7-2 ruling Wednesday, the supreme court upheld the voters' removal, on the basis that they did not submit their fingerprints on time. Many of the stricken voters reside in the poorer northeast region, which tends to skew toward the political left. Critics say that authorities did not properly inform voters about the new biometric requirements.
ARGENTINA: The peso fell again yesterday, despite the announcement of an expanded $57.1 billion loan agreement with the International Monetary Fund on Wednesday. The currency has lost more than half of its value in 2018 due to depreciation and extreme inflation. Disbursement of the expanded loan, the biggest in the IMF's history, will also be accelerated in an attempt to mitigate the worsening crisis.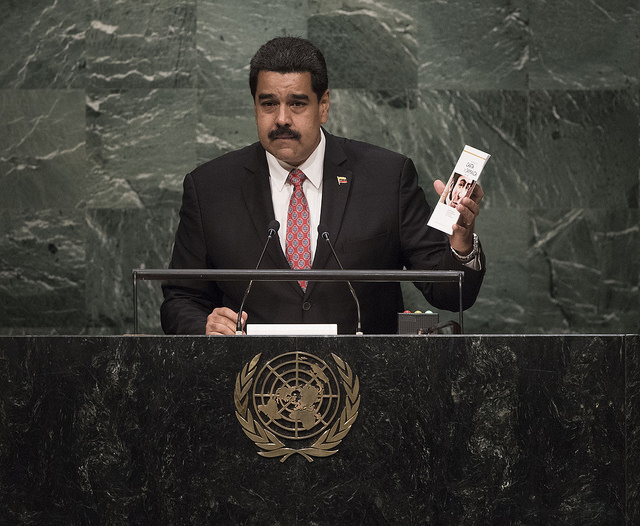 September 27, 2018
> Staff