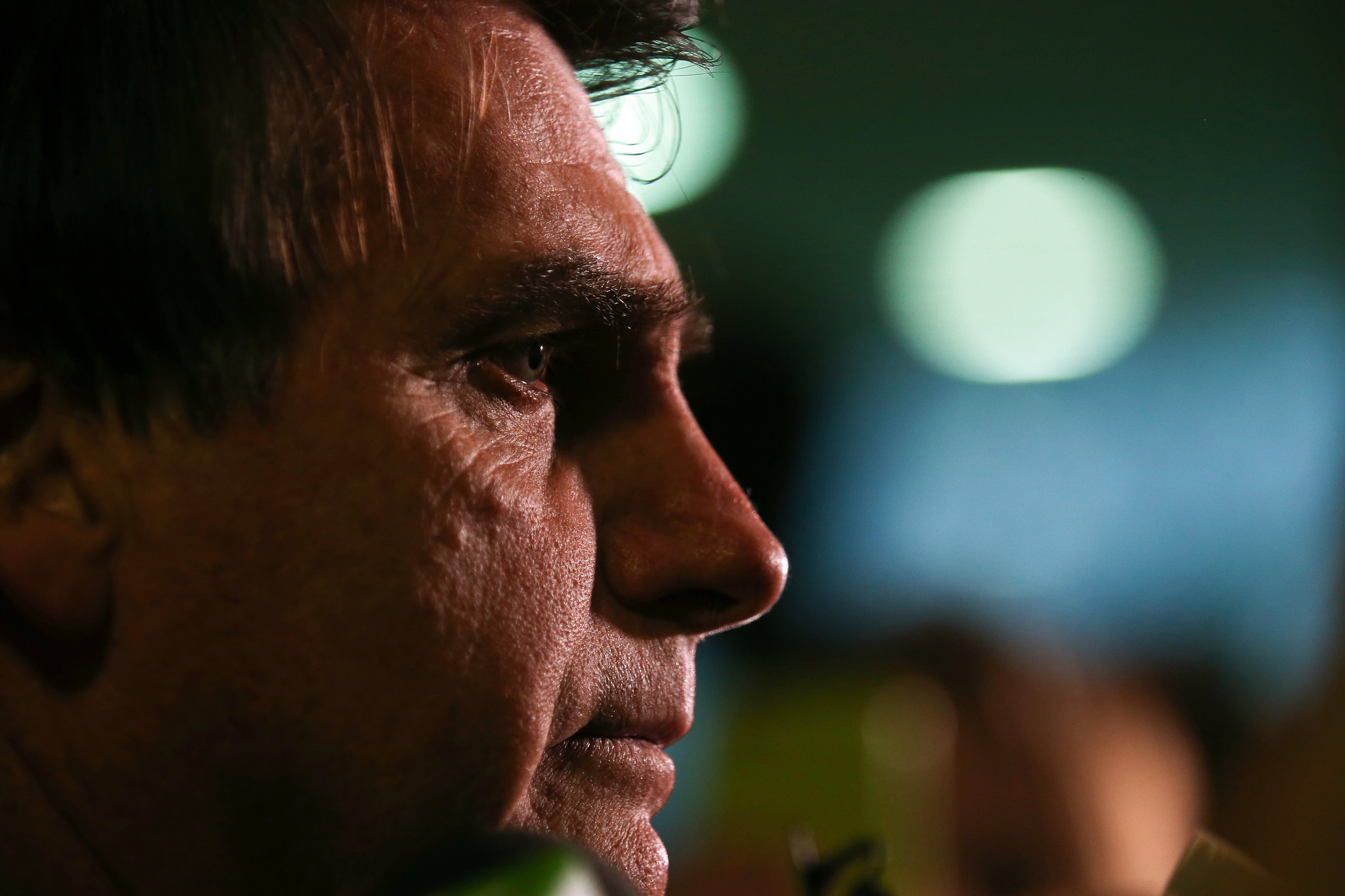 Far-right candidate Jair Bolsonaro won the first round of Brazil's presidential election. He will face his opponent, Fernando Haddad, in a runoff on Oct. 28. Photo by Fábio Rodrigues Pozzebom/Agência Brasil (CC BY 2.0)

Bolsonaro snatches the first round of Brazil's presidential elections
October 8, 2018
By Staff
TODAY IN LATIN AMERICA
BRAZIL: A contentious presidential race in Brazil reached its conclusion yesterday as the votes began tallying in. Jair Bolsonaro, the far-right candidate from the Social Liberal Party, won a convincing victory with more than 46 percent of votes.
However, Bolsonaro will have to face a runoff on Oct. 28 against his opponent, Fernando Haddad, from the Worker's Party, for narrowly missing the 50 percent mark needed to win outright.
Brazilian voters saw Bolsonaro become the leading candidate after former President Luiz Inácio Lula da Silva was convicted and imprisoned for corruption, money laundering and bribery in August — forcing him to abandon the presidential bid.
At the time, Lula da Silva held a 39 percent of approval amongst voters; Bolsonaro followed with a 15 percent. Lula da Silva's replacement, Haddad, has had a hard time catching up.
The conservative Bolsonaro has been a controversial character during the race and has infuriated minority groups throughout Brazil due to his racist, sexist and homophobic comments. Bolsonaro survived a stab to the stomach after being attacked during a campaign rally on Sept. 7.
HEADLINES FROM THE WESTERN HEMISPHERE
NORTH AMERICA
MEXICO: The country's Ministry of Health has filed 70 complaints to the General Attorney's Office for diverting $150 million dollars from the public health sector. These funds were originally for "Popular Insurance" and were evidently reduced across 15 federal entities. At least two unnamed governors are being prosecuted for reallocating the money, among other things.
MEXICO: President-elect Andrés Manuel López Obrador announced that fracking will no longer be used for extracting fossil fuels during his six-year term. Unlike his predecessors, López Obrador said the government will use more environmentally friendly techniques to extract oil. In response, former president Vicente Fox Quesada posted a video on Twitter denouncing López Obrador's plan to eliminate fracking, emphasizing that Mexico must take urgent advantage of fracking as a "modern technology" and that it poses no risks towards the environment.
MEXICO: Bahías de Papanoa, in the southwestern state of Guerrero, became the region's first beach to accommodate tourists with disabilities. Authorities say the project aims to serve 18,600 people. The beach caters its furniture, beach beds, walkers and rescue stretchers, along with lifesavers and inflatable jackets, to folks with disabilities. The town has also become more welcoming by installing braille directories, signs and menus while increasing accessibility to restrooms and other amenities with ramps.
CARIBBEAN
HAITI: A 5.9 magnitude earthquake struck Haiti late Saturday and killed at least 12 people. It is one of the strongest quakes to hit Haiti since 2010, when a 7.0 magnitude quake killed up to 100,000 people.
JAMAICA: On Friday, Prime Minister Andrew Holness announced that the state of emergency in three sections of Kingston has been extended until January of 2019. The order, which includes an anti-crime pilot program carried out by the Jamaican military, was originally called on September 23 and was only meant to last 14 days.
TRINIDAD & TOBAGO: Last week, the Office of the Attorney General of Colombia arrested three women who are suspected in organizing a sex-trafficking ring of minors in Trinidad and Tobago. The women are suspected of tricking minors into sex work. Their modus operandi involved finding young girls (between the ages of 15 and 19) in the Colombian central department of Caldas and offering them opportunities in Trinidad and Tobago as waitresses, nurses or nannies.
CENTRAL AMERICA
GUATEMALA: Even a $1.3 million joint campaign between the U.S. government and Guatemala has not stopped people from fleeing extreme poverty and starting the journey north. In fact, Guatemalans now make up nearly half of all Latin American migrants who travel to the United States. In the past year, 42,757 Guatemalan families were apprehended or stopped at the U.S.-Mexico border. This is a significant rise. Two years ago, less than one-third of Latin American immigrants were Guatemalan.
PANAMA / COSTA RICA: Panamanian customs authorities announced Saturday that a three-day strike and blockade in the Panama-Costa Rica border city Paso Canoas has cost Panama over $20 million. Costa Rican protestors blocked the passage of cargo vehicles from all of Central America to Panama in rejection of a series of new tax reforms approved by Costa Rican President Carlos Alvarado on Friday.
ANDES
COLOMBIA / ECUADOR: The space agencies of Colombia and Ecuador announced Friday they will be collaborating to launch their first lunar exploration mission. The two countries have teamed up with Astrobotic, a provider of lunar landers. They expect to deliver exploration satellites on the lunar orbit with Astrobotic's upcoming Peregrine Mission One, slated for 2019. This will represent one of Latin America's first efforts to reach the moon — along with the project proposal by Team KillaLab, which will see the deployment of a Peruvian-lead experiment on the moon's surface sometime in 2019.
PERU: Parallel to the Brazilian elections, Peruvian voters went out to elect their regional and municipal authorities on Oct. 7. The local elections are noteworthy for having observers from 14 different countries in wake of various corruption scandals and a lack of debates and concrete proposals from the running candidates. Numerous scandals have been highlighted during the electoral process, such as that of Daniel Urresti. A former general, Urresti was recently cleared of charges for planning the assassination of journalist Hugo Bustios and was allowed to run his campaign for mayor of Lima.
SOUTHERN CONE
ARGENTINA: After surviving in a cave for two weeks earlier this year, the Thai soccer team best known as the 'Wild Boars' is participating in the Youth Olympic Games held in Argentina from Oct. 6 to Oct. 18.  The team of 12 played during the opening ceremony on Saturday against the prestigious Argentinian River Plate team. Thomas Bach, head of the International Olympic Committee, praised the boys for their "bravery" and their "sports values." The boys and their coach were rescued last summer after venturing into a cave complex in Thailand's Chiang Rai Province on June 23.