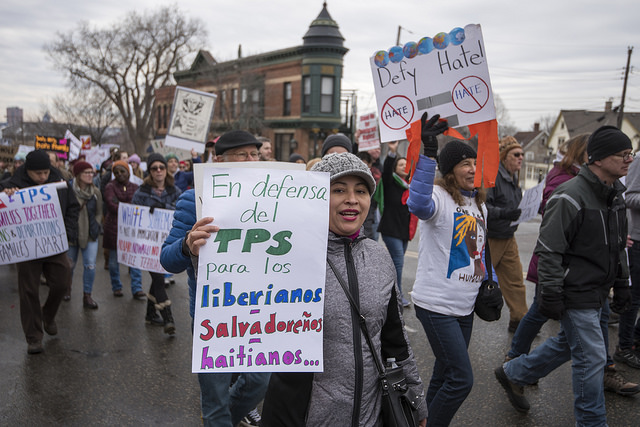 Protestors in Minnesota march against ending TPS
Photo: Fibonnaci Blue, via Flickr, Creative Commons
Federal Judge Puts Temporary Hold on Trump's Termination of Temporary Protected Status
October 5, 2018
By Staff
TODAY IN LATIN AMERICA
UNITED STATES: Immigrants and immigrant rights groups celebrated a new California federal court decision blocking the Trump administration's plans to stop renewing the legal status of 300,000 people from El Salvador, Nicaragua, Haiti, and Sudan. On Wednesday night, Judge Edward Chen of the Ninth Circuit Court of Appeals issued a preliminary injunction that prevents the Department of Homeland Security from terminating a program granting temporary protected status, or TPS, to certain immigrants from those countries.
"President Trump harbors an animus against non-white, non-European aliens," wrote Chen, citing a 2015 campaign speech in which Trump referred to Mexicans as drug dealers and rapists. The administration further failed to show appropriate justification for ending TPS, which would cause "irreparable harm and great hardship" to recipients and their families.
The injunction will stand until Chen hands down a final ruling in the class action lawsuit. At that point, the case could proceed to the Supreme Court, which recently overturned a separate Ninth Circuit decision against the Trump administration's ban on travel from various Muslim countries. A spokesman for the Department of Justice said the latest injunction "usurps the role of the executive branch."
HEADLINES FROM THE WESTERN HEMISPHERE
NORTH AMERICA
MEXICO: Local authorities claimed yesterday that Sergio Martínez González, the latest in a long list of journalists killed in Mexico this year, was carrying an illegal firearm when he was shot by unidentified motorcyclists in the southern state of Chiapas on Wednesday. The authorities also claimed Martínez, the founder and editor of the suspended weekly paper Enfoque, was being investigated in relation to a murder committed in August. Human rights and press freedom groups have denounced his killing, which investigators insist was not related to his journalism, nor to the recent murder of another journalist, Mario Gómez, in the same state.
CARIBBEAN
PUERTO RICO: The local Department of Transportation and Public Works announced yesterday that it has repaired 80 percent of the U.S. territory's spotlights, which were badly damaged by Hurricane Maria last year. Legislators have called for powering other stoplights and street lights with solar panels.
CENTRAL AMERICA
COSTA RICA: The minister of security announced yesterday that the government will be reporting at least two protestors for criminal investigation, after they allegedly attempted to assault President Carlos Alvarado on Wednesday. The protestors had approached the president as he left the National Theater, where the latest in a series of demonstrations were being held in opposition to a proposed tax reform bill that critics say places unfair burdens on the middle and working classes.
GUATEMALA: A leader of the MS-13 gang reportedly took his own life early yesterday morning, after being surrounded by the police in Guatemala City. Anderson Daniel Cabrera, known as "Little Boy," had been sprung from a 162-year murder sentence last year by gunmen who attacked the hospital where he was receiving a medical exam, killing seven people.
ANDES
BOLIVIA: The families of victims of a 2016 plane crash that killed 71 people traveled to Bolivia yesterday to ask for compensation from the responsible airliner and its insurers. The plane, chartered by La Mia, a Bolivian company, was transporting the Brazilian Chapacoense soccer team to the final of an international soccer tournament when it crashed outside of Medellin. Colombian authorities later determined that fuel shortages and negligence caused the accident and charged the airline's general manager with manslaughter.
PERU: Despite a pending warrant for his arrest and reincarceration, former President Alberto Fujimori spent yesterday in a medical clinic receiving treatment for heart disease. His legal team has appealed the Supreme Court's Wednesday decision annulling Fujimori's controversial 2017 humanitarian pardon and requiring him to serve the remainder of his 25-year sentence for corruption and human rights violations. "If I return to prison, my heart will not cope," said the 80-year-old Fujimori. 
SOUTHERN CONE
BRAZIL: With just days left before a heated general election, the left-leaning Worker's Party released a new ad comparing far-right candidate Jair Bolsonaro to Hitler. Bolsonaro, who has been released from the hospital after being stabbed at a rally last month, enjoys an 11-point lead over the Worker's Party's Fernando Haddad. Police announced yesterday that they are investigating a separate violent election-related incident, in which motorcyclists shot at a candidate for governor of Sao Paulo and his campaign coordinator Wednesday night.
ARGENTINA: Two U.S.-based cryptocurrency companies are setting up automated teller machines in Argentina, industry representatives said yesterday. Athena Bitcoin already has one ATM in Argentina, which is suffering a dramatic decline in the value of its peso currency. The other firm, Odyssey Group, plans to install 150 ATMs in Argentina by the end of the year. Both aim to expand to other countries in Latin America.