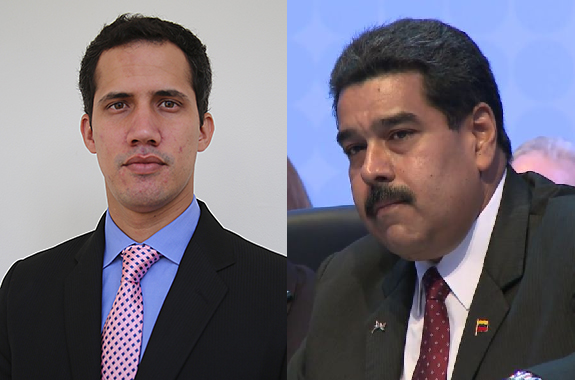 Juan Guaidó (left) and Nicolás Maduro (right) both claim to be rightful president of Venezuela. (Photo by Carlos García Soto via Wikimedia Commons)

Juan Guaidó Blocked from Leaving Venezuela; Hundreds Arrested
January 30, 2019
By Staff
TODAY IN LATIN AMERICA
VENEZUELA: The country's Supreme Court moved to prevent self-proclaimed interim president Juan Guaidó from leaving the country at the request of Attorney General Tarek William Saab. Without specifying what crimes Guaidó was being investigated for, the court, which supports President Nicolás Maduro, has frozen all the financial assets owned by opposition leader Guaidó. Yesterday, the U.S. State Department announced that it had granted  Guaidó authority over Venezuelan government property held in U.S. banks in order to "safeguard those assets for the benefit of the Venezuelan people." After reporters spotted "5,000 troops to Colombia" written on national security advisor John Bolton's notepad, acting Defense Secretary Pat Shanahan said military presence in the region is an option for the United States.
Maduro announced yesterday that he is seeking to expand the presence of local militias in the country to 2 million by mid-April. Maduro has also been conducting mass arrests of his opponents. About 700 people were arrested in Venezuela in a single day last week, according to the United Nations' human rights office, more than on any day in 20 years. The U.N. human rights office believes more than 40 people have been killed in the recent skirmishes between anti-government protesters and the Venezuelan armed forces. The government has not ordered the arrest of Guaidó, who is recognized by two dozen countries as Venezuela's legitimate leader, since he was briefly detained Jan. 13.
HEADLINES FROM THE WESTERN HEMISPHERE
NORTH AMERICA
MEXICO: Teachers continued blocking a railway in Michoacan, demanding labor reform. The 16-day strike, led by teachers from the National Committee of Education Workers union, has officials worried staple foods will run short across the country. The blockade has resulted in the loss of 14 billion Mexican pesos ($736 million) and prevented manufacturers from receiving staple wheat and corn flour. A separate strike among maquiladora workers in Matamoros ended Monday evening after they reached a deal with 27 out of 48 assembly plants to increase wages and secure one-time bonuses for employees. The Union of Maquiladora Industry Industrial Workers of Matamoros spent several days protesting after 25,000 employees walked out on Friday.
UNITED STATES: As Congress continues ongoing budget negotiations, Deferred Action for Child Arrivals (DACA) seems to have lost its spot in budget deals, according to House Majority leader Steny Hoyer. Holders of Temporary Protected Status (TPS) in the U.S. will also be left out of deals in order to expedite the latest rounds of negotiations after the 35-day partial government shutdown, which ended Friday. Lawmakers have a new funding deadline of Feb. 15. Hoyer told reporters he intends to address the status of the DACA and TPS programs in future legislation.    
CARIBBEAN
PUERTO RICO: Federal agents in Puerto Rico seized $10 million worth of cocaine off the island's northern coast near the town of Loiza. The 884 pounds of cocaine were found in an abandoned boat that officials believe came from an unidentified foreign country. The U.S. Coast Guard and U.S. Customs and Border Protection spotted the boat heading toward Puerto Rico on Monday. The FBI is investigating, but no arrests have been made.
CENTRAL AMERICA
GUATEMALA: Thelma Aldana, a former chief prosecutor, announced a presidential bid under the Seed Movement party for the Guatemala national elections set to begin on June 16. Known for her anti-corruption efforts, Aldana most notably prosecuted and jailed former President Otto Perez Molina and former Vice President Roxana Baldetti for corruption.
HONDURAS: María Luisa Borjas, an opposition lawmaker, was found guilty for defaming and slandering Camilo Atala, president of Ficohsa Bank. Atala sued Borjas in 2017 after Borjas named him as an "intellectual author" in the death of Berta Cáceres, claiming Borjas damaged his reputation. The judge ruled that Borjas made the statements irresponsibly and could face a sentence ranging between two years and six months to four years in prison, according to judiciary spokeswoman Lucía Villars. Borjas is at risk of losing her seat in Congress.
ANDES
PERU: A new project is intended to help coffee growers respond to climate change. The U.N.-backed Land Degradation Neutrality (LDN) Fund, which includes $12 million for 2,400 small coffee farmers, will begin in a few weeks and is expected to run until 2034. The project is expected to cover more than 22,000 acres (9,000 hectares) of Peruvian land, cutting carbon dioxide emissions by 1.4 tons.  
SOUTHERN CONE
BRAZIL: Yesterday, five arrests were made in connection to the Brumadinho dam collapse. Three company workers employed by the mining company Vale SA, owner of the dam, and two inspectors working for a German company were apprehended by Brazilian authorities from the Minas Gerais state, who said the tragedy "could have been prevented."  As of yesterday, 84 deaths and 276 missing people were confirmed.
BRAZIL: Prosecutors in São Paulo began investigating a kickback scheme in which bank directors allegedly accepted bribes for various business deals. One of these was the now-defunct Trump Hotel in Rio de Janeiro. The individuals under investigation include directors of Banco de Brasília, two children of a 1980s soap-opera actress, the grandson of the last president of the military dictatorship and the Brazilian businessman who purchased the high-rise from Trump and renamed it LSH Lifestyle. No indictments have been made on the Trump Organization, which withdrew from the deal in 2016.