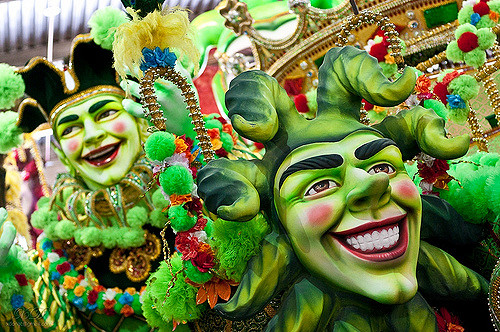 Brazilian President Jair Bolsonaro tweeted an obscene video from Carnival to criticize what he views as immoral celebrations. (Photo courtesy of Xavier Donat via Flickr)
Bolsonaro Tweets Obscene Carnival Video, Criticizes Festivities
March 7, 2019
By Staff
TODAY IN LATIN AMERICA
BRAZIL: Brazilian President Jair Bolsonaro tweeted an obscene video of incidents that took place during this week's Carnival celebrations. The video shows a partygoer masturbating while another man urinates on his face. Bolsonaro and many of his supporters see Carnival celebrations as heathen. "This is what many street parties in Brazil's Carnival have become," Bolsonaro tweeted. "I feel uncomfortable showing it, but we have to expose the truth for the population to know and always make its priorities."
Carnival is one of Latin America's largest social and cultural gatherings, and occurs before Lent. The celebrations include strong participation from samba schools and social organizations. This year, Brazilian Carnival partygoers openly criticized Bolsonaro's homophobic and racist policies.
HEADLINES FROM THE WESTERN HEMISPHERE
NORTH AMERICA
BORDER: U.S. government memos obtained by The Associated Press reveal that border agents were instructed to target Spanish speakers and migrants from Latin America as part of the Trump administration's new program requiring asylum seekers to remain in Mexico while their applications are pending. The Trump administration launched the new asylum policy in January and initially only targeted migrants who turned themselves in to border patrol. However, on Friday, as news broke that border arrests had hit a 12-year high, the policy shifted to include all migrants who enter the country illegally.
MEXICO: Mexican authorities addressed the country's failure to protect women and girls from extreme violence and presented a government plan to combat gender violence yesterday. The plan aims to resolve active murder investigations, improve collaboration between government agencies, search for missing women immediately and make femicide a crime nationally. In 2018, 3,580 women were killed in Mexico; the Mexican government has not confirmed how many were classified as femicides.
UNITED STATES: A U.S. journalist who has reported on Venezuela for over four years was detained for several hours yesterday. Five men dressed in black, later confirmed to be Venezuelan security forces, entered Cory Weddle's apartment in Caracas yesterday morning. Weddle left the apartment two hours later with a suitcase and equipment bag, escorted by the security forces. The U.S. State Department warned President Nicolás Maduro that the world was watching Venezuela's treatment of Weddle. Late yesterday evening, the ABC affiliate Local 10 News in Miami, where Weddle is a freelance journalist, reported that Weddle had been released and was awaiting a flight to the United States.
CARIBBEAN
PUERTO RICO: The deadline for Puerto Ricans to apply to the Disaster Unemployment Assistance (DUA) program has been set for March 25, after the United States granted an extension for enrollment. The U.S. Department of Labor created the federal program following the ravaging effects of Hurricanes Maria and Irma, which resulted in more than 10,000 unemployed Puerto Ricans. The DUA program allows those unemployed between September 2017 and September 2018 to be eligible for payable benefits. Yesterday, in an effort to expedite post-hurricane recovery in Puerto Rico, the Federal Emergency Management Agency (FEMA) also disbursed $70 million for disaster case management on the island.
HAITI: The United Nations police force will cease operating in Haiti in October, as expected. Secretary General António Guterres said that the United Nations Mission for Justice Support in Haiti (MINUJUSTH) will be gradually phased out despite weeks of violent protests in the country. Guterres asked the U.N. Security Council to replace MINUJUSTH, whose main objective was to strengthen rule of law, with a smaller political mission. Over the past 26 years, Haiti has hosted seven different U.N. missions.
CENTRAL AMERICA
GUATEMALA: Yesterday, the Guatemalan national legislature moved closer to approving a controversial bill that would grant amnesty to those convicted of genocide, crimes against humanity and forced disappearance during the armed conflict in Guatemala. Relatives of victims have criticized the bill, mobilizing en masse in various parts of the country in weeks leading up to yesterday's session in Congress. Human rights defenders in El Salvador are also expressing their concern, as their legislative assembly seeks to implement a similar blanket amnesty bill.
ANDES
COLOMBIA: Netflix has acquired the rights to adapt Nobel Prize-winning Gabriel García Márquez's novel "One Hundred Years of Solitude" into a series. The spanish language show will be produced in Colombia by Márquez's son, Rodrigo García. The book has sold approximately 50 million copies, has been translated into 46 languages and is considered a masterpiece of Latin American literature.
VENEZUELA: Venezuelan President Nicolás Maduro's government has given Germany's ambassador to Venezuela, Daniel Kriener, 48 hours to leave the country after Kriener expressed support for self-declared interim president Juan Guaidó. The Venezuelan Foreign Minister accused Kreiner of interfering in internal affairs and allying with "extremist sectors" of the opposition.
Meanwhile, Bolivian President Evo Morales said he did not understand how Europe, a continent based on multilateralism, could support a man who had not been voted into office, comparing Guaidó to a "colonial viceroy."