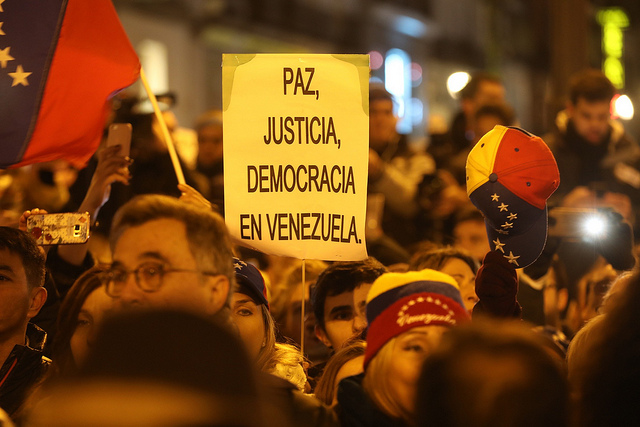 Mass demonstrations supporting the government of Juan Guaidó in February in Caracas. (Photo by PP Comunidad de Madrid via Flickr).
After Power Outages, Guaidó to Call for a 'National Emergency'
March 11, 2019
By Staff
TODAY IN LATIN AMERICA
VENEZUELA: Three days into a nationwide power outage, Venezuelans gathered in springs near the mountains of Caracas to collect water and searched for the few open stores in the capital. Several hospitals continued caring for patients with the help of generators, while others remained open despite the lack of electricity. However, reports state that 15 dialysis patients died for lack of treatment in hospitals that were affected by the blackouts on Friday.
Schools, public offices and industries will be closed today as the state attempts to fix the grid, according to Information Minister Jorge Rodríguez. President Nicolás Maduro accused the United States of sabotaging Venezuela's electrical system. On the other hand, opposition leader Juan Guaidó said he will call a "national emergency" today.
Meanwhile, on Friday, former vice president Tareck El Aissami was charged by a New York federal court with aiding international drug traffickers. El Aissami was indicted with businessman Samark López Bello for violating U.S. sanctions. El Aissami currently serves as the minister of industry and national production. He is the most important Venezuelan official within Maduro's regime targeted by the United States.
HEADLINES FROM THE WESTERN HEMISPHERE
NORTH AMERICA
U.S.-MEXICO BORDER: According to reports, U.S. President Donald Trump will ask Congress for an additional $8.6 billion for his promised border wall today. The 2020 budget request will not pass, as congressional Democrats, who have control of the House, adamantly oppose the wall. Speaker of the House Nancy Pelosi (D-CA) and Sen. Chuck Schumer (D-NY) released a joint statement declaring that Trump's request "would better be spent on rebuilding America."
MEXICO: On Thursday evening, a road traffic accident in the southern state of Chiapas killed at least 25 Central American migrants. Mexican prosecutors said that over 30 others were injured when a truck overturned in the Ixtapa-Soyaló highway. Twenty-four of those killed were Guatemalan nationals, according to the foreign ministry of that country. All the injured migrants were transported to hospitals in the neighboring province of Tuxtla-Gutiérrez.  
MEXICO: At least 15 people died Saturday when armed men opened fire in a bar located in the province of Guanajuato, in central Mexico. Other 14 people are said to have been injured at the Las Playas nightclub, in the town of Salamanca. The attack coincides with the launch of an offensive by President Andrés Manuel López Obrador to capture a local gang leader, although it is unclear if the events are related. Additionally, the U.S. Embassy recently issued new travel warnings for Americans headed to Mexico for the upcoming Spring Break. The countrywide travel advisory warned visitors of high costs of medical care, lack of lifeguards and riptide warnings on beaches.
CARIBBEAN
JAMAICA:Jamaican feminists have urged the government to review an outdated law that constrains women's demands for equal pay. Following the International Labour Organization's publication of "A Quantum Leap for Gender Equality," a report that highlights how disparities in salaries run along gender lines, activist Nadeen Spence demanded that lawmakers revise the decades-old Employment (Equal Pay for Men and Women) Act. Spence expressed her concern with the existing wage gap in Jamaica. Around the world, women are paid an average of 20 percent less than men.
CENTRAL AMERICA
GUATEMALA: Thelma Aldana, Guatemala's former Attorney General, announced her candidacy for president under the Seed Movement party yesterday in Guatemala City. Aldana, who served as the country's top prosecutor between 2014 and 2018, charged former president Otto Pérez Molina with corruption in 2015, which resulted in his incarceration. Although no specific charges were mentioned, prosecutors in Guatemala opened a probe into Aldana on Friday. Aldana could be barred from running in June's election if charged or prosecuted.
NICARAGUA: On Saturday, the Nicaraguan government announced an agenda for peace talks in order to resolve the social turmoil that has lasted for almost a year. Among these are releasing imprisoned members of the opposition and the strengthening of electoral institutions. However, President Daniel Ortega refused to call for early elections. Today, envoys from the Organization of American States will meet with members of the opposition and the officials from the Ortega regime in Managua. Known as the Civic Alliance, the opposition has stated that it will not participate in the roundtables until Ortega "shows convincing signs of finding integral solutions to the crisis."
ANDES
COLOMBIA: A airplane accident in central Colombia left no survivors on Saturday night. The twin-engine propeller aircraft left Taraira for Villavicencio, crashing 55 miles from its destination. All 12 passengers and two pilots died, according to Colombian authorities. President Iván Duque shared his condolences with the relatives of the victims via social media. No details have been given by Colombia's aeronautic entities regarding the cause of the crash.
SOUTHERN CONE
ARGENTINA: On Saturday, Boca Juniors' female team played its first official soccer game at the legendary stadium of La Bombonera in Buenos Aires, beating Lanús 5-0 a day after International Women's Day. Women's soccer players have mobilized across the region demanding equal pay. Last month, Argentinian player Macarena Sánchez sued her club UAI Urquiza and the Argentinian Soccer Federation to receive professional status. On Friday, the U.S. national women's soccer team sued their country's soccer federation for gender discrimination, demanding salaries equal to their male counterparts.
BRAZIL: On Friday night, state petroleum company Petrobras announced it will be cutting its budget by about $8 billion over the next five years. The amount reduced will be 6.6 percent of the $122.6 billion initially budgeted until 2023. The company plans to reduce advertising costs as well as staff spending. Petrobras has been struggling to clean up its reputation after several corruption scandals in the past years.
CHILE: In January, scientists with the U.S. National Oceanic and Atmospheric Administration spotted a group of rare orcas off the coast of the Cape Horn, the southernmost tip of the country. The scientists came to the Cape Horn after hearing stories from fishermen of catch lost to the 30 type-D killer whales. The type-D whales are smaller in size than their more common relatives and have a smaller version of the iconic white spot under the eye. They are rarely observed, only first formally described in 2011.