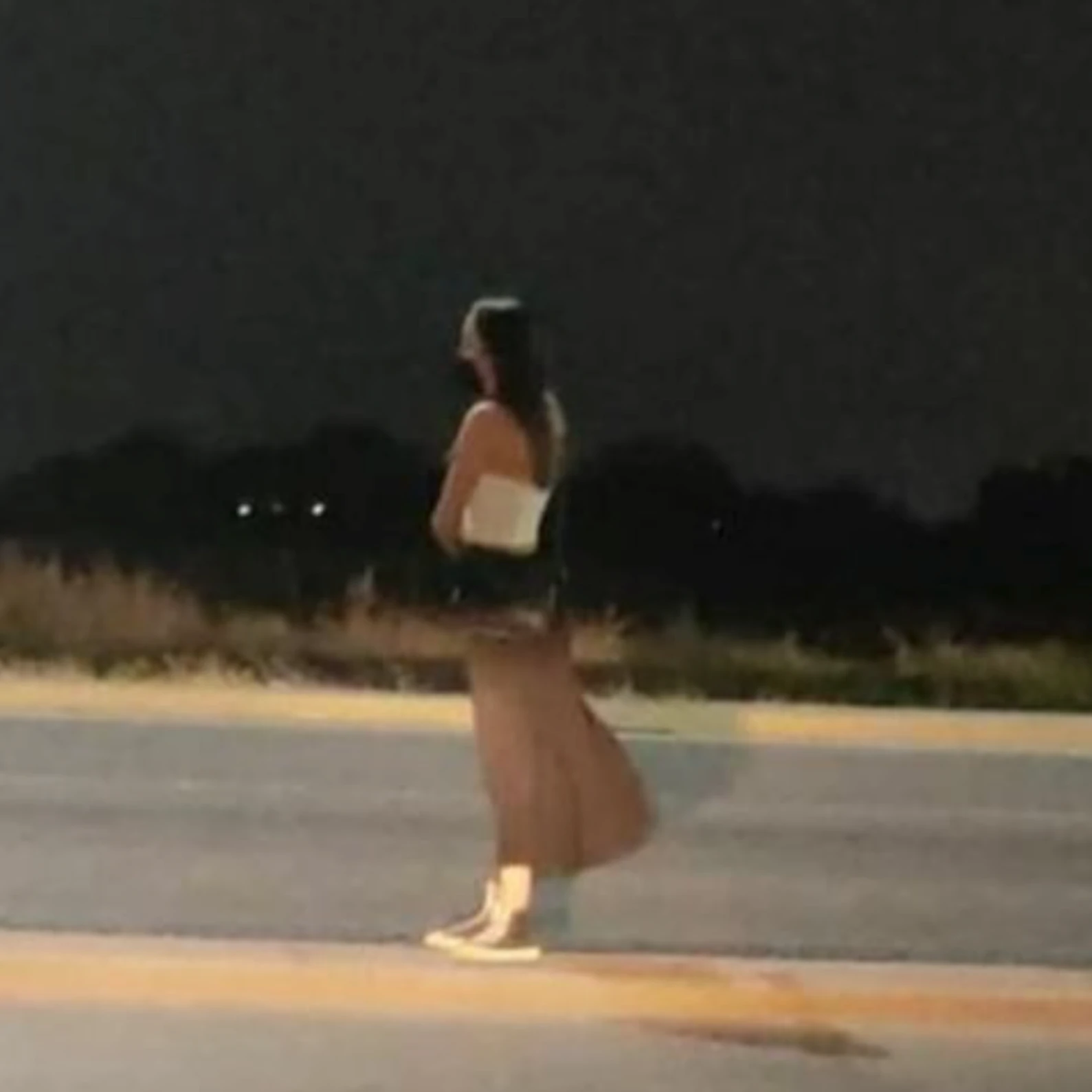 The last known photo of 18-year-old Debanhi Susana Escobar, posted to her Instagram account
Mexican investigators find body of missing 18-year-old, Debanhi Escobar
April 25, 2022
By Staff
THIS WEEK IN LATIN AMERICA
MEXICO: Authorities this week discovered the body of Debanhi Escobar, who went missing on April 9 in the Northern state of Nuevo Leon, submerged in a cistern at a motel, close to where she was last seen alive. Her body had been decomposing for two weeks, nearly unrecognizable, said Assistant Public Safety Secretary Ricardo Mejia on Friday.  
The last known photograph of 18-year-old Debanhi Susana Escobar became a central piece of evidence during her search. Allegedly taken by the driver her friends hired, the photo shows her wearing a long brown skirt with her arms folded, standing on an empty road.
According to Nuevo Leon state prosecutor, Gustavo Guerrero, her disappearance was voluntary or an act of "rebellion."  Mario Escobar, Debanhi's father, accused authorities of mishandling the investigation. He believes his daughter's death was due to "sexual harassers" and police incompetence.
This year, 26 women and girls have disappeared from Nuevo Leon, and five were found dead after being reported missing.  In 2021, out of 3,462 women killed, 922 deaths were classified as femicides. On average, 10 women are killed daily in Mexico.
More than 100 family members, friends, and neighbors attended Debanhi's funeral on Saturday in Galeana, Nuevo Leon. 
SOUTHERN CONE
ARGENTINA: Thousands of farmers gathered in Buenos Aires on Saturday to protest government regulations on food exports. Rural workers traveled from various towns around the capital, some in tractors, to the Casa Rosada, the President's office overlooking the city's main square.
The march was the result of the mobilization of several agricultural associations. Members of opposition parties supported and joined the protesting farmers. 
In addition to increasing taxes on exports such as soybean oil and flour, President Fernández also put restrictions on the amount of food exports in recent months in an effort to boost domestic supply and curb rising food prices in the local market.
 CHILE: Armed Mapuche groups in the southern regions of Araucanía and Bío Bío last week carried out a series of separate attacks that mainly targeted forestry companies. There were reports of masked persons burning cranes, trucks, and cabins in various locales across the two provinces.
In a roadblock along a highway in Araucanía on Friday, it is believed that a protester shot a trucker, who remains in critical condition at a hospital. In another incident in Bío Bíó in the early hours of Wednesday morning, unidentified persons fired upon police officers.
There has been increasing conflict in southern Chile, a territory to which the Mapuche claim ancestral land rights. Protest action last week also called for the release of indigenous political prisoners.
ANDES
ECUADOR: The president of Ecuador's National Justice Court signed an extradition request on Friday in an effort to return former President Rafael Correa to Ecuador, days after he was granted refugee status in Belgium. In 2020 Correa was sentenced in absentia to 8 years in prison on charges of bribery involving government contracts granted during his presidency.
Correa, who served as President of Ecuador from 2007 to 2017, has lived in his wife's home country of Belgium since he left office. The former president says he is a victim of political persecution and denies any wrongdoing. The extradition request will be processed by Ecuador's foreign ministry, which must formally petition Belgium to extradite Correa. Belgium granted Correa political asylum on April 19.
COLOMBIA: Colombia's transitional justice tribunal announced Friday that 5,733 people were killed or disappeared in Colombia between 1984 and 2016 in a military-backed campaign targeting the leftist Patriotic Union (UP) Party. The UP was formed by demobilized members of the Revolutionary Armed Forces of Colombia (FARC) guerrilla group.
Many of the attacks were carried out by right-wing paramilitary groups, although evidence also shows involvement by agents of the state. The Special Jurisdiction for Peace (JEP) determined that 4,616 of the victims were murdered, and 1,117 were forcibly disappeared. 
CARIBBEAN 
CUBA/US: Government officials from Cuba and the United States met in Washington, D.C. on Thursday to discuss the rising numbers of undocumented Cuban migrants entering the U.S. There has been a significant increase in the number of Cuban migrants stopped by U.S. border patrol agents since the beginning of the year.
Discussions were aimed at reviewing migration agreements between the two countries and ensuring "regular, safe, and orderly migration", according to a statement from the Cuban foreign ministry. The statement also blamed the U.S. embargo for producing the economic challenges that have driven many Cubans to leave the island.
The talks represented the highest-level discussion between Cuban and U.S. officials since President Biden's term began.
ANTIGUA AND BARBUDA/GRENADA: Antigua and Barbuda's Reparations Support Commission on Thursday issued an open letter to the British monarchy demanding reparations for Britain's role in slavery and colonialism in the Caribbean. The letter was published ahead of the visit of two members of the royal family to the Eastern Caribbean states of Antigua and Barbuda, St. Lucia, and St. Vincent and the Grenadines from April 22 to 29.
Queen Elizabeth's youngest child, Prince Edward, and his wife were also scheduled to visit Grenada but canceled that trip hours before arriving in the Caribbean. Grenada's National Reparations Committee had requested a meeting with the royals to discuss why Britain "should be held accountable for crimes" against Indigenous and African populations during colonization.
CENTRAL AMERICA
COSTA RICA: Six public institutions were targeted by cyberattacks this week, Costa Rican officials said. President Alvarado said on Thursday that the attacks were an attempt to destabilize the country while it's transitioning to president-elect Rodrigo Chaves' new government. 
The Russia-based cybercriminals, Conti, claimed responsibility for the ransomware attack. They demanded $10 million in exchange for the finance ministry's sensitive finance data.  For now, it is unknown what type of data was hacked, but the official site of the Municipal Electrical Service of Cartago (Jasec) was affected by the ransomware group. 
Tax and customs websites remain suspended. Officials will continue to assess the damage, prevent new attacks, and restore the services. 
NICARAGUA: The parliament on Wednesday shut down 25 nongovernmental organizations, many of which publicly criticized President Daniel Ortega's government. Lawmakers argued that the organizations violated national laws and failed to disclose financial accounts.
The majority of the NGOs work on human rights issues and arrange social and cultural projects. Ortega has also moved in recent months to reform education and weaken universities' autonomy. 
Ortega's opposition said that the move is a continued attack on civil society.
NORTH AMERICA
MEXICO: The recent attempt to favor state-owned power plants over private firms by President Andrés Manuel López Obrador has created problems in Mexico's electricity sector. The effort to reshape the electricity sector has driven private investors and companies to seek alternatives due to a high level of uncertainty.  Job loss and loss of revenue are two of the main issues facing the industry.
Last week the parliament voted down a constitutional reform of the sector pushed by the president.  The level of confusion and contradiction in Mexico's electricity sector stems from the 2013 reforms which favor market openness, and last year's reform which favors state-owned power plants over private ones.