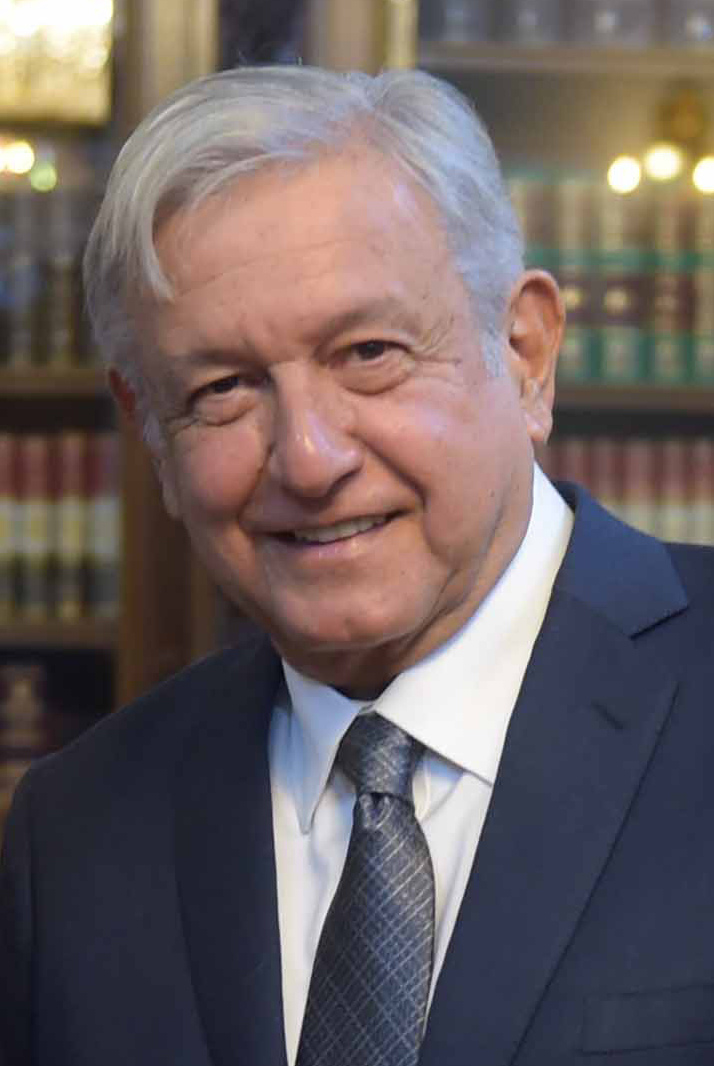 Mexican President Andrés Manuel López Obrador (Photo via Wikipedia)

AMLO Celebrates First 100 Days as President of Mexico
March 12, 2019
By Staff
TODAY IN LATIN AMERICA
MEXICO: In his 100th-day speech given yesterday, President Andrés Manuel López Obrador (AMLO) congratulated himself on a strengthened relationship with the United States, a stronger economic confidence in the region and the success of a majority of his administration's early commitments. In the first 100 days in office, AMLO says he has maintained a "cordial" relationship with the United States, leading to billion-dollar investments into the region.
AMLO also credited his administration with accomplishing 62 out of 100 proposed commitments including the liquidation of government property, the creation of a National Guard and a crackdown on fuel theft. According to recent polls by El Financiero, AMLO has a 78 percent approval rating. However, many are still critical of AMLO's economic policy, and he has already faced unexpected challenges from labor unions and increasingly high rates of homicide in Mexico. He vowed to continue focusing on social justice issues, saying, "We want modernity, but forged from below, and for all."
HEADLINES FROM THE WESTERN HEMISPHERE
NORTH AMERICA
MEXICO: An armed gang kidnapped 19 passengers from a bus driving through the northern city of Tamaulipas last Thursday, although security officials did not report the crime until Sunday. Reports say the victims were most likely Central American migrants, who may have been targeted for recruitment or ransom. Twenty-two other passengers were allowed to remain on the bus and continue to its destination.
UNITED STATES: Two Florida congresswomen visited the border between Colombia and Venezuela this weekend. U.S. Reps. Debbie Wasserman Schultz and Donna Shalala met with President Iván Duque and spoke with Venezuelans about current living conditions in the country, remarking that the situation was "so much more devastating than what has previously been described." Wasserman Schultz and Shalala represent districts with some of the highest populations of Venezuelans in the United States.
CARIBBEAN
PUERTO RICO: Governor Ricardo Rosselló announced yesterday that the island hopes to incorporate artificial intelligence in its post-Maria recovery efforts. One of its initiatives is to create a technology center operated by a domestic company in the city of Bayamón, supported by companies like IBM and Microsoft. Gov. Rosselló indicated that the project aims to "create smart cities" with technologies that detect flooding in case of a severe weather event.
CUBA: The State Department added more Cuban entities that can be sanctioned by the U.S. Among updates added to the list are five sub-entities operating under the Cuban armed forces. The changes come a week after the Trump administration reinforced the economic embargo on the island by allowing lawsuits against Cuban companies that own properties expropriated following the 1959 Revolution.
CENTRAL AMERICA
BELIZE: Seventeen new species of land snails have been discovered in a Belizean cave. Over a period of 10 years, malacologists conducted field research in the largely unexplored Maya Mountains in Southern Belize, which yielded the historic finds. Only 24 land snail species were recorded before the decade-long study, which concluded with 135 varieties.  Most of the fieldwork was conducted in the Bladen Nature Reserve, where malacologists had to descend into 100-meter sinkholes.
ANDES
VENEZUELA: Juan Guaidó, self-declared interim president of Venezuela, published a document yesterday that requested that the National Assembly (AN) suspend the supply of oil and fuel supplies from Venezuela to Cuba. Guaidó's attempt to bring down President Nicolás Maduro's regime poses a real threat to Cuba since Caracas accounts for about 28 percent of the island's oil supply. The document also asked the National Assembly to declare a state of emergency throughout the country, as a result of the national blackout on Thursday.
SOUTHERN CONE
ARGENTINA: After an 11-year-old rape victim was forced to give birth after authorities delayed her request for an abortion, actresses in the country have been posting photos of themselves when they were 11 on social media in protest. The movement with the hashtag #NiñasNoMadres ("Girls, not mothers"), has seen thousands support the girl who has come to be known as "Lucía." Although abortion is supposed to be legal for victims of rape in Argentina, Lucía and her mother's requests for termination went unheard when the clinic stalled for weeks. She was ultimately forced to give birth at 23 weeks, and the baby died on Friday after having spent over a week in intensive care.
BRAZIL: Brazil's Bar Association yesterday condemned President Jair Bolsonaro's  recent tweet about journalist Constanca Rezende. The tweet alleged that Rezende, from the newspaper O Estado de S. Paulo, wanted to ruin the life of Bolsonaro's son, Flavio, and impeach the president. In the recording, Rezende told a man claiming to be a university student that her reporting on a corruption scandal could lead to Bolsonaro's impeachment and that she had exclusive documents on Flavio's audits.  The country's Bar Association released a statement accusing Bolsonaro of being misleading and of "[using] his position of power to try to intimidate media outlets and journalists."