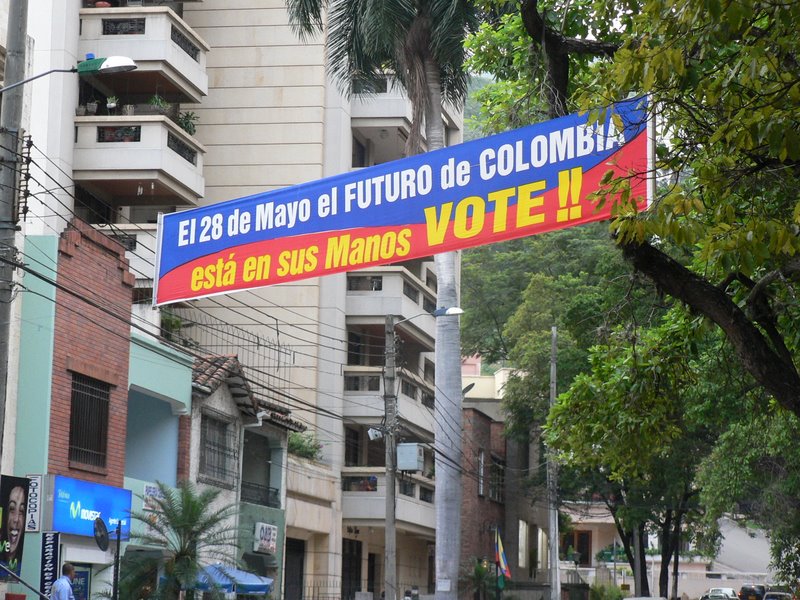 Photo of a banner encouraging Colombians to vote in the 2006 presidential election. (Image by francois_thomas02 via Flickr)
6th Colombian Mayoral Candidate Killed Weeks Before Election
September 11, 2019
By Staff
TODAY IN LATIN AMERICA
COLOMBIA: Police in Colombia arrested two people yesterday in connection with the killing of mayoral candidate Orley García. García was killed over the weekend in the department of Antioquia, but he was running for mayor of the municipality of Toledo. 
García was the 6th mayoral candidate killed in Colombia this election cycle. Last week, a woman running to be the first female mayor in the rural municipality of Suárez was killed while campaigning. Authorities blamed the killing on FARC rebels.
García's killing made the 2019 election cycle the deadliest yet, with just over six weeks until voters head to the polls. Five people were killed during the last municipal elections in 2015. Regional elections for governors and municipal mayors will be held in all 32 departments on Oct. 27.
Headlines from the western hemisphere
SOUTHERN CONE
CHILE: Two LBGTQ+ rights groups asked the Chilean controller general to force President Sebastián Piñera's administration to promote a congressional measure legalizing same-sex marriage this week. Piñera's conservative government backed away from former President Michelle Bachelet's pledge to allow same-sex marriages. The controller general oversees the implementation of laws in Chile. 
BRAZIL: Carlos Bolsonaro, son of Brazilian President Jair Bolsonaro and Rio de Janeiro councilor, tweeted yesterday that the "transformation that Brazil wants will not happen at the speed we are aiming for in democratic ways." The tweet was considered an attack on Brazilian democracy by victims of the 20-year dictatorship that ruled Brazil until 1985. Members of the Bolsonaro government have repeatedly praised democracy-limiting measures, including shutting down the country's supreme court.
ANDES
VENEZUELA: During the inauguration of military exercises along Colombia's border yesterday, Venezuelan President Nicolás Maduro told his defense council to "handle the real threat of violence, armed conflict and attack by the hawkish and criminal Colombian government." Tensions between the two countries have increased since Colombian President Iván Duque alleged Maduro's regime trains and supports Colombian rebel groups. Maduro has also alleged that Duque's administration allows Venezuelan opposition groups to train in Colombia.
BOLIVIA: Christian Democratic Party (PDC) presidential candidate Chi Hyun Chung said in a television interview that "women must be educated to act like women." Later, when asked by the anchor if any behavior by a woman justifies violence, Chung responded, "obviously." Chung has made other controversial comments in the past, including that LGBTQ+ people "need to receive psychiatric care."
ECUADOR: Ecuador's Ministry of the Interior announced Monday that it is considering the creation of a humanitarian corridor for Venezuelans with visas to other countries. The idea originated after joint meetings with the Colombian government to help find a solution to the refugee crisis.
CARIBBEAN
PUERTO RICO: The U.S. Attorney's Office in Puerto Rico announced yesterday that it has arrested two former FEMA officials and the former president of Cobra Acquisitions LLC, a disaster relief contractor. Authorities accused Cobra's president, Donald Keith Ellison, of bribing FEMA officials with flights, hotels, personal security services, and more. The U.S. Attorney's Office said the FEMA officials had accepted bribes in exchange for giving Cobra preferential treatment when selecting contractors to restore electricity to Puerto Rico.
CENTRAL AMERICA
EL SALVADOR: Prosecutors announced Friday that they will appeal the recent acquittal of Evelyn Hernández, a 21-year-old woman who was sentenced to 30 years in prison in 2017 after a judge ruled her stillbirth an aggravated murder by abortion. Hernández was first tried in 2017, but her case was retried in August and she was acquitted. Hernández may now face a third trial. Hernández said she became pregnant by rape and did not know she was pregnant until she delivered in a toilet in 2016.
PANAMA: The telecommunications company Millicom has acquired Cable Onda and Movistar to become the industry leader in Panama and Central America. Millicom CEO Mauricio Ramos spoke in Panama City yesterday, where he committed to supporting economic growth in the region. Millicom has invested $2 billion in the Panamanian economy this past year and intends to further invest in the region through network infrastructure and data centers.
NORTH AMERICA
MEXICO: Mexican President Andrés Manuel López Obrador's government reportedly freed up funds for its 2020 budget proposal Sunday. Finance Minister Arturo Herrera claimed that 60% of the budget targets fixed spending, while the remaining 40% aims at welfare, security and the national oil firm, Pemex. A portion of the allocation will go towards the National Guard. The budget plan predicts an economic growth between 1.5% and 2.5% and a total government income of 6.1 trillion pesos.
UNITED STATES: Peter Navarro, trade advisor to U.S. President Donald Trump, said yesterday that he believes Congress will approve Trump's United States-Mexico-Canada agreement by the end of the year. The Democrat-held House may thwart a vote on the agreement if concerns with the existing agreement are not addressed. House Speaker Nancy Pelosi (D-CA) worries the USMCA will not protect American workers and may potentially raise drug prices for U.S. consumers, according to CNBC. Small business owners hope to see the deal approved, so that they can gain access to Canadian and Mexican markets.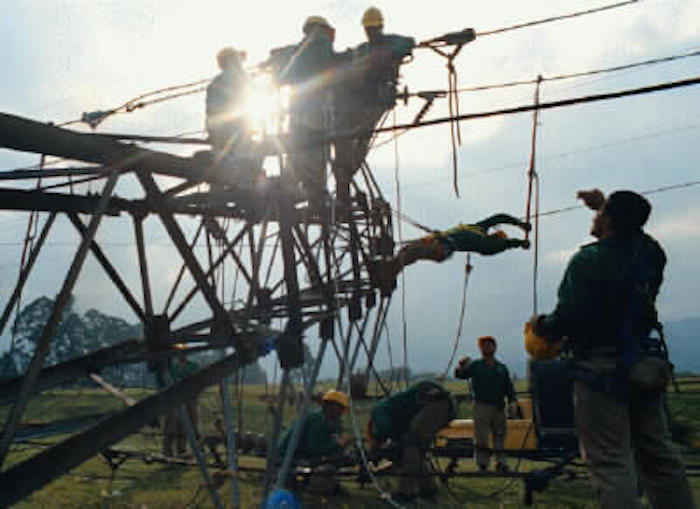 September 10, 2019
> Staff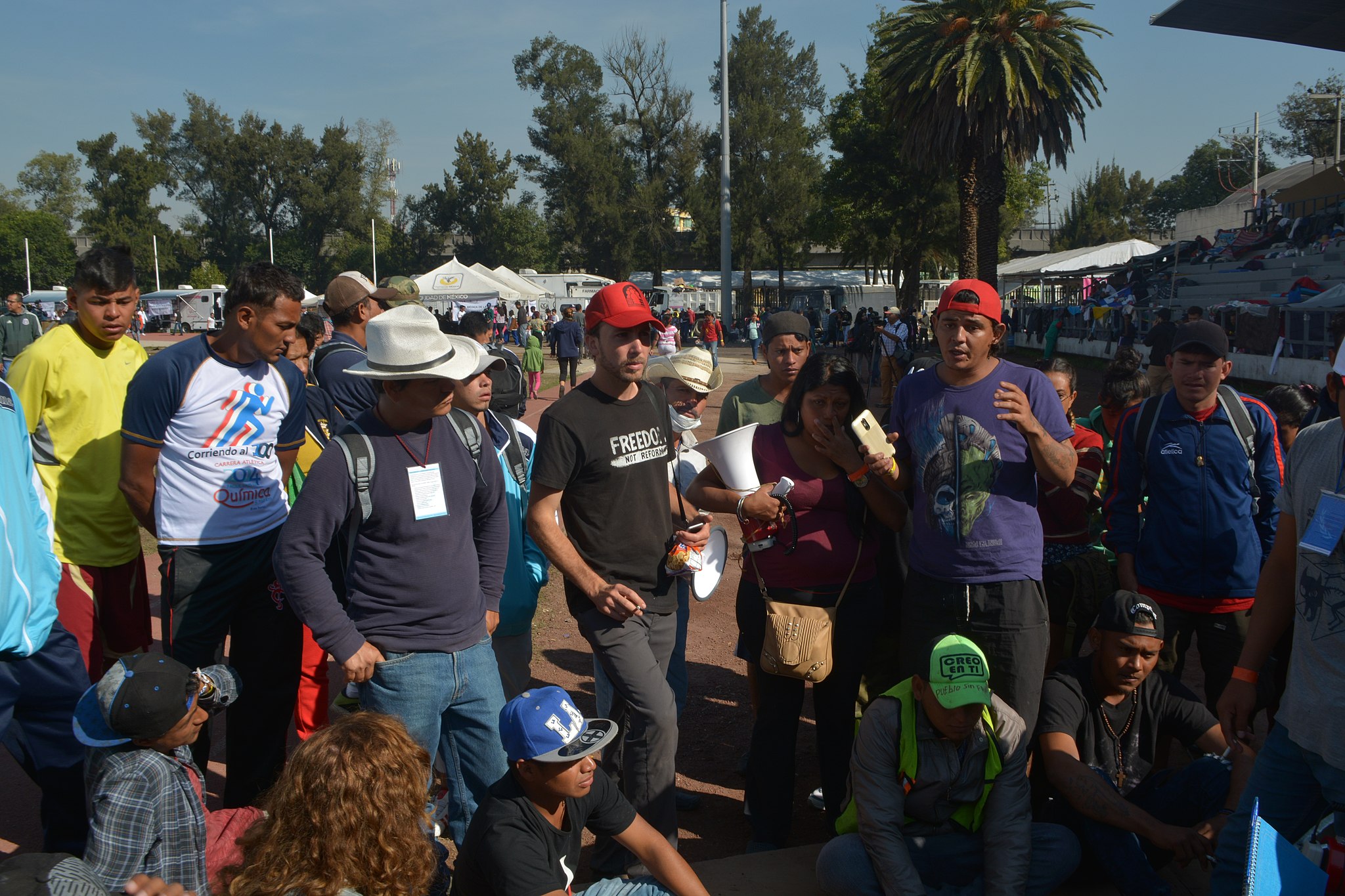 September 12, 2019
> Staff