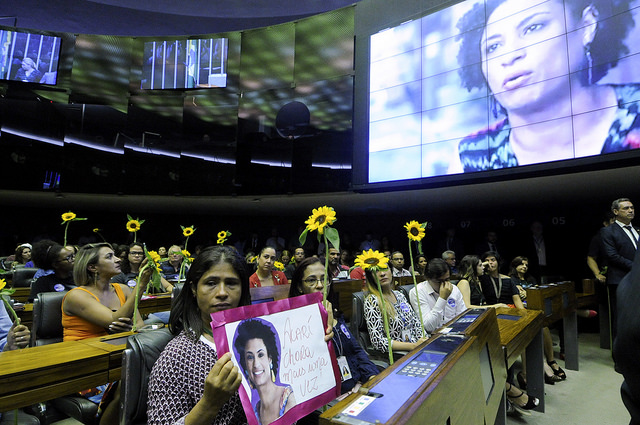 Members of Brazil's Congress remember councilwoman Marielle Franco a day after she was assassinated last year. (Photo by Senado Federal via Flickr)
Ex-Police Officers Arrested in Killing of Marielle Franco in Brazil
March 13, 2019
By Staff
TODAY IN LATIN AMERICA
BRAZIL: Two former police officers have been arrested for the murder of Rio de Janeiro councilwoman and activist Marielle Franco. Ronnie Lessa, a retired police officer, and Elcio Vieira de Queiroz, a former military police officer, were arrested yesterday morning. Lessa allegedly fired the gun that killed Franco and her driver, while de Queiroz drove the vehicle. Franco's assassination shocked Brazilians and caused protests around the world. Tomorrow marks the one-year anniversary of her death. Franco was a prominent Afro-Brazilian and LGBTQ activist who denounced police violence in favelas.
Investigators said the crime was meticulously planned over three months but did not explain the motive. Lessa was arrested in the same upscale condominium where President Jair Bolsonaro lives. Media also reported that his son, Carlos Bolsonaro, dated the Lessa's daughter. Images have appeared on social media of Lessa posing with Bolsonaro. More arrests are expected, and marches honoring Franco's life will be held on the anniversary of her murder tomorrow.
HEADLINES FROM THE WESTERN HEMISPHERE
NORTH AMERICA
UNITED STATES: House Democrats proposed the Dream and Promise Act yesterday, in a new attempt to protect young immigrants. The legislation would provide various paths to citizenship for an estimated 2 million people, including Deferred Action on Childhood Arrivals (DACA) recipients, also known as "Dreamers," and those with Temporary Protected Status (TPS). The plan offers Dreamers 10-year temporary green cards, with the possibility of permanent green card status after two years of postsecondary education or military service or three years of work. Those with TPS could apply for permanent green card status after three years in the country. Both groups would be able to apply for citizenship status after five years of holding a green card. Speaker Nancy Pelosi announced the measure, saying, "There should be nothing partisan or political in this legislation."
UNITED STATES: Secretary of State Mike Pompeo announced late Monday that the United States will pull the last of its diplomats from Venezuela by the end of the week. A small group of U.S. diplomats had remained in the country after Venezuelan President Nicolás Maduro backed off from a January order forcing all U.S. personnel to leave. Also on Monday, Pompeo accused Russian state oil company Rosneft of buying oil from Venezuelan oil company PDVSA in violation of U.S. sanctions. Rosneft CEO Igor Sechin denounced the allegations yesterday, calling them "groundless."
MEXICO: Marine mammals have inexplicably washed up on the shores of several Guerrero beaches in recent days, according to Guerrero's Board for the Care, Protection, and Research of the Sea Turtle. A total of 69 sea turtles and one dolphin were found dead. Sea turtles are frequently poached from the area for their meat and eggs, but authorities say they doubt poaching is the cause of the mammals' deaths.
CARIBBEAN
CUBA: Five Cuban sub-entities have been added to the list of operations under U.S. sanctions. The administration says that these entities benefit the Cuban military, intelligence and personnel while harming the Cuban people. These actions come a week after the government announced that they will narrow the 60-year trade embargo on Cuba by permitting lawsuits against Cuban companies that use properties that were seized during the revolution.
CENTRAL AMERICA
GUATEMALA: Lawmakers in Guatemala City will vote today on legislation that would grant amnesty to perpetrators of crimes against humanity committed during the Guatemalan Civil War. If passed, more than 30 army officers and soldiers who have been accused of genocide, forced disappearance and rape would be cleared. Additionally, thousands of cases would be suspended. The vote could represent a reversal in the justice system. "It's a reflection of the weakening of the rule of law in Guatemala," a former Guatemalan justice official told the New York Times.
GUATEMALA: An autopsy revealed that Catherine Shaw, a 23-year-old British tourist whose body was found on Monday near a lake town of Atitlán, died of a traumatic brain injury. The first reports on her death stated she was found undressed and in a terrible condition, leading to speculations of rape and murder. However, the autopsy revealed that Shaw's body was free from wounds or gunshots. The Lucie Blackman Trust, which has been helping the family, released a statement advising people not to speculate about her death, declaring it was "unhelpful, distressing and unnecessary."
ANDES
VENEZUELA: Attorney General Tarek William Saab has opened an investigation into opposition leader Juan Guaidó for alleged sabotage of the country's electrical grid. Venezuelans have gone nearly a week without electricity and water in what the regime considers "a desperate escalation to overthrow a legitimately constituted government." The government has already accused Guaidó of promoting violence and looting and blames the crisis on Maduro's horrific governance.
SOUTHERN CONE
URUGUAY: President Tabaré Vázquez dismissed Uruguay's commander of the army, General Guido Manini Ríos, for "serious accusations against the judiciary branch incompatible for a man in his position." Manini had stated that military officials investigated by the courts did not have the guarantee of due process and were convicted without proof and with the use of fabricated evidence. The officers were sentenced for human rights abuses during the country's 1973 dictatorship that lasted 12 years.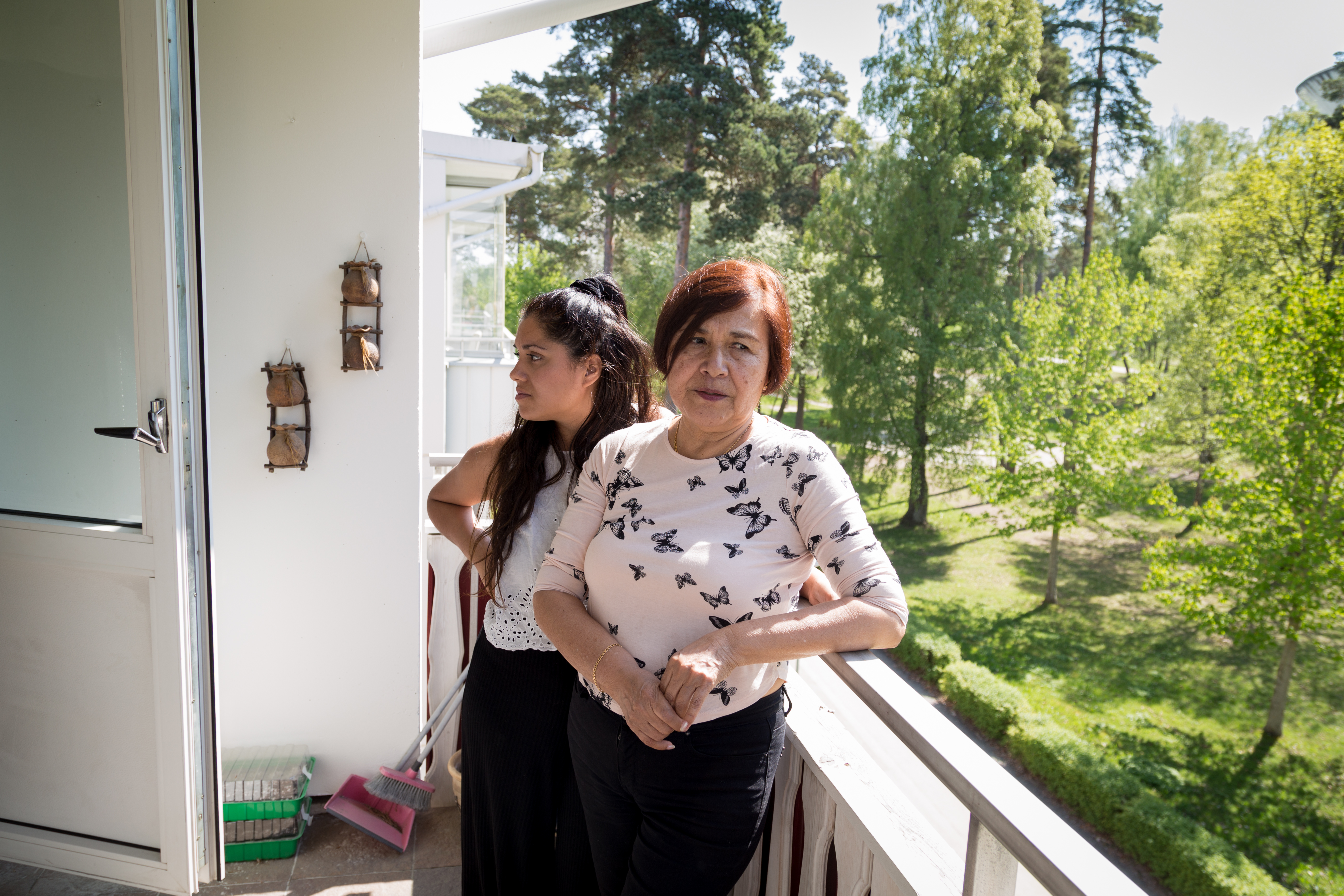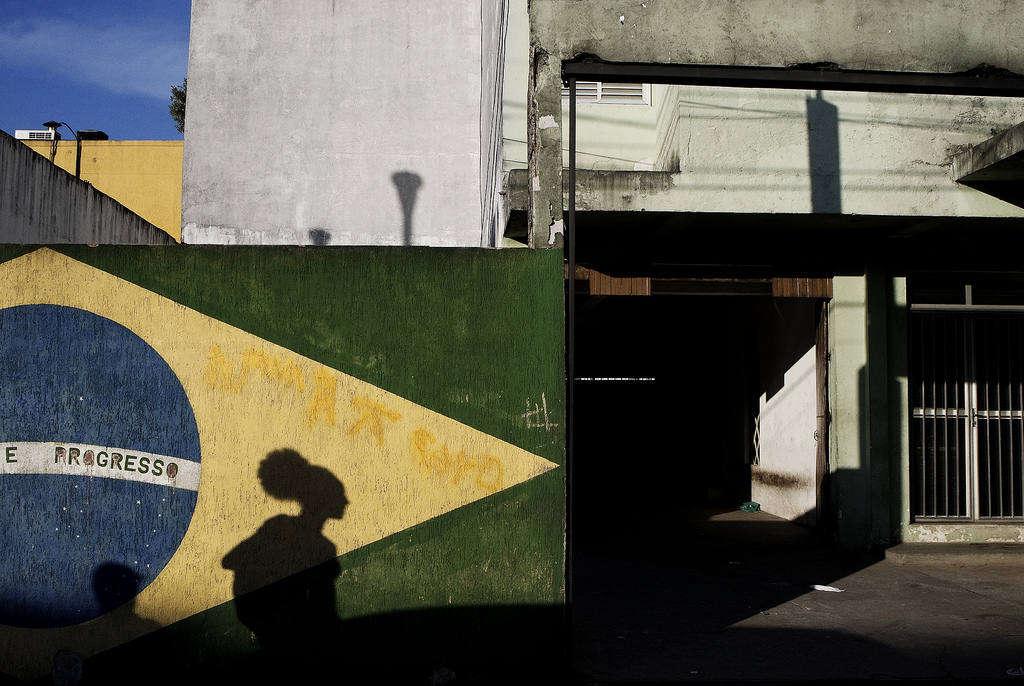 March 14, 2019
> Staff