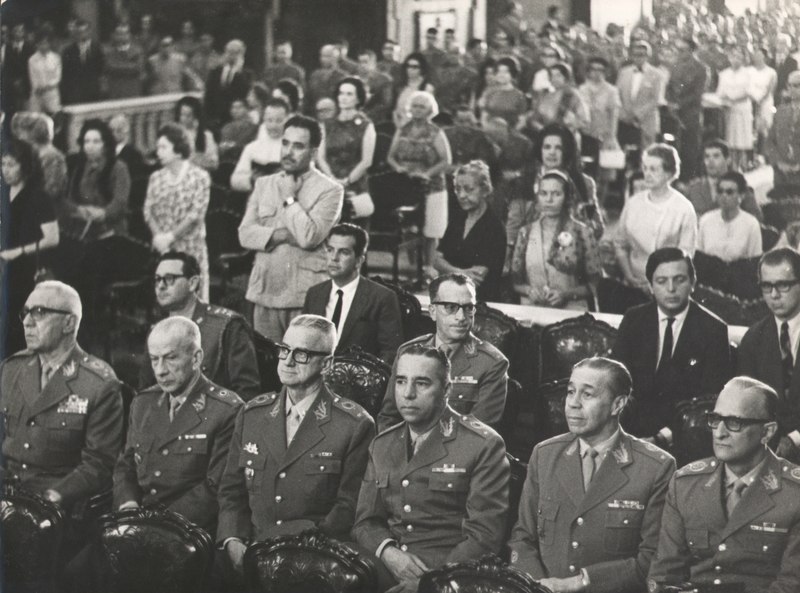 Military officials in Brazil circa 1965. (Courtesy of Brazil's National Archives via WikiCommons)
Bolsonaro to Commemorate 20-Year Military Dictatorship
March 27, 2019
By Staff
TODAY IN LATIN AMERICA
BRAZIL: President Jair Bolsonaro asked Brazil's defense ministry to plan commemorations for the country's military dictatorship at the end of March. March 31 will mark 55 years since the beginning of a 20-year-long dictatorship responsible for mass murders and disappearances across the country. According to presidential spokesman Otávio Rêgo Barros, the president ordered an official recognition of the date with "appropriate commemorations," but did not release any further details. The move is unprecedented in the country's democratic history.
Bolsonaro has long supported Brazil's military history, denying the military coup of 1964 and appointing several ex-generals to government positions. In Monday's commemoration announcement, Barros said Bolsonaro believes "that society brought together civilians and the military and we managed to put our country on track." Bolsonaro has also praised the dictatorships of Paraguay and Chile during diplomatic foreign visits.
HEADLINES FROM THE WESTERN HEMISPHERE
ANDES
COLOMBIA: Over 1,000 people have fled the border region between the Antioquia and Cordoba states due to fighting between paramilitary groups and FARC rebel dissidents. Two of three farmers that had gone missing last Friday were found yesterday tortured and murdered. All three men were part of a voluntary crop substitution program established by the FARC peace accord in 2016, as an alternative for farmers to stop growing coca, the base ingredient of cocaine. However, the delayed implementation of the substitution program has led to widespread unrest and increased violence against the region's impoverished coca farmers. Local activist Andrés Chica reported that Indigenous communities have also joined the refugees. According to Chica, at least 12 families making up an entire reservation have evacuated, but the reports have not been independently confirmed.
NORTH AMERICA
MEXICO: On Saturday, a new caravan of over 2,500 migrants from Central America and Cuba left Tapachula, Chiapas, for the United States, but it is facing a much more hostile climate than last year's caravans. On top of an increasingly dangerous climate, the group has not been welcomed to rest in city centers. Cuban migrants held Institución Nacional de Migración (INM) personnel accountable for delaying visas that would authorize their legal travel through Mexico. Migrants also accused agents of charging up to 1,500 pesos for faster admission into Mexico. Activists say that these are attempts by the Mexican government to "break up" the caravans. The group is expected to arrive at the border in the coming weeks.
BORDER: The U.S. Congress has reportedly denied the direction of $1 billion towards  the construction of 57 miles of border fencing, roads and lighting. Secretary of Defense Patrick Shanahan authorized the diversion of Pentagon funds on Monday evening. Democratic leaders denied the request yesterday and sent a letter to David L. Norquist, the Pentagon's chief financial officer, expressing their concern. Since President Donald Trump's national emergency declaration on Feb. 15, Pentagon officials have been facing intense scrutiny.
UNITED STATES: Yesterday, the World Trade Organization Dispute Settlement Body (DSB) postponed a meeting after the United States refused to recognize the government of Venezuelan President Nicolás Maduro. U.S. representatives refused to consider agenda items involving Venezuela, citing them as "illegitimate." This type of postponement is rare, and has already resulted in delays for the consideration of other trade disputes. A WTO official said the monthly DSB meeting has been postponed until further notice.
CARIBBEAN
DOMINICAN REPUBLIC: The Ministry of Education (MineRD) fired an employee only a few hours after she released a video promoting racial equality for all students yesterday. Marianela Pinales, Director of Gender Equality and Development for MineRD, was vocal about racial discrimination and the promotion of natural hair texture in schools. "No child should be discriminated for their appearance," said Pinales in the video, which was a part of a new initiative she spearheaded. According to Glenn Davis Felipe, communications director, the campaign had nothing to do with this decision. "We stand by the campaign and will be deepening it in the next days." The video, however, is no longer available through MinERD.
BARBADOS: Barbados is the first Caribbean country to have successfully completed its renewable energy project funded by the United Arab Emirates. Wilfred Abrahams, minister of energy and water resources, stated at the project's inauguration ceremony yesterday that this was an "extraordinary accomplishment." In 2017, the UAE, in partnership with the UN sustainable development goals, launched a $50 million Caribbean Renewable Energy Fund to reduce high cost energy and increase the use of renewable energy in the Caribbean. "We believe that we owe it to future generations to explore and develop alternative sources of energy that will allow us all to be energy self-sufficient," Abrahams said.
CENTRAL AMERICA
HONDURAS: Honduran journalist David Romero Ellner has evaded a government arrest order by barricading himself in the offices of Radio Globo, one of the main radio stations in Tegucigalpa where he is director. The Honduran government sentenced him to 10 years and eight months in jail after exposing a corruption scandal involving President Juan Orlando Hernández. "My conscience is clean," said Romero. "I am willing to go to jail as long as the people of Honduras know the truth about our corrupt government." The Inter-American Commission on Human Rights released a statement to the Organization of American States requesting that Romero's arrest warrant be suspended.
SOUTHERN CONE
BRAZIL: Swiss pharmaceutical company Rouche and airline carrier Avianca Brasil are the latest companies to pull out of the country's ailing economy. In statements made yesterday, Rouche said it will shut down its Rio de Janeiro factory, leaving 1,200 more people unemployed across the country. Avianca Brasil announced the same day that it intends to shutdown 21 flight routes. Once a promising emerging market, Brazil has faced an economic recession since 2014. Almost 13 million citizens are unemployed. Conservative President Jair Bolsonaro's government has failed to increase investor confidence in the country's economy.