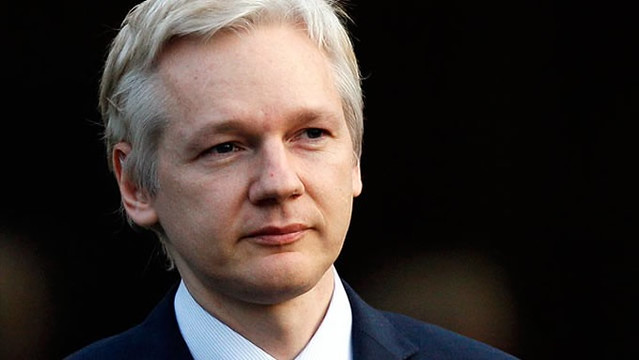 Julian Assange, shown in 2013. (Photo by newsonline via Flickr)
Quechua Translation: After Assange Arrest in London, Ecuador's Moreno Calls Him a 'Spoiled Brat'
RUNASIMIPI: Quechua, an Andean language, is the most commonly spoken Indigenous language in the Americas, with thousands of speakers. Quechua is not actually called "Quechua" by speakers of the language. They call it "Runasimi" — which means "idoma de la gente" or "language of the people."
The news below was translated from Spanish and English into Quechua by Jacquelyn Kovarik. She translated it for the capstone for her independent study project with Dr. Odi Gonzales, the director of the NYU Quechua Language Studies program while completing her dual Masters in Journalism and Latin American and Caribbean Studies. Visit our Quechua page to see more translations and stories related to the Quechua language.
The news originally came out April 11, 2019.
Quechua
Assangeq asilon tukukapun, Ecuador embajadapi Londrespi
Jueves p'unchay tutamantapi, 11 abrilpi, ingles policíakuna hap'isqaku WikiLeaks paqarichiq Julian Assangeta, Ecuador autoridadkunaq permisonwan, embajada Londrespi. Unayñas  Ecuador embajada mana allintachu kawsasqa Assangewan. Jueves p'unchay Ecuador ministro José Valencia risqa parlamentoman chaypi chaninchasqa imarayku Assangeq asilon tukupuran. Hoq razónsi kasqa: Assanges challpupakusqa Ecuadorpa asuntonkunapi. Hoq rázontaqsi kasqa: Assanges cheqnikusqa Ecuadorpa embajadanpi llank'aqkunata.
Presidente Lenín Morenoq rimasqanpi, pay niran, "Assange manan munaranchu kasuyta asilo normakunata," nispa. Ingles policiakuna Ecuador embajadamanta Assangeta horqoyta tukuqtinku, Presidente Moreno niran, "Assange kan mana kasukuq runa," nispa. Iskay waranqa chunka iskayniyuq watapi, Ñawpaq izquierdista presidente Rafael Correa sayapakuran Assangeman, imarayku? Pay qhawachiran WikiLeakspi confidencial documentokunata Estados Unidos gobiernomanta.
English
After Assange arrest in London, Ecuador's Moreno calls him a 'spoiled brat'
Yesterday morning, Ecuador allowed police to arrest Wikileaks founder Julian Assange in its embassy in London after years of tense relations between the government and the computer programmer. Foreign minister José Valencia presented nine reasons to the Ecuadorian parliament yesterday on why Assange's asylum was revoked. The list included Assange's alleged interference with Ecuador's foreign relations and mistreating embassy staff.
In an address yesterday, President Lenín Moreno accused Assange of violating the terms of his asylum. He described Assange as a "spoiled brat" hours after Britain law officials forcibly removed Assange from the embassy. In 2012, Assange moved into the Ecuadorian embassy after former leftist President Rafael Correa gave his support to the hacker's publishing of confidential U.S. documents on WikiLeaks.
Español
Después del arresto de Assange en Londres, Moreno, de Ecuador, lo califica de un 'niño mimado'
El jueves por la madrugada, el 11 de abril, el gobierno de Ecuador permitió que la policía detenga al fundador de WikiLeaks, Julian Assange, en su embajada en Londres, después de años de relaciones tensas entre el gobierno ecuatoriano y el programador. El mismo día, el ministro de relaciones exteriores José Valencia presentó nueve razones al parlamento ecuatoriano sobre el por qué el asilo de Assange fue revocado. La lista incluyó la presunta interferencia en los asuntos exteriores del Ecuador y su maltrato al personal de la embajada.
En su discurso el mismo día, el Presidente Lenín Moreno acusó a Assange de violar las normas de su asilo. Moreno describió a Assange como un "malcriado," horas después que los oficiales británicos detuvieran por la fuerza a Assange en la embajada. En 2012, Assange se mudó a la embajada ecuatoriana, cuando el ex-presidente izquierdista Rafael Correa le dió su apoyo al hacker, por haber publicado documentos confidenciales de los Estados Unidos en WikiLeaks.
Jacquelyn is currently a Foreign Language Area Studies Fellow at New York University, where she is studying Quechua and pursuing a masters degree in Latin American Studies and Journalism. Her research focuses on contemporary social change in Bolivia and Peru, with an emphasis on transitional justice and initiatives for well-being and resilience in Andean communities. In 2016 she filmed and produced a documentary about families fighting for reconciliation in a post-dictatorship Bolivian society.