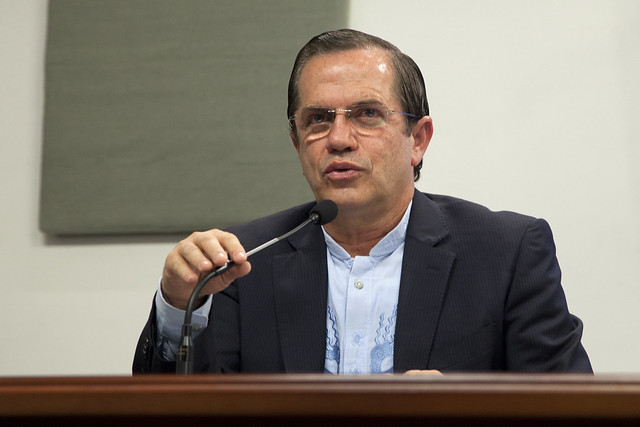 Former Ecuadorian Foreign Minister Ricardo Patiño during a press conference in 2012, when Ecuador granted asylum to Julian Assange. (Photo by Cancilleria de Ecuador via Flickr)
Ecuador Orders Arrest of Former Chancellor Accused of WikiLeaks Connection
April 22, 2019
By Staff
TODAY IN LATIN AMERICA
ECUADOR: On Thursday, authorities announced that an Ecuadorian judge issued a pre-trial detention order on instigation charges for the country's former foreign minister. Ricardo Patiño, who served under the administration of leftist president Rafael Correa, is said to have connections with Wikileaks, according to President Lenín Moreno. In a video message released on Thursday, Patiño said he was being wrongfully investigated for calling for demonstrations against Moreno. Prosecutors say Patiño left the country by land on Wednesday night. In an interview with RT yesterday, Patiño accused Moreno of being a "C.I.A. asset," calling Julian Assange's arrest a "savagery."
HEADLINES FROM THE WESTERN HEMISPHERE
NORTH AMERICA
BORDER: On Saturday, authorities arrested a New Mexico man who reportedly belongs to a militia that detains Central American families near the U.S.-Mexico border. The man is said to to be a member of an armed civilian group called the United Constitutional Patriots, who gained notoriety through video footage that showed them ordering large groups of migrants to follow their instructions. The Mexican government expressed "deep concern" about such groups on Saturday, according to Reuters. The ACLU and several Democratic senators have called for a probe into these civilian militias.
MEXICO: On Friday, several gunmen opened fire at a family party, killing 14 people and wounding four others at a bar. One of the worst slayings of the López Obrador administration, the attack took place in Minatitlán, a town located in the eastern state of Veracruz. Police have set up checkpoints in the vicinity to find the assailants and President Andrés Manuel López Obrador has vowed to "bring justice" to the victims' families.
MEXICO: Chinese artist Ai Weiwei brought his activism to Mexico City, where he presented his latest installation regarding the 43 disappeared students from the Rural Teachers College of Ayotzinapa. Exhibited at the Museum of Contemporary Art at the National Autonomous University (MUAC-UNAM), the work includes portraits and interviews with 43 male students who were allegedly disappeared and murdered by local security forces who colluded with drug cartels in September 2014. Ai showed his exhibit, made up of Lego portraits of all 43 of the missing students, at a university museum. The case remains unsolved.
CENTRAL AMERICA
NICARAGUA: Easter weekend marked the the country's one-year anniversary of anti-government protests, which inspired some Nicaraguans to transform Good Friday processions into a mass protest against President Daniel Ortega's government once again. Dozens out of hundreds in the crowd called for justice outside the city's cathedral. They waved blue and white flags and carried wooden crosses bearing the names of those who were killed while mobilizing in the past year. Riot police used grenade-like devices and tear gas to disperse the crowd while some protesters threw rocks and took shelter inside the cathedral gates. The Inter-American Commission on Human Rights says at least 325 people have died in the protests and government crackdown.
CARIBBEAN

CUBA: Britain called the United States' renewed punitive sanctions on Cuba "illegal under international law" due to their requirement that foreign companies abide by them as well. The UK fears these measures, known as the Helms-Burton Act, will threaten business relationships between companies in Cuba and those in the UK and in Europe. In the meantime, the UK and the EU have agreed to work together to protect the interests of their companies in light of new sanctions.
HAITI: On Friday, a heavily armed group of individuals opened fire on the police station in the commune of Petite Revière de L'Artibonite and set a service vehicle on fire. The attack may be connected to the arrest of gang members by the Petite Revière police. It is suspected that the assailants destroyed the station with the help of gang leader, Arnel Joseph, because they were furious that their accomplices were transferred to Saint-Marc, another correctional facility in Port-au-Prince.
ANDES
COLOMBIA: At least 17 people have died and five were injured in a landslide yesterday following torrential rains in a remote community in southwestern Colombia. The landslide affected at least eight homes and blocked a portion of the Pan-American Highway, according to the National Disaster Risk Management Agency. Rescue workers continue to search for survivors under debris, and five people have been taken to local hospitals for treatment. In the department of Nariño, over 8,000 Colombians have been affected by the floods.
VENEZUELA: At a rally in the capital of Caracas on Friday, opposition leader Juan Guaidó called for the "biggest demonstration in this country's history" to take place on May 1 to pressure President Nicolás Maduro to step down. The march will occur on Labor Day, the same day the socialist government will hold its own parade to honor Maduro's predecessor Hugo Chávez.
SOUTHERN CONE
BRAZIL: Last Thursday, President Jair Bolsonaro said his administration plans to introduce legislation that would make it easier to carry guns in public and expand legal protections for people who kill in self-defense. The far-right president argued in an internet broadcast that guns would help citizens protects themselves. During his election campaign, Bolsonaro promised to repeal the country's strict gun laws, despite the nation's high murder rate.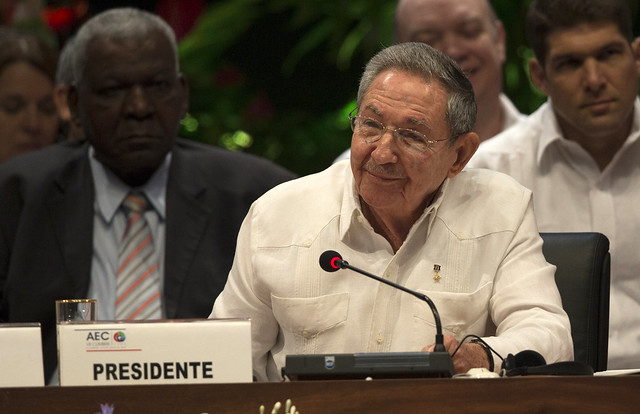 April 19, 2019
> Staff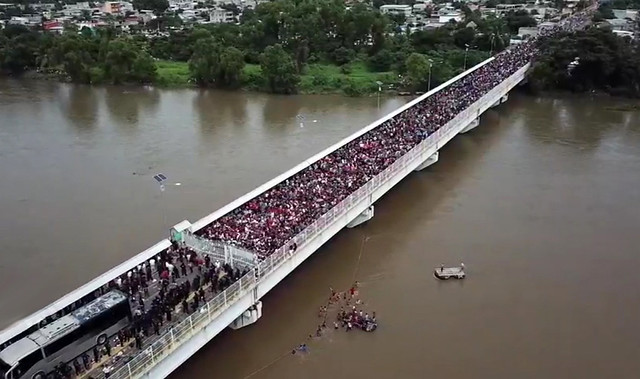 April 23, 2019
> Staff