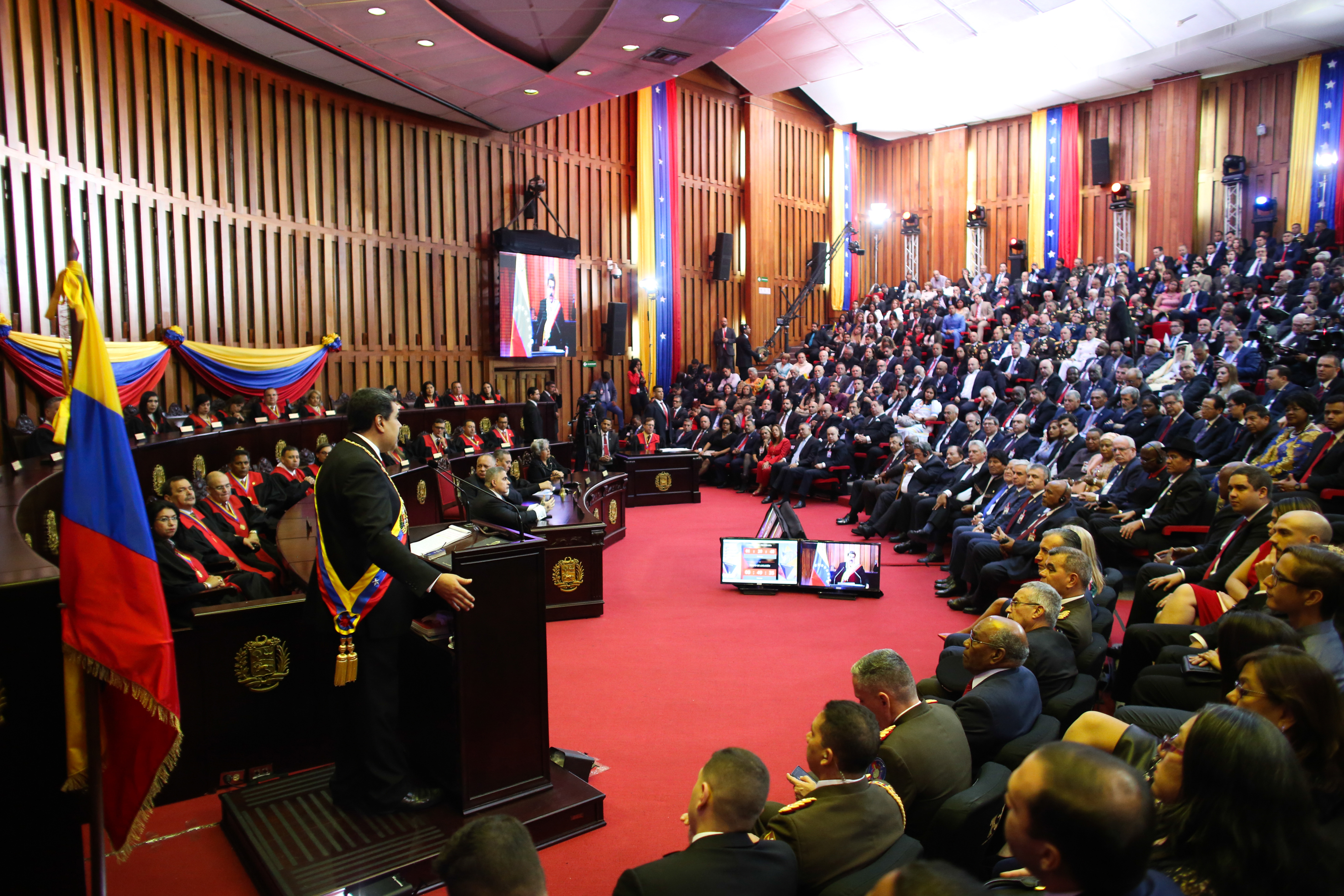 The Supreme Court chambers during the 2019 inauguration of President Nicolás Maduro. (Image courtesy of Presidencia El Salvador via Flickr)
Venezuela's Supreme Court Begins Trial Against Opposition
May 8, 2019
By Staff
TODAY IN LATIN AMERICA
VENEZUELA: The Supreme Court opened criminal investigations for treason on six opposition leaders on Tuesday, including Henry Ramos Allup and Luis Germán Florido. The opposition's most prominent figures were accused of "betraying the homeland" and "instigating an insurrection." The move came a week after opposition leader Juan Guaidó attempted a failed coup to oust Nicolás Maduro from power. Venezuela's top court had previously opened an investigation into senior assembly member, Edgar Zambrano, who joined Guaidó as he made his public call for military intervention.
U.S. Vice President Mike Pence also warned the 25 magistrates against their continued support of Maduro's government while lifting sanctions on the defected director of military intelligence. At the same time, Venezuelan authorities took control of three private airports to "prevent illegal activities."
HEADLINES FROM THE WESTERN HEMISPHERE
NORTH AMERICA
MEXICO: On Tuesday, President Andrés Manuel López Obrador announced that he wants to reorient the U.S. Merida aid program. Since 2008, the Merida Initiative has allotted $1.6 billion to Mexico, primarily for border programs and anti-drug efforts. According to López Obrador, Mexicans "don't want aid for the use of force, [they] want aid for development." AMLO's administration is consulting with U.S. officials to redirect the program's efforts and aim the funds towards developing job opportunities in Mexico and Central America.
U.S.-MEXICO-CANADA: Vice President Mike Pence has scheduled a visit to Minnesota this Thursday to promote the United States-Mexico-Canada Agreement (USMCA). Pence's tour aims to promote the deal's benefits for American farmers, as congressional approval wanes and Mexican officials worry that the new deal will fall apart. White House officials report that Pence will first visit R & J Johnson Farms near Fargo, North Dakota. Pence's last stop is a St. Paul steel mill, where he will talk to farmers and steelworkers.
MEXICO: Mexico drug cartels are reportedly contributing to the U.S. opioid crisis and are pushing traditional poppy farmers out of business. Over the last two years, drug cartels trafficking fentanyl have replaced poppy farmers as the main producers of synthetic heroin. Although the U.S. administration has tried to put an end to the entry of the drug, criminal organizations—including the Jalisco Nueva Generacion and the Sinaloa Cartel— are securing the market. The Mexican government fears that newly unemployed farmers may also contribute to the country's levels of violence.
CARIBBEAN
CUBA: The Cuban government has canceled this year's edition of the Conga Against Homophobia Parade, an event celebrating LGBT rights in Cuba. Mariela Castro, director of the state-run Center for Sex Education, said in a Facebook post that the event had been canceled by orders of the Ministry of Health. The post said the cancelation came from "tensions in the international and regional context" that could "have tangible and intangible impacts in the normal development of our daily life and the implementation of the policies of the Cuban state." There was no further comment from the Ministry.
PUERTO RICO: Since 2006, public and private school enrollment in Puerto Rico has dropped 44% as a result of the island's 12 year recession, researchers announced Tuesday. As a result, 265 schools on the island have been closed and officials worry more minors will drop out of further education. According to investigators and the Center of Puerto Rican Studies at Hunter College in New York, 65% of school closures have occurred in economically struggling rural communities. The center's director explained that the changes have reduced access to primary education and even cut bus services.
CENTRAL AMERICA
GUATEMALA: A prison riot in a Guatemalan prison left 3 dead and 10 wounded Tuesday. Armed prisoners took over the Pavon Rehabilitation Model Farm for 8 hours and 1,500 police officers and soldiers were sent to the scene to regain control. The facility, built to hold 900 prisoners, was currently housing 4,000.
ANDES
PERU: Prosecutors announced that they would pursue a 20 year prison sentence for former President Ollanta Humala on Tuesday. Humala and his wife, Nadine Heredia, allegedly received over $3 million from Brazilian construction giant, Odebrecht, for his presidential campaigns. The scandal has rocked Peruvian politics with nearly all living former presidents implicated. Former President Alan Garcia shot himself in the head in April before he could be arrested in connection with the scandal.
SOUTHERN CONE
PARAGUAY: Over 40,000 civilians have been evacuated to higher ground due to flooding along the Paraguay River. The lack of transitable roads to isolated communities has already led to the deaths of two indigenous children in the Chaco region. Constant heavy rains since March have made the river swell from 13 feet to nearly 27 feet. Around 480,000 heads of livestock are expected to be standing in water in the submerged ranching region of Bajo Chaco.