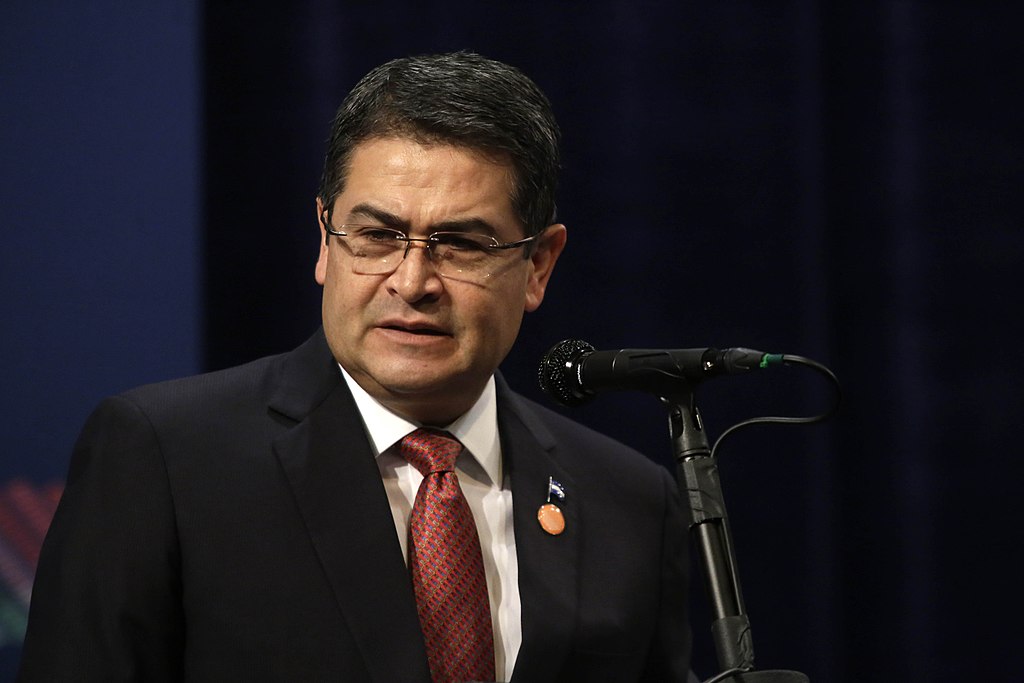 President Juan Orlando Hernández during a the Conference on Prosperity and Security for Central America, held in Miami, Florida, on June 17, 2015. (Photo by the Presidency of El Salvador via Wikimedia Commons).
As Honduran Protestors Demand His Ouster, President Hernández Deploys The Military
June 20, 2019
By Staff
TODAY IN LATIN AMERICA
HONDURAS: Anti-government demonstrators have erected roadblocks across the country AS they continue to protest against President Juan Orlando Hernández, clashing with state security forces in multiple points across Honduras. President Hernández has deployed the military in the streets of Tegucigalpa after overnight protests on Wednesday left two dead. In the capital, gas stations were attacked, and businesses were looted as demonstrators demanded that the president stepped down. Hernández has been embroiled in several controversies, the most recent being a probe launched by the Drug Enforcement Administration (DEA) for alleged drug trafficking.
Headlines from the western hemisphere
NORTH AMERICA
MEXICO: President Andrés Manuel López Obrador hosted his Salvadoran counterpart Nayib Bukele in southern Mexico yesterday. Immigration was at the center of the bilateral meeting celebrated in Chiapas, with both presidents discussing a comprehensive development plan for Central America that allows for citizens of Guatemala, El Salvador, and Honduras to remain in their countries. Luis García Rey Villagrán, the spokesperson for the migrant community in Mexico, demanded more presence of his constituency in the talks that are defining this new migratory policy.
MEXICO: A group of Mexican researchers has confirmed the existence of 1,606 clandestine graves around the country. Coordinated by the Universidad Iberoamericana, the study has found that these secret burials contain 2,489 bodies, most of the casualties resulting from an escalating conflict between rival drug cartels between 2006 and 2017. Researchers emphasized that these numbers put in evidence the "massive disinformation" that for decades has obscured violence-related data.
CARIBBEAN
PUERTO RICO: The U.S. Supreme Court has decided to take the issue of Puerto Rico's financial crisis as part of its judicial agenda at the end of the year. A ruling by a lower court earlier this year stated that oversight board members, tasked with handling the island's crippling finances, were appointed unconstitutionally. New board members remain to be appointed by the White House. The Justices are set to review the constitutionality of the initial appointments during the second week of October of this year.
ANTIGUA AND BARBUDA: A sprawling urban development project funded with Chinese capital has raised concerns over environmental risks in Antigua and Barbuda. Nicknamed  "the Chinese colony" by locals, Yida, the 200-acre infrastructure plan in the eastern part of Antigua, includes a housing section, a manufacturing hub with three factories, and holiday resorts. Environmental activists believe Yida's construction will decimate valuable parts of the coastal vegetation of the area, destroying buffer zones that protect locals in case of a hurricane. Antigua and Barbuda became the first Caribbean nation to join the Belt and Road Initiative, China's global trade project that spans the entire globe.
CENTRAL AMERICA
GUATEMALA: The country's Electoral Tribunal (TSE) announced yesterday that it would review the vote count at each polling station, following allegations of fraud by several candidates after the general elections on June 16. Inconsistencies in the vote count were revealed after officials at several voting centers said that the digital records provided by the TSE did not add up to the physical votes they tallies. Recount begins of the 21,099 stations start Monday.
ANDES
PERU: A new scientific approach has provided a new way to read and understand the famous desert etchings in Nazca. An article published by Japanese researchers in the Journal of Archeological Science: Reports uses an ornithological approach–the study of birds–to show that the geoglyphs depict birds from Peru's forests and coastal areas. Among those pictured are two hummingbirds, a flamingo, a duck, and a long-tailed mockingbird, according to the researchers.
ECUADOR: The country's Constitutional Court has approved an Australian-owned copper, gold, and silver mine after ruling against community consultations regarding a large mining project in the northern provinces of Imbabura and Carachi. Ecuadorean authorities have said that the Cascabel mine could become the largest underground silver mines in the world, able to yield up to 1.4 million ounces of the precious metal in its first 25 years of operation. SolGold, the mining company that owns the mine, has also estimated 10.9 million tonnes of copper and 23 million tonnes of gold.
SOUTHERN CONE
CHILE: La Pintana, an impoverished municipality in the outskirts of Santiago, leads waste recycling at 140 tonnes per week in Chile. The initiative began in 2005 as a financial means to save municipal funds from expenditure in waste management. Despite its 42% poverty rate, residents of La Pitana have created a scheme that includes a compositing and vermiculture plant. When waste is processed, the 'dark earth' becomes fertilizer for a nearby community garden at a nursery.
BRAZIL: A Brazilian subsidiary of Walmart has agreed to pay $282.7 million after being found guilty of foreign corruption in a U.S. court, settling both criminal and civil charges. The Securities and Exchange Commission (SEC) concluded that Walmart Brazil violated the Foreign Corrupt Practices Act (FCPA) after court filings showed a $527,000 payment in 2011 to an intermediary that facilitated permit contracts, earning him the nickname of feiticeiro, or "sorceress." Under the FCPA, U.S. companies are forbidden to receive or give bribes to obtain or retain businesses.