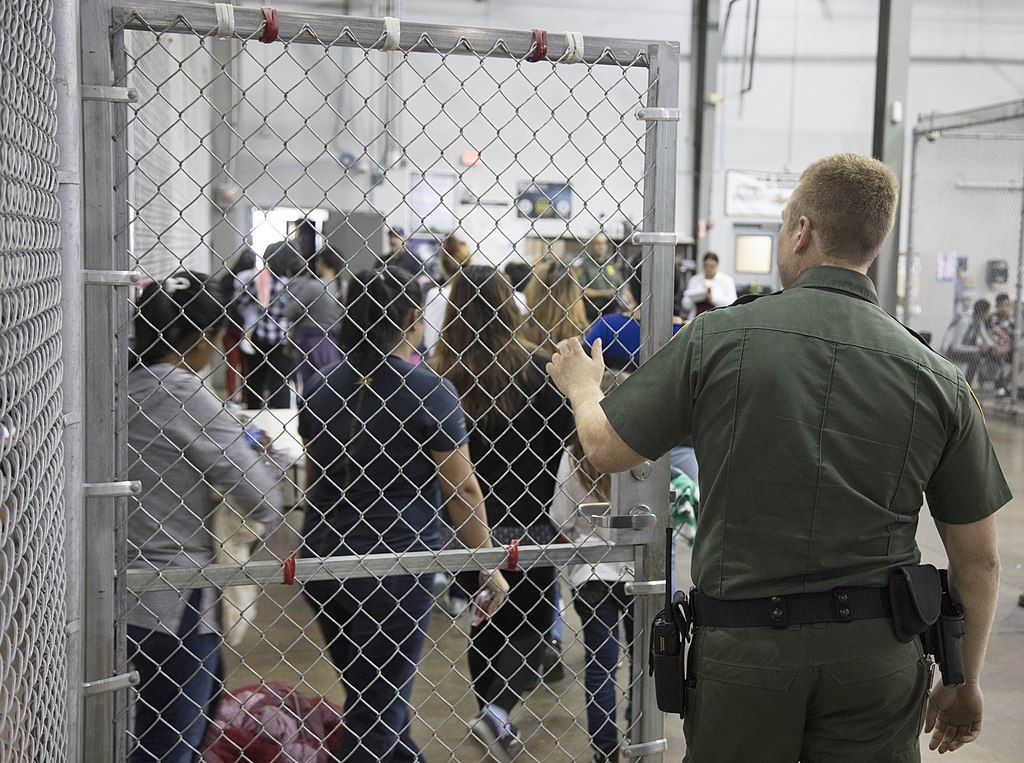 Photo provided by Customs and Border Protection to a reporter touring a detention facility in McAllen, Texas on June 17, 2018. (U.S. CBP via Wikimedia Commons).
Hundreds Of Underage Migrants Moved From "Inhumane" Detention Facility In Texas
June 25, 2019
By Staff
TODAY IN LATIN AMERICA
BORDER: After an article published June 21 by the Associated Press exposed the "inhumane conditions" in a particular migrant detention center for children, the U.S. government transferred 270 migrants from that remote border station in Texas yesterday. The original report described how the center neglected the medical needs of over 300 detainees, as well as how the underage migrants lived in unsanitary and overcrowded conditions and were poorly fed by border authorities. Around 30 minors remain at the facility located in Clint, Texas, according to the Department of Homeland Security (DHS). The children will come into the custody of the Department of Health and Human Services (DHH) today.
Headlines from the western hemisphere
NORTH AMERICA
BORDER: Border Patrol (CBP) agents found four bodies by the Rio Grande. Sheriff Eddie Guerra from Hidalgo County, Texas, announced via Twitter that three of the deceased appeared to be children—one toddler and two infants—and the other was a 20-year-old woman. Their identity and country of origin are unknown. CBP data shows that the 2018 fiscal year had 283 deaths, the majority (96) of which were counted in the Rio Grande Valley in South Texas, where Hidalgo County is located.
BORDER: Mexico has sent 15,000 troops composed of military and police elements to its northern border with the United States. Agents will be tasked with stopping migrants that attempt to cross into the U.S. illegally, said the Mexican defense minister yesterday in a joint press conference with President Andrés Manuel López Obrador. The recent increase in border enforcement comes as after Mexico struck a deal with the United States to avert tariffs on all its goods.
CARIBBEAN
CUBA: A Russian guided-missile frigate called Admiral Gorshkov entered Havana's bay yesterday. Docking at a port used by cruise ships until recently, the vessel's arrival comes at a time of rising tensions between the old Cold War allies and the United States. In the last months, the Trump administration has reinstated travel restrictions and pushed for tougher economic sanctions on the island. One of the most modern ships in Russia's navy, the Gorshkov had previously made stops in China, Djibouti, and Sri Lanka before arriving in Cuba, where the crew is set to "tour places of historical and cultural interest."
CENTRAL AMERICA
HONDURAS: The Honduran military reportedly injured at least three students while they participated in anti-government protests at the National University of Honduras (UNAH) in Tegucigalpa. Around three hundred police officers and 40 agents of the Honduran riot police entered UNAH's campus yesterday and tried to disperse the student demonstrations with tear gas and "live" bullets. UNAH's president, Francisco Herrera, condemned the "attack on the university's autonomy," saying that the university did not authorize the police's entry.   
COSTA RICA: On Sunday, thousands of Costa Ricans participated in the first Pride Parade since the historic ruling on gay marriage back in Nov. 2018. President Carlos Alvarado was among the attendees in the celebrations, standing behind a banner that read "never again will you walk alone." Costa Rica will legalize same-sex marriage in May 2020, becoming the first nation to do so in socially-conservative Central America.
ANDES
COLOMBIA: Last Friday, yet another murder of a community leader prompted a wave of anger across the country. Two gunmen on a motorcycle shot down María del Pilar Hurtado in Tierralta, in the department of Córdoba, as two of her four children watched. On Sunday, Defense Minister Guillermo Botero was forced to admit that he lied to a local news channel when he said that the ELN guerrilla was guilty of Hurtado's assassination. The mayor of Tierralta, Fabio Otero, was also caught in a lie after Colombia's Ombudsman Office rejected his claims that Hurtado was not a social leader after Otera asked "not to politicize" the murder.
PERU: Yesterday, Defense Minister José Huerta died during an official trip to the Peruvian Amazon. Huerta, 71, reportedly suffered a heart attack while visiting Santa María de Nieva, in the northeast part of Peru. Huerta had led the ministry since 2018, and one of his most important tasks was to command an operation in February that evicted thousands of informal gold miners from one of Peru's mineral-rich areas in its southeast jungle.
SOUTHERN CONE
ARGENTINA: The U.S. Supreme Court rejected to take up an appeal by Argentina, allowing a lawsuit for former shareholders of the now state-run oil company YPF to go forward. Madrid-based Petersen Energía Inversora held 25% of the stock at the time YPF was nationalized in 2012 and sought to receive compensation for their shares after the South American country confiscated 51% of the energy company. The $3 billion lawsuit makes Argentina liable for the loss of share value after the price collapsed following the company's nationalization.
URUGUAY: An Italian mafia boss escaped from a prison in Uruguay yesterday. Rocco Morabito, the leader of the 'Ndrangheta criminal group, also known as the "cocaine king of Milan," reportedly fled through a hole in the roof of the National Rehabilitation Center holding facility in Montevideo while waiting to be deported to Italy late night Sunday. Morabito, one of Italy's most wanted fugitives, was arrested in Uruguay in 2017 on charges of illicit association and international drug trafficking after twenty years on the run. Interpol has issued a high-priority arrest warrant for the kingpin and three other inmates who also escaped on Sunday.