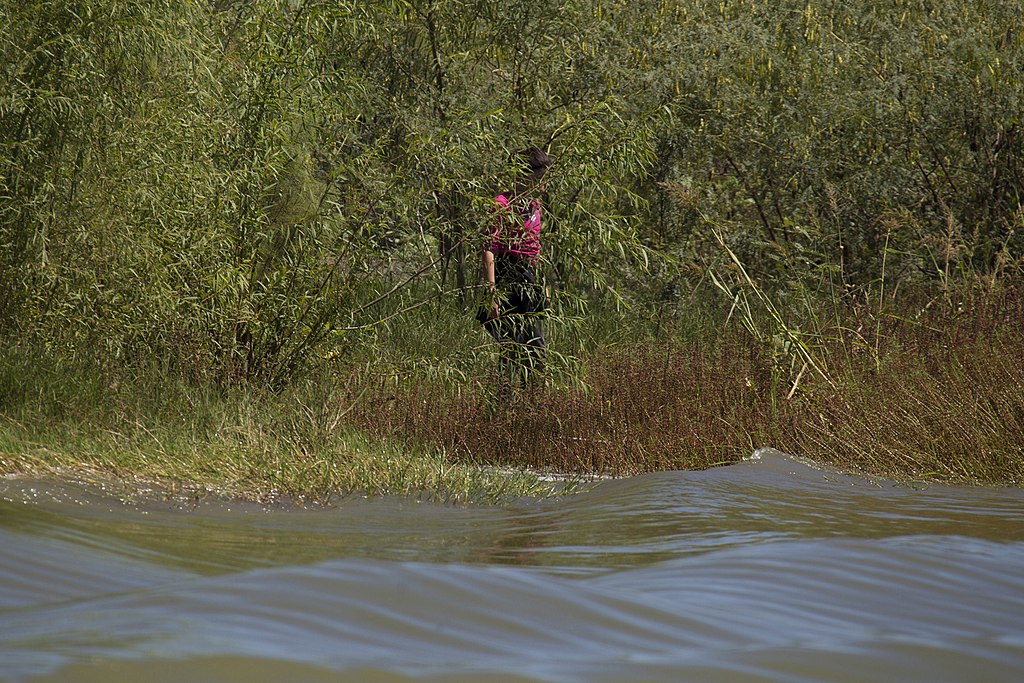 As a Border Patrol Riverine Unit conducts a search exercise in an Air and Marine Safe-Boat in South Texas along the Rio Grande, a stranded child awaits to be rescued on the riverbank. (Photo by U.S. Customs and Border Patrol via Wikimedia Commons).
Shocking Photo Of Drowned Migrants Sparks Global Outrage
June 27, 2019
By Staff
TODAY IN LATIN AMERICA
BORDER: A photo of a drowned Salvadoran man and his 23-month-old infant has sparked global condemnation and anguish. Óscar Alberto Martínez Ramírez and his daughter Valeria, both Salvadoran nationals, were carried away by the Rio Grande's strong current and drowned while trying to cross into the United States near the border between Matamoros, Mexico, and Brownsville, Texas. Pope Francis said that he was "profoundly saddened and praying" for all migrants trying to cross the border, while UNICEF's Executive Director Henrietta Ford called it a "searing image." 
Democratic presidential candidates also expressed their anguish over the mesmerizing photograph. Beto O'Rourke said that President Donald Trump was "responsible for the deaths" of the migrants. Sen. Kamala Harris (D-CA) called the image "a stain in our moral conscience," while Sen. Bernie Sanders (D-VT) said that he would "close all detention centers" if elected into office.
Headlines from the western hemisphere
NORTH AMERICA
UNITED STATES: After the House of Representatives approved a $4.5 billion emergency funding bill for humanitarian aid aimed at alleviating conditions at detention facilities at the border on Monday, the Senate followed yesterday, passing its own $4.6 billion version. Now, both chambers are headed towards confrontation regarding the bill's contents. The Senate's includes funds for the Department of Defense, while the House's iteration finances the Office of Refugee Resettlement instead. The Senate "will never approve" what the House has put together, said Sen. Mitch McConnell yesterday. Sen. Richard Shelby (R-AL) called the ongoing legislative dispute a "stalemate."
CENTRAL AMERICA
EL SALVADOR: Rosa Ramírez, the mother of a man who drowned alongside his child in the Rio Grande, has found comfort in knowing that her family "died in each other's arms." The image shows how 25-year-old Óscar Alberto Martínez Ramírez tucked his 23-month-old daughter Valeria unto his shirt to help her cross the river. Salvadoran President Nayib Bukele has vowed to repatriate the migrants' bodies. Tania Vanessa Ávalos is expected to fly back from México to El Salvador today, accompanied by her remains of her husband and daughter.
PANAMA: A 6.3-magnitude earthquake was registered off the coast of Panama yesterday. With an epicenter near the Panama-Costa Rica border, the tremor was felt in both Central American capitals. Hospital patients in the Panamanian bordertown of Chiriquí were evacuated, while six injuries and several collapsed houses were reported by domestic news outlets.
CARIBBEAN
DOMINICAN REPUBLIC: Yesterday, the eleventh American tourist died while vacationing on the Dominican Republic, marking the ninth death since April. Denver resident Khalid Adkins was hospitalized in Santo Domingo after falling ill upon landing in Punta Cana on Saturday. Although Adkins' cause of death remains unknown, some speculate that it might be due to alcohol poisoning or exposure to pesticides. Amid growing concern about traveller's health, airlines have begun waiving flights to the popular tourist destination, with some operators like Delta allowing for passengers to cancel their trip to the island.
BAHAMAS: A shark attack northeast of Nassau resulted in the death of one American tourist. Jordan Lindsey, a 21-year-old California native, was attacked by "multiple sharks" while she was snorkeling near Rose Island. Although Lindsey's family shouted warnings at her as they saw three sharks approaching her, yesterday's incident ended with a tragic outcome.
ANDES
COLOMBIA: The White House Office of National Drug Control Policy (ONDCP) asserts that coca cultivation has "dropped slightly" in 2018. The ONDCP said that Colombia saw a minor decrease in cultivation size in 2018, dropping to 208,000 hectares after 209,000 hectares in 2017. The U.S. government agency also stated that President Iván Duque has surpassed his predecessor's anti-drug efforts, eradicating 56% more coca plantations than former president Juan Manuel Santos. 
VENEZUELA: Government officials said yesterday that they were able to stymie a plot to murder President Nicolás Maduro. During an intervention transmitted in public television, government spokesman Jorge Rodríguez said that several retired police officers and army veterans attempted to bomb a government building and rob the country's central bank. Rodríguez accused the government of the United States, Chile, and Colombia to be involved in the elaborate assassination attempt, where opposition leader Juan Guaidó was planning to execute "a bloodbath."

SOUTHERN CONE
BRAZIL: Spanish authorities have detained a Brazilian air force pilot as he tried to smuggle 39 kilos of cocaine into the country in his luggage. Sergeant Silva Rodrigues was caught in Seville as he travelled in the back-up plane going to Osaka, Japan, as part of President Jair Bolsonaro's contingent for the G-20 set to begin tomorrow. Rodrigues remains under Spanish custody, while Bolsonaro has asked the military police to launch an investigation into the incident.