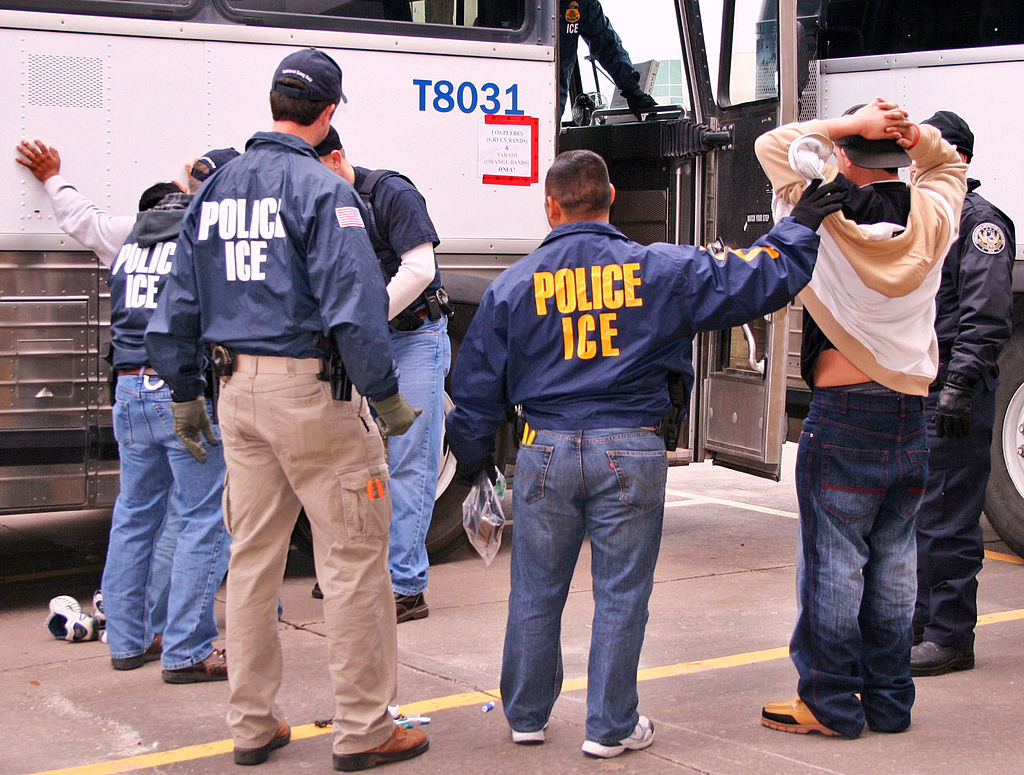 ICE Special Agents arresting alleged suspects during a raid during "Operation Night Moves" in Feb. 2, 2010. (Photo by Immigration and Customs Enforcement via Wikimedia Commons).
ICE Plans Migrant Raids In 10 U.S. Cities Starting Sunday
July 12, 2019
By Staff
TODAY IN LATIN AMERICA
UNITED STATES: Immigration and Customs Enforcement (ICE) will launch raids across ten major cities this Sunday, according to the New York Times. The raids are expected to potentially target around 2,000 undocumented immigrants who "have been ordered to be deported." According to an immigrant's rights advocacy group Raíces, the enforcement operation called by the Trump administration will reportedly take place in Miami, Atlanta, Chicago, Baltimore, Denver, Houston, Los Angeles, New Orleans, New York City, and San Francisco.
Headlines from the western hemisphere
NORTH AMERICA
REGION: Tropical Storm Barry, the first major storm system in the hurricane season, threatens the coast of Louisiana as it catches strength in the Gulf of Mexico. The drenching rains will test the flood-control improvements made in the New Orleans shoreline after the devastation caused by Hurricane Katrina. Barry is expected to make landfall tomorrow morning, with locals already advised to prepare for "ruinous downpours" over the weekend. 
UNITED STATES: On its second edition, the Latin American Photo Festival opened last night at the Bronx Documentary Center. Citlali Fabian will show her large-format portraits of Mestiza women in Mexico, while Johis Alarcón's work explores the cultural roots of Afro-Ecuadorian communities. Also featured will be award-winning photographers like Fred Ramos from El Salvador, Christopher Gregory from Puerto Rico, and Andrés Cardona from Colombia. The exhibit is on view until July 21. 
CARIBBEAN
REGION: Tsai Ing-Wen, the president of Taiwan, left Taipei yesterday to engage on a tour of the region. The first stop of a 12-day trip will be Haiti, where the head of state is expected to meet embattled President Jovenel Moïse in Port-au-Prince. President Tsai will then head to the West Indies, where she will visit the island nations that recognize Taiwan over China: St. Kitts and Nevis, St. Vincent and the Grenadines, and St. Lucia. The number of countries that have diplomatic ties with Taiwan instead of China has fallen from 22 to 17 since Tsai assumed office three years ago. 
PUERTO RICO: Calls for Governor Ricardo Rosselló to resign have increased since federal prosecutors unveiled a high-profile corruption scandal on Wednesday. A tweet by the National Resources Committee, which oversees U.S. territories like Puerto Rico, called for Gov. Rosselló "to step down" following the graft probe. Yesterday, leaked messages showed how the Rosselló and his close advisors used profanities to talk about New York City Assembly Speaker Melissa Mark-Viverito, adding to the scandal surrounding Puerto Rico's government. 
CENTRAL AMERICA
GUATEMALA: Five former senior government officials are asking the Constitutional Court to block the "safe third country" migratory treaty with the United States. President Jimmy Morales arrived in Washington yesterday and is expected to meet with President Donald Trump during his five-day official visit focused on immigration. Guatemalan press presumes that the signing of the agreement, which sends migrants back to Guatemala to wait for their asylum request to be processed in the U.S., would allegedly take place over the weekend. Trump's plan to curb U.S.-bound migration from Central America will be challenged if the CC's ruling is favorable to the statesmen's appeal.
ANDES
VENEZUELA: New U.S. sanctions are aimed at the country's counterintelligence agency. Yesterday, the U.S. Treasury said it would freeze all assets owned by the General Directorate of Military Counterintelligence (DGCIM) following the death of Rafael Acosta, a navy captain that died in captivity eight days after being arrested for allegedly plotting to participate in a coup against President Nicolás Maduro. Following months of political stalemate, both the government and the opposition reported "progress" during yesterday's peace talks in Barbados. Mediated by the Norwegian government, bilateral meetings are expected to continue next week. 
BOLIVIA: President Evo Morales visited Moscow on an official trip that seeks to expand its bilateral relations with Russia. The leaders held a public ceremony at the Kremlin, where both sides signed agreements on nuclear energy and the industrialization of lithium. Bolivia's state-owned YPFB will provide natural gas to a Russian fertilizer plant in the Amazon for 20 years starting in 2023. According to the Russian news agency TASS, President Morales "extended an invitation" to President Putin to visit Bolivia.
COLOMBIA: The U.N. Security Council (UNSC) arrives in the country today to check on the implementation of the guidelines established by the FARC peace deal. The four-day visit began yesterday amid "deep concerns" for the 123 confirmed murders of former combatants since the agreement was reached in 2016. Today, representatives from all 15 UNSC countries will meet privately with President Iván Duque, as well as holding talks with lawmakers and demobilized guerrilla combatants to "evaluate the effectiveness" of the landmark agreements. 
SOUTHERN CONE
BRAZIL: President Jair Bolsonaro said yesterday that he is "considering naming" his son for the U.S. ambassador post. Eduardo Bolsonaro, a lawmaker, has said that he would be willing to quit his position to "accept the mission" in the U.S. capital. The opposition has decried nepotism regarding the president's decision. Bolsonaro's eldest son, Flavio, currently serves as a senator for the state of Rio de Janeiro. Carlos Bolsonaro, the second son of the president, also works in politics as a Rio de Janeiro city councilman.