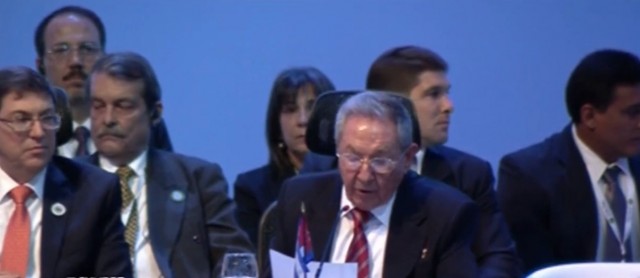 Cuban President: Return of Guantanamo Bay Needed to Normalize Relations
January 29, 2015
By Staff
Top Story — The United States must return the Guantanamo Bay naval base to Cuba, lift the half-century embargo completely and remunerate Cuba for the embargo's economic damages before both countries can move forward in restoring diplomatic relations, Cuban President Raúl Castro said on Wednesday. President Castro's remarks, made during a Community of Latin American and Caribbean States summit in Costa Rica, are the latest in an increasing list of demands made on the United States, which some fear may prolong the reconciliation process between both countries.
While voicing support for the restoration of diplomatic ties, the Cuban president warned that, "this will not be possible while the blockade still exists, while they don't give back the territory illegally occupied by the Guantanamo naval base." On the topic of compensation for the embargo established in 1960, Castro demanded "just compensation to our people for the human and economic damage that they've suffered."
President Castro's remarks come less than one week after U.S. and Cuban officials held historic, high-level talks in Havana, where both parties agreed to move ahead with their efforts to restore diplomatic relations. During the two-day negotiations, Cuban officials requested that the island nation be removed from the U.S. list of state sponsors of terrorism.
President Castro on Wednesday further admonished U.S. officials' alleged support for Cuban dissidents, in reference to the U.S. assistant secretary of state's decision to meet with dissidents following the historic talks last week.
"Everything appears to indicate that the aim is to foment an artificial political opposition via economic, political and communicational means," Castro said, adding that, "If these problems are not resolved, this diplomatic rapprochement between Cuba and the United States would be meaningless."
Headlines from the Western Hemisphere
North America
Caribbean
Central America
Andes
Southern Cone
Image: YouTube