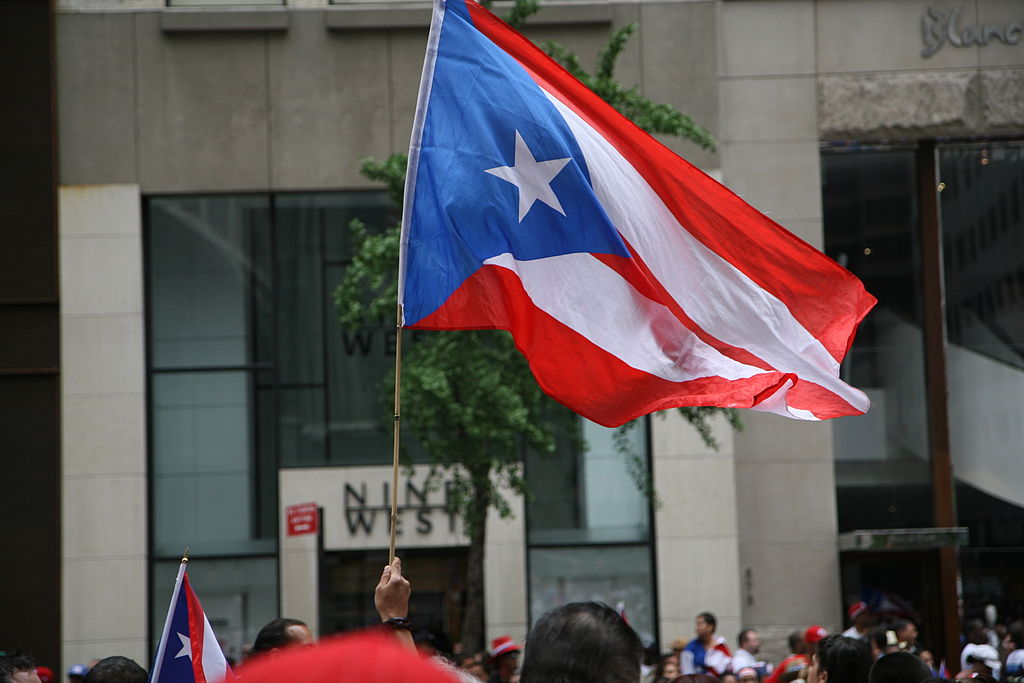 A protester holds a Puerto Rican flag during a demonstration in New York City over the weekend. (Photo by Alex Barth via Wikimedia Commons).
Around Half A Million Puerto Ricans Participate In Historic Strike
July 23, 2019
By Staff
TODAY IN LATIN AMERICA
PUERTO RICO: Determined to make Governor Ricardo Rosselló resign, hundreds of thousands of angry Puerto Ricans participated in the island-wide national strike. An estimated half-a-million Puerto Ricans blocked a major highway in San Juan and walked towards the governor's residence, La Fortaleza. Singer Ricky Martin, one of the people targeted in Rosselló's messages, joined protesters yesterday and urged island officials to start impeachment processes. Yesterday, in the first interview since the scandal broke, Rosselló told Fox News that he assumes the "responsibility of his actions" but that he respects the "rule of law and democracy," thus his refusal to step down.
Headlines from the western hemisphere
NORTH AMERICA
BORDER: Foreign Affairs Minister Marcelo Ebrard said that Mexico would participate in a program with the U.S. aimed at dismantling arms smuggling at the border. Mexico has seized 122% more assault weapons so far this year, according to the Associated Press. The announcement comes after Ebrard met with U.S. Secretary of State Mike Pompeo on Sunday, where both acknowledged "progress" on stemming Central American migration, which Ebrard said had decreased 36.2%.
BORDER: During yesterday's morning press conference, President Andrés Manuel López Obrador said that the Mexican border authorities had unveiled an "industrial-scale" migrant smuggling ring. The announcement comes after police in Veracruz found 150 migrants in the back of a trailer using the logos of the Soriana supermarket chain. In June, Mexico detected five freight trucks carrying 925 migrants mostly from Central America. Minister Ebrard noted that four out of the five vehicles belonged to the same freight company. 
CARIBBEAN
HAITI: Prime Minister Jean-Michel Lapin submitted his resignation to President Jovenel Moïse yesterday. In an interview with the Haitian newspaper Le Nouvelliste, Lapin said that he "he made a choice for Haiti" in stepping down after being unable to create a government during the three months that he was in office. President Moïse has called a meeting with the leaders from both legislative chambers to begin the process of selecting a new Prime Minister. 
U.S. VIRGIN ISLANDS: On June 25, domestic lawmakers in the islands voted to prohibit commonly found UV-blocking chemicals present in sunscreen ingredients that can damage coral reefs. With the recent ban on oxybenzone and octinoxate, the U.S. archipelago joins a handful of other jurisdictions around the world who are pioneering action against harmful sunscreens. It will be the first such ban to take effect in the United States, followed by Hawaii and Key West, Florida, and among the first internationally.
CENTRAL AMERICA
NICARAGUA: After visiting Venezuela on Saturday, Iranian Foreign Minister Mohammad Javad Zarif arrived in Managua on Sunday evening to hold talks with the country's senior officials and strengthen bilateral ties. Zarif pointed Iran's intentions to receive meat and agricultural products from the Central American country and expressed Iran's commitment to supporting energy generation and technological initiatives in Nicaragua. Amid an escalation of tensions following the seize of a British tanker in the Strait of Hormuz, the Iranian delegation will travel to Bolivia today, where meetings with President Evo Morales are expected to take place.
PANAMA: Panama City native Mariano Rivera was inducted into the Baseball Hall of Fame on Sunday. His storied career as a relief pitcher includes 19 seasons with the New York Yankees, where he was selected for 13 All-Star Games and won 5 World Series Championships, including the Most Valuable Player Award in the 1999 championship game against the Atlanta Braves. Rivera, recognized as one of the most dominant players in his position, dedicated the recognition to "all the Panamanian people and all Latin American baseball fans."
ANDES
VENEZUELA: Nationwide blackouts reported in the majority of Venezuela yesterday. Eighteen states reported cuts in its electrical service around 4:30 pm, including Zulia, Carabobo, Miranda, and Distrito Capital, where Caracas is located. This is the fourth collapse of the Venezuelan power grid this year, the first since the major outage in March.  
PERU: Hundreds evacuated in as a volcanic eruption spews ashes over Southern Peru. The Ubinas volcano has caused the authorities to declare a state of emergency in the Moquegua Region, prompting the evacuation of around 30,000 residents in the town of bearing the same name. Local newspaper El Comercio reports that the volcano has registered 26 eruptions in the last 500 years, with each lasting a maximum of 2 to 6 years. The previously recorded process, similar to the ongoing events that occurred between 2013 and 2017.
SOUTHERN CONE
BRAZIL: According to the Associated Press, President Jair Bolsonaro has mandated that independent experts be removed from the country's main drug policy council. The decree halves the size of the working group operating under the Justice and Public Security Ministry, which advice on all matters related to drug abuse. Bolsonaro said that Brazil "cannot be held hostage" by councils that mix government officials and representatives from civil society, pledging to "extinguish the vast majority of them so that the government can function."