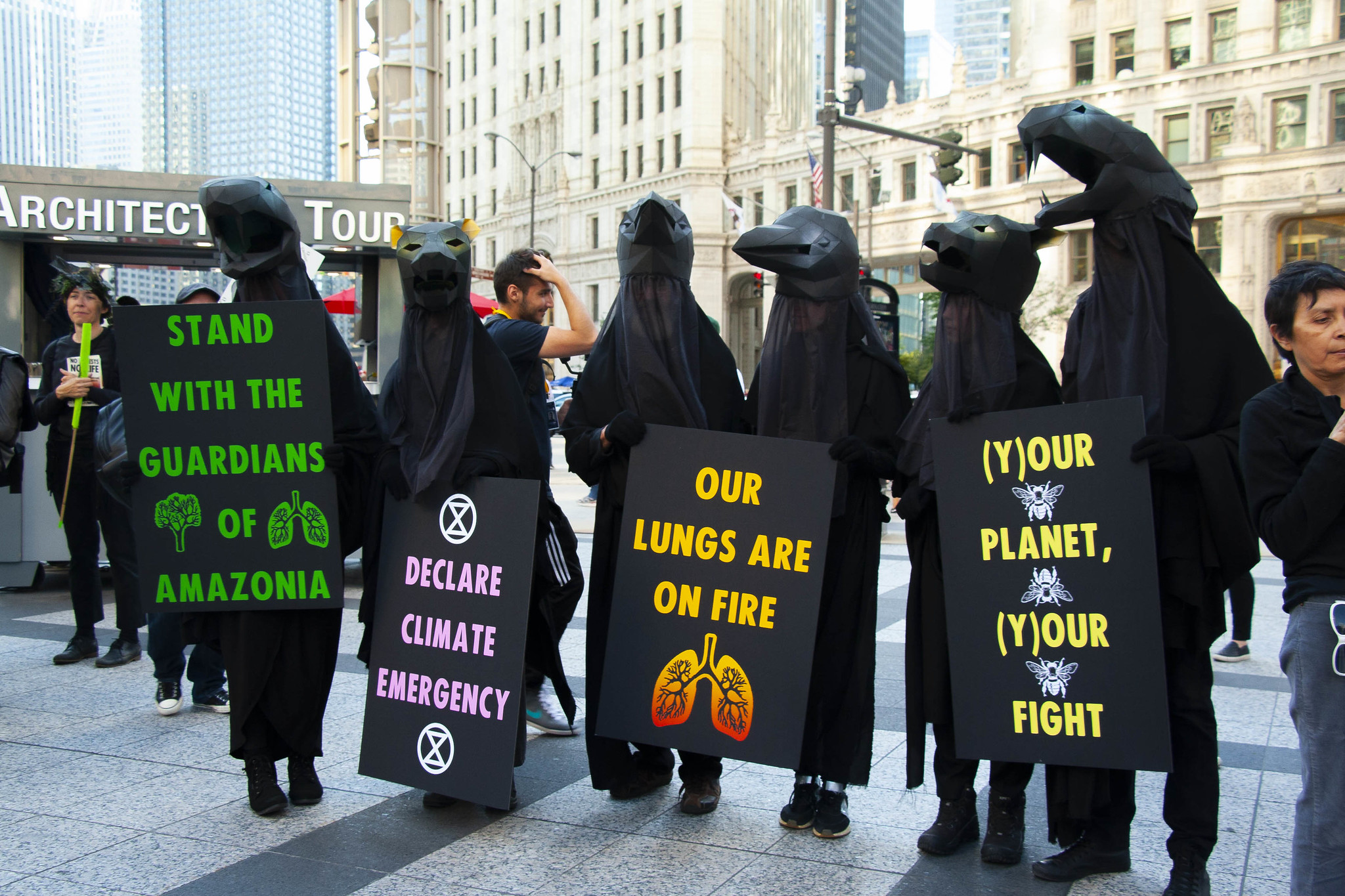 Protesters in Chicago call for a climate emergency as fires enveloped the Amazon in early September. (Image courtesy of Charles Edward Miller via Flickr)

Pope Calls for 'Bold Solutions' to Protect Amazon
October 7, 2019
By Staff
TODAY IN LATIN AMERICA
REGION: Opening a three-week assembly of the clergy dedicated to the rainforest and its Indigeneous populations yesterday, Pope Francis urged 180 Latin American bishops, cardinals and priests to care for the Amazon. The Amazon synod, as it is being called, is expected to be one of Pope Francis' most controversial assemblies. During the first mass of the meeting, the Pope urged Latin American bishops not to be "timid" in searching for solutions to protect the environment. "If everything continues as it was, if we spend our days content that 'this is the way things have always been done,' then the gift vanishes, smothered by the ashes of fear and concern for defending the status quo," he said.
The special meeting of religious officials and Indigeneous leaders will address complex issues that affect Indigeneous Catholics, including the lack of priests in remote areas of the Amazon. Indigenous members from tribes across Latin America were at the Vatican to advise the Pope, as well as representatives from the UN. Meanwhile, critics of the Pope have denounced his focus on preserving the Amazon as a "pagan" focus on nature.
Headlines from the western hemisphere
SOUTHERN CONE
BRAZIL: State-owned bank La Caixa Federal has asked Brazilian courts to liquidate the construction giant Odebrecht. Odebrecht is currently under court bankruptcy protection and is facing scandal as many Latin American politicians have admitted to accepting bribes from the company. Odebrecht announced on Friday that La Caixa Federal's liquidation request was a formality and that the company is developing a reconstruction plan. La Caixa Federal has refused to comment on its request.
ANDES
ECUADOR: Fuel protests in Ecuador continued over the weekend, culminating in a pledge  between Indigenous groups to continue demonstrations. Following President Lenín Moreno's dissolution of fuel subsidies on Thursday, transportation and Indigeneous unions launched protests that led Moreno to declare a two-month state of emergency. On Friday, transportation unions paused their strike while Indigeneous groups continued demonstrating. Under the new union pledge issued on Saturday, Indigeneous organizations will continue protesting indefinitely.
CARIBBEAN
HAITI: Opposition leaders on Saturday pledged to remain on the streets to demand the resignation of Hatian President Jovenel Moïse, whom they blame for the country's economic and political crisis. Friday marked one of the largest demonstrations since the protests began weeks ago, and protesters called on other countries to withdraw support for Moïse. The mood on Friday's protest was reportedly calmer than in recent demonstrations, although some protesters clashed with police.
CUBA: In the wake of tougher U.S. sanctions and severe fuel shortages, Cuba received a flotilla of shipments from Venezuela this week. Meanwhile, Russian Prime Minister Dmitry Medvedev on Saturday said that Russia will help the island secure supplies of oil and petroleum products. Cuba's government extended many of the energy-saving measures it introduced over the past month due to sanctions imposed by U.S. President Donald Trump's administration in retaliation for the island's support of Venezuelan President Nicolás Maduro.
CENTRAL AMERICA
NICARAGUA: The Nicaraguan government said on Saturday that it will not return private TV station 100% Noticias, which was seized by police in December, to its owners. The government alleges the media outlet had been used to incite anti-government violence, but critics of President Daniel Ortega said the allegation is false. In a 24-page statement to the Inter-American Human Rights Commission, the government said the occupation of the TV station was necessary while it investigated the station's director, Miguel Mora, and head of news Lucía Pineda, who were jailed for six months.
NORTH AMERICA
MEXICO: The United Nations cultural agency, UNESCO, named Mexican actress Yalitza Aparicio as a goodwill ambassador for Indigenous people. Announcing the appointment on Friday, Audrey Azoulay, Director-general of UNESCO, said that Aparicio's commitment to fight racism and gender discrimination set her apart. Aparicio, 25, was the first Mexican Indigenous actor to be nominated for an Oscar for her role in Alfonso Cuarón's film Roma.
MEXICO: A Mexican judge ruled that Jared Kushner could receive Mexico's top national award despite Trump's derogatory statements towards Mexicans. On Saturday, the Mexican non-profit Center Against Discrimination, which filed the lawsuit, announced it had been rejected. The non-profit had argued that Trump's racist statements and actions toward Mexicans were grounds to rescind the award. On his last day in office in 2018, former President Enrique Peña Nieto awarded Kushner the Aztec Eagle for his help negotiating the United States-Mexico-Canada Agreement (USMCA). 
UNITED STATES: The White House issued a new visa proclamation on Friday, which instructing consular offices to reject visas for immigrants who do not have their own health insurance or cannot prove their financial solvency to purchase an insurance plan in the United States. President Donald Trump defended the decision, saying immigrants are "three times more likely" than U.S. citizens to not have health insurance and create a burden on taxpayers. The rule is mostly aimed at immigrants who are joining their family members in the United States — the so-called "chain migration" that Trump opposes. Issued late on Friday, the proclamation will go into effect on Nov. 3.