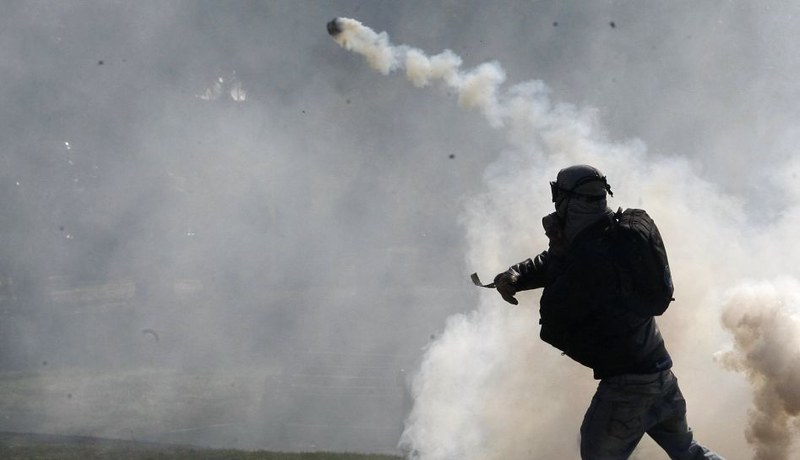 A student throws a tear gas canister back at riot police during a 2012 protest, part of the three-year long Chilean Education Conflict.
(Image by C64-92 via Flickr)
State of Emergency Declared in Chile Over Subway Fare Increase
October 21, 2019
By Staff
TODAY IN LATIN AMERICA
CHILE: Chilean protesters shut down the capital's subway system over the weekend in demonstrations against fare increases. The protests began Friday evening when high school students started occupying subway stations in Santiago after news broke that the subway fare would increase to $1.16. By midnight, President Sebastián Piñera had declared a state of emergency. The protests have spread to at least a dozen other cities, with protesters setting stores, buses and subway stations on fire and erecting temporary barricades in the streets. At least 8,000 armed police and several tanks were dispatched throughout the capital on Saturday. "The people who govern the country seem to be living in a different world from the rest of us," one protester said. 
Yesterday, Piñera announced that his government will halt the fare increase. However, demonstrations continued, with more fires and looting reported across the capital. Authorities reported that three people have died. Chileans have expressed mixed frustrations: some at the students who started the protests and others at Piñera's administration. This is the first state of emergency caused by public disorder since the democratization of Chile in 1990.
Headlines from the western hemisphere
ANDES
ECUADOR: Following recent protests over fuel subsidies, President Lenín Moreno has announced new economic reforms. Moreno's proposal would include new taxes on high-earning corporations, which he expects will yield $532 million in the next three years. The plan also includes taxes on goods like plastic bags and electronic cigarettes. Moreno says his aim is to target those "who have more" and reassured Ecuadorians that there would be no changes to the value-added tax. Moreno's plan must pass congress before implementation.
BOLIVIA: Polls closed in Bolivia's presidential election yesterday evening, as President Evo Morales sought a fourth term. Morales has served as president since 2006, when he became the country's first Indigenous president. Although Morales was favored to win the election, recent polling has shown this could be the closest election of his career. An October poll from the San Andres Higher University predicts that Morales and his closest rival, former President Carlos Mesa, will lead with 32% and 27% each. Should that happen, the Bolivian elections would continue with a run-off between the top two candidates.
CARIBBEAN
CUBA: The United States slapped new sanctions on Cuba over its human rights record and its support for the government of Venezuela, the U.S. Department of Commerce announced on Friday. The department said in a statement that it will restrict existing licenses for aircraft leases to Cuban state-owned airlines and will deny future applications for airline leases. The U.S. will also expand sanctions to include more foreign goods containing U.S. content and impose additional restrictions on exports to the Cuban government. Cuban President Miguel Díaz-Canel called the decision "inhumane, cruel, unfair and genocidal" in a tweet. 
PUERTO RICO: Federal officials and personnel from the U.S. Department of Education will visit 10 public schools in Puerto Rico this week to evaluate the use of Hurricane Maria recovery funds. The Puerto Rico Department of Education received $589 million in Restart funds in 2018, but the federal agency approved the first plan to use the money this January. Restart funds are assigned to assist schools after a natural disaster.
CENTRAL AMERICA
HONDURAS: Thousands of Hondurans took to the streets to protest after Honduran President Juan Orlando Hernández's brother was convicted Friday of drug trafficking in a New York Court. Demonstrators demanded Hernández be removed from office, blocking major roads and setting barricades on fire. Opposition groups called for more protests beginning today and said they would last until Hernández steps down. The Saturday protest culminated in clashes with the police, who threw tear gas at protesters. After a two-week trial, Juan Antonio "Tony" Hernández was convicted for what U.S. prosecutors described as a conspiracy that relied on "state-sponsored drug trafficking."
NORTH AMERICA
MEXICO: Mexican president Andrés Manuel López Obrador's security strategy is under question after a failed military operation to detain one of Joaquin "El Chapo" Guzmán's sons in Culiacán, Sinaloa, on Thursday. Eight people were killed after cartel members blocked exits out of Culiacán and patrolled the streets armed with .50-caliber sniper rifles and machine guns. State security forces then released Ovidio Guzmán López. In a press conference on Friday morning, López Obrador said Guzmán was released to prevent further bloodshed in the city. Analysts have questioned the decision to detain Ovidio Guzmán, wanted for extradition to the United States, without a clear plan to get him out of the city known as a cartel stronghold. During the chaos, 55 prisoners escaped from a federal prison in Culiacán. The director of the prison was dismissed and is now under investigation.
MEXICO: The director of the Mexico City Government Secretariat, Rosa Icela Rodríguez, announced yesterday that an agreement was reached with Taxi Drivers United for Mexico to call off protests planned for today. Taxi drivers in Mexico City are calling for stricter regulation of ride-hailing applications like Uber and the Chinese-owned Didi, as well as an increase in taxi fare rates. A protest organized by taxi driver protests last Monday paralyzed traffic in the capital. Rodríguez said the city government is exploring options for improving taxi service and addressing drivers' concerns.
UNITED STATES: A dual citizen of the United States and Nicaragua, Orlando Tercero, is being tried for the 2018 murder of Binghamton University student Haley Anderson. Tercero fled to Nicaragua, which has denied an extradition order from the United States. In a rare proceeding, the trial is being held in Managua, with witnesses in New York providing testimony over video. Tercero and Anderson were both students at Binghamton University and had a romantic relationship. Anderson was found murdered in Tercero's off-campus apartment on March 9, 2018.