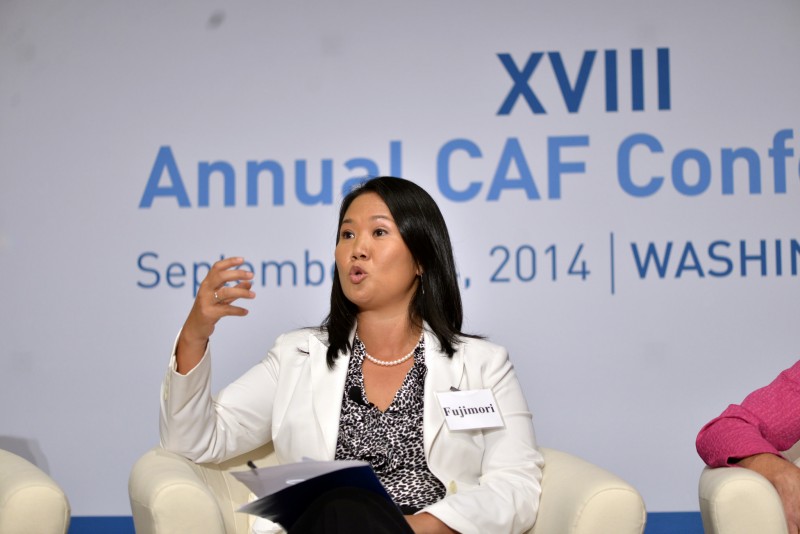 Fujimori Wins First Round of Peruvian Presidential Elections, Will Face Runoff in June
April 11, 2016
By Staff
Top Story — The center-right candidate Keiko Fujimori won the first round of presidential elections in Peru on Sunday, during a weekend rocked by political violence that left three people dead, The Associated Press reported.
After winning 40 percent of the vote, Fujimori will face off in a June runoff against the business-friendly centrist Pedro Pablo Kuczynski, early vote counts suggest.
The elections come just days after thousands of protesters gathered in downtown Lima on Wednesday to voice their opposition to Fujimori's candidacy. Sixteen years after her imprisoned father Alberto's 10-year presidency, he remains a deeply polarizing figure in Peruvian society.
Though Fujimori has vowed she would not release her father if elected, one poll showed that nearly half of Peruvians would never vote from someone associated with the jailed former president. On the other hand, Fujimori would face pressure from some of her own supporters to pardon her father.
Alberto Fujimori, who ruled the country from 1990 until 2000 was known for implementing neoliberal economic reforms and cracking down on the left-wing Shining Path insurgency. He is currently serving a 25-year sentence for ordering death squads to carry out massacres against civilians during the second half of a 20-year long "dirty war" that claimed the lives of some 70,000 people.
The war has all but ended, save occasional flare-ups of violence. On Sunday, suspected leftist rebels, who still control some coca-growing jungle territory, allegedly killed two soldiers and a driver who were transporting election materials to a remote area.
The elections come during as a wave of political change sweeps South America, shifting governments to the right after over a decade of left-leaning presidents in Venezuela, Ecuador, Bolivia and Argentina. Wall Street investor Kuczynski claims to represent the middle road between Fujimori and Veronika Mendoza, a Marxist candidate he edged out in first-round polling. Kuczynski, analysts say, has decent odds at winning the June elections considering the polarizing history of the Fujimori family.
Headlines from the Western Hemisphere
North America
Caribbean
Central America
Andes
Southern Cone