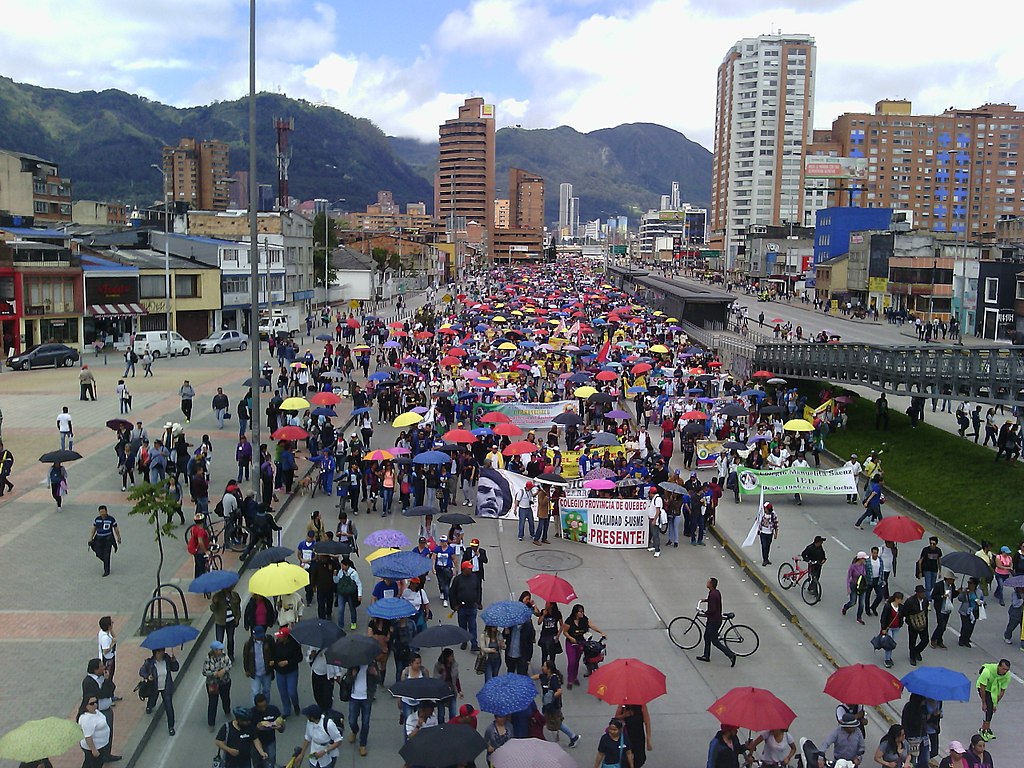 The Colombian Teachers' strike in 2017 crosses a main thoroughfare Bogotá. (Photo by Baiji via Wikimedia Commons)
General Discontent Coalesces in Colombian National Strike
November 21, 2019
By Staff
TODAY IN LATIN AMERICA
COLOMBIA: Multiple sectors of the Colombia society called a national strike against the administration of President Iván Duque today. The anti-government protests are set to take place in cities across the country are expected to be the largest in recent history. Duque's administration has been unable to deal with specific sectors of society, culminating in a generalized discontent following weeks of mounting unrest over killings of social leaders, widespread corruption and a failing education system. Student groups, labor unions and Indigenous organizations have confirmed their participation. 
Authorities had previously announced that they would close all its borders with Ecuador, Peru, Brazil and Venezuela until Friday. Former President Álvaro Uribe, leader of president Duque's party, the Democratic Center (CD), denounced the strike as part of an "international conspiracy" against "legitimate democracies." The Truth Commission has said that the demonstrations "do not pose any threat" and invalidated the claims of other CD legislators. Yesterday, the Colombian National Police raided the homes of student leaders and strike organizers.
Headlines from the western hemisphere
SOUTHERN CONE
BRAZIL: A recent report shows deforestation in Brazil has reached an 11-year high under Bolsonaro's administration. In response to the report from Prodes (Amazon Deforestation Calculation Program), Bolsonaro says that deforestation in Brazil is "cultural" and "will not end." Environmentalists quickly condemned his comments, citing concerns that the rainforest is reaching a point where large swaths of land will never be restored. One of Bolsonaro's campaign promises was to open up the Amazon to agriculture and mining, and analysts cite his weak enforcement of environmental regulations as a cause for increased deforestation in the country.
CHILE: Chilean police suspended the use of rubber bullets against protesters after widespread complaints following the eye injuries of over 200 protesters. Many protesters have been left blind. A study by the University of Chile commissioned by Santiago's Salvador Eye Hospital found that only around 20% of the rubber bullets were made of rubber, containing other harmful materials such as silica and lead. The protests against income inequality in the country have left 23 dead and over 2,000 injured. At least 7,000 have been detained.
ANDES
BOLIVIA: As violence at a Bolivian oil plant in El Alto continued, the death toll of anti-government protesters rose to six. The Bolivian military was deployed to disperse the blockade at the oil plant, using armored vehicles and helicopters to clear a path for gasoline tankers. Those mourning the protesters said that they had been fired upon by security forces. The Defense Minister claimed that protesters had been trying to blow up the oil plant with explosives.
CENTRAL AMERICA
NICARAGUA: The United Nations has called on the Nicaraguan government to "refrain from criminalizing and attacking" protesters amid the ongoing conflict between pro- and anti-government demonstrators. The UN's comments came after a group of activists was unable to exit a cathedral during a hunger strike due to pro-government protesters surrounding the building. At least 16 churches have been surrounded by police in recent days to prevent anti-government protesters from using them as venues, according to activist groups.
CARIBBEAN
CUBA: Through a statement in the Communist Party's official newspaper Granma, Cuba accused the United States and the top U.S. diplomat in the country of staging a campaign of division and slander. The Cuban government accused U.S. Chargé d'Affaires Mara Tekach of working closely with detained opposition leader José Daniel Ferrer to promote the subversion of the island's government and the Cuban revolution. Ferrer, who was detained in October on suspicion of kidnapping and assaulting another man, leads the Patriotic Union of Cuba, one of the country's largest opposition groups. The United States has joined the opposition's call for his release. 
HAITI: Hundreds of people gathered on Tuesday in the capital Port-au-Prince to mourn the latest five people who were killed in the anti-government protests across Haiti. A 15-year-old girl struck by a stray bullet was among those mourned at this week's funeral service. Past funerals held on Oct. 16 turned violent with clashes between police and mourners. More than 40 people have been killed in the two months of violent protests against President Jovenel Moïse. Protesters are demanding Moïse's resignation over corruption, inflation and lack of basic goods, though he has consistently held that he will not step down. 
DOMINICA: On Tuesday, over 200 protesters fought police after a protest over election reforms turned violent leading to the use of tear gas to disperse the crowds. Ahead of Dominica's general elections on Dec. 6, the opposition United Workers' Party has been pushing for electoral reforms that would reduce the ruling Labor Party's electoral advantage. The reforms would heighten the checking of voter registrations and prohibit expatriate citizens from returning to Dominica to vote in elections. Protesters tried to march to Prime Minister Roosevelt Skerrit's home in the capital Roseau to demand that administration enact the reforms.
NORTH AMERICA
MEXICO: The families and victims of the mass shooting at a Walmart in El Paso, Texas, this summer are suing the corporation. The lawsuit states that Walmart did not provide the "necessary measures to protect its customers." The Foreign Relations Department of Mexico announced yesterday that it was assisting 10 Mexican plaintiffs in the lawsuit. During the shooting, a total of 16 Mexicans were either killed or injured.