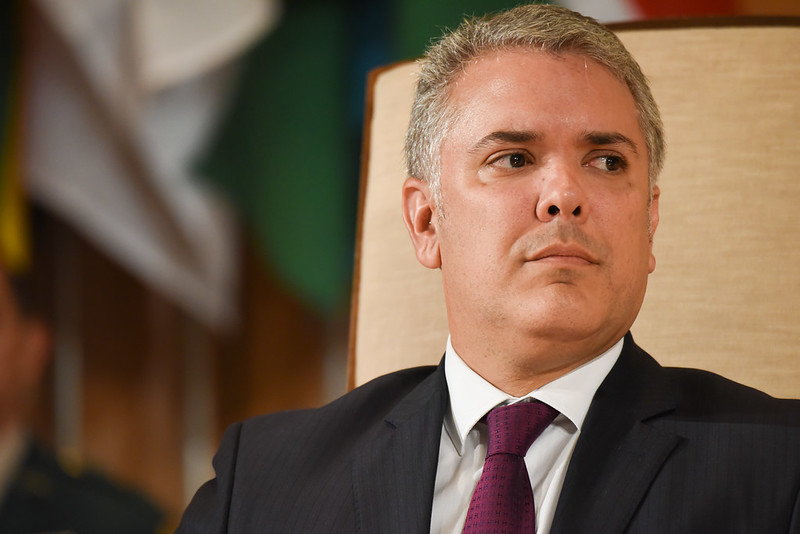 Colombian President Iván Duque at the International Labour Conference in Geneva in June. (Photo courtesy of the International Labour Organization via Flickr)
Colombians March in a Third Strike Against the President
December 5, 2019
By Staff
TODAY IN LATIN AMERICA
COLOMBIA: Thousands of Colombians occupied the streets of different cities in the third strike against president Iván Duque in the past two weeks. Protesters formed a National Strike Committee that organized the protests around 13 demands, including better protection of Indigenous people and the government's full commitment to the terms established in a 2016 peace treaty with the Revolutionary Armed Forces of Colombia, a decision that ended a 50-year-old civil war. Duque said he is open to speaking with the protesters through a "national conversation" regarding the committee's demands. His approval ratings have dwindled during his presidency, with 69% of Colombians disapproving of his actions.
Headlines from the western hemisphere
SOUTHERN CONE
BRAZIL: Despite U.S. President Donald Trump's announcement that his government will impose tariffs on steel and aluminum from Brazil and Argentina, Brazilian President Jair Bolsonaro said he will not "turn his back" on Trump. The country's minister of economy, Paulo Guedes, said Trump committed "a brutal mistake" when saying Brazil is manipulating the currency to get economic advantages. Since his inauguration in January, Bolsonaro has been prioritizing the United States in Brazil's external relations.
CHILE: The House of Representatives approved a law that turns disruption of peace into a crime in Chile. Examples of disruption listed in the law include barricades, looting and public disorder. This comes seven weeks after the beginning of a series of protests that took millions of people to the streets of Santiago, the country's capital. What started as a protest against a subway fare hike has led to an agreement for a referendum to decide if Chileans want a new constitution.
ANDES
VENEZUELA: The United Nations appealed for almost $30 billion from donors for humanitarian aid in 2020, with Venezuela expecting to receive the greatest increase in anticipated humanitarian aid costs at a total of $1.38 billion. Most of the aid is expected to go towards assisting the 4.5 million Venezuelans who have fled the country since 2015 due to the ongoing humanitarian and economic crisis. The total appeal from the UN's Office for the Coordination of Humanitarian Affairs is $1.5 billion more than the amount requested last year. Other countries that have been budgeted for large amounts of humanitarian aid include Yemen, Syria and the Democratic Republic of Congo.
CARIBBEAN
PUERTO RICO: The U.S. Department of Housing and Urban Development assigned $277.9 million in disaster recovery funds to Puerto Rico as part of their Community Development Block Grant Disaster Recovery Program. The funds allocated to the island, which are part of over $2.3 billion in HUD recovery funds approved for states and territories on Tuesday, is the largest allocation to jurisdictions affected by the 2017 storms, according to Puerto Rico Resident Commissioner Jenniffer González. In discussing the island's recovery after Hurricanes Irma and Maria, González also called on the federal government to disburse previously approved funds.
CENTRAL AMERICA
EL SALVADOR: China signed on to a "gigantic" investment plan for El Salvador, including a stadium and water treatment plant as well as a boost for El Salvador's coastal cities. Though the total amount has not been disclosed, President Nayib Bukele described the agreement as a sign of "non-refundable cooperation" between the two countries. In a joint statement with the Chinese government, Bukele reaffirmed that El Salvador recognizes a unified China and rejects the idea of independence for Taiwan. El Salvador previously severed diplomatic relations with Taiwan in August of last year.
GUATEMALA: The United States flew three Central American asylum seekers to Guatemala to seek asylum protections there under the Guatemala-United States asylum cooperative agreement. The July deal requires migrants who pass through Guatemala on their way to the U.S. border to seek asylum in Guatemala instead of the United States. The group of migrants, with two Hondurans and one Salvadoran, marks the second Guatemala-bound flight of asylum seekers the United States has sent back to the Northern Triangle after a Honduran asylum seeker was sent to Guatemala in November. The Tuesday flight also had 84 Guatemalans onboard.
NORTH AMERICA
MEXICO: United States Attorney General William Barr is set to meet with Mexican President Andrés Manuel López Obrador following Trump's suggestion that Mexican cartels be categorized as terrorist groups. Mexico has expressed concerns that the U.S. would violate its sovereignty, and López Obrador has said "no" to any interventionism from the United States. Barr is also expected to meet with Mexico's foreign minister, attorney general and representatives from law enforcement to discuss "joint security issues." The meeting comes as the homicide rate rose to historic levels in the country. 
MEXICO: Homicides in Mexico reached record levels this year, as Dec. 1 saw 127 dead in one day. The regions with the highest rate of homicides on the first of the month were Mexico state, with 14, and Coahuila, where 21 people were killed in one mass attack. The country has struggled with high homicide rates for years. Mexican President Andrés Manuel López Obrador has proposed a new Civilian National Guard and alternative approach to combating violence, with "Hugs, not bullets" becoming one of the campaign slogans.
BORDER: The Trump administration has ordered park rangers throughout the United States to patrol the U.S.-Mexico border. National park officials say that they've been told to send rangers to the border through September 2020. This plan is part of a controversial policy from 2018, as the administration diverts rangers to the border and avoids the need for congressional approval. The administration has used this policy to increase security at the border after President Trump failed to gain funding for a border wall after declaring a national emergency at the border earlier this year. Critics say that park rangers are untrained and unequipped for border security operations and expressed concern that national parks are already understaffed and underfunded.