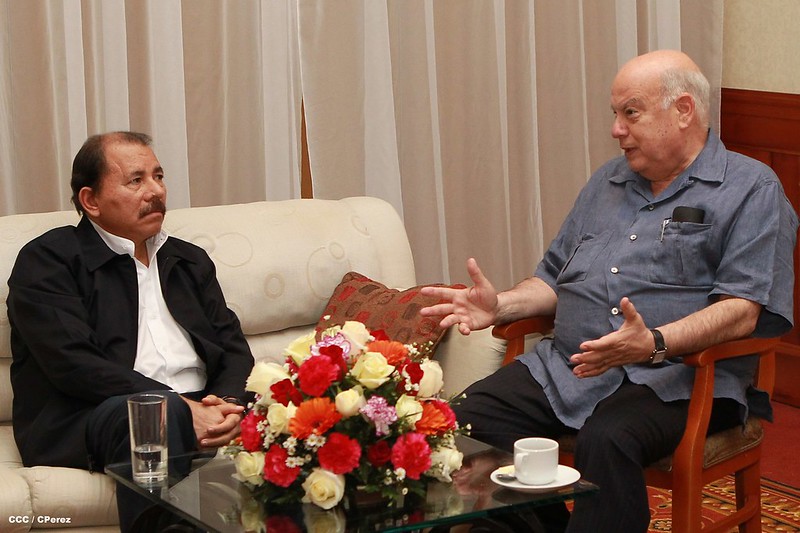 President Daniel Ortega, left, meets with OAS Secretary General José Miguel Insulza in 2012. (Photo courtesy of OEA-OAS via Flickr)
Report: Anti-Government Protesters in Nicaragua Were Tortured in Jail
December 12, 2019
By Staff
TODAY IN LATIN AMERICA
NICARAGUA: A new report by the NGO Human Rights Collective Nicaragua Never Again revealed that Nicaraguan opponents jailed for protesting President Daniel Ortega suffered torture and sexual abuse at the hands of authorities. The NGO compiled 56 interviews from ex-prisoners who reported sexual violence, suffocation, beatings, electric shocks, cigarette burns and constant verbal abuse inside the jails. Anti-government protests in Nicaragua started last year with thousands of Nicaraguans demanding that Ortega resign, leaving over 200 people dead. Protests have continued this year at a smaller scale.
Headlines from the western hemisphere
SOUTHERN CONE
CHILE: Yesterday, a Brazilian vessel working with the Chilean Air Force found personal items and debris compatible with the military plane that vanished Monday with 38 people aboard heading to Antarctica. Chilean search parties also found a floating sponge material — possibly from the fuel tank — just 19 miles from the point where the plane lost radio contact. Searchers are using planes, satellites and vessels not only from Chile and Brazil, but also from Argentina, Uruguay and the United States. Although yesterday's weather provided good visibility — which helped the search — the area around Antarctica is known to be a difficult place for pilots to navigate. The contact with the plane was lost 70 minutes after it took off. Defense Minister Alberto Espina said the two pilots on board were "experienced."
BRAZIL: Just one day before 16-year-old climate activist Greta Thunberg was elected the 2019 Person of the Year by TIME magazine, Brazilian President Jair Bolsonaro called Thunberg a "brat" in front of a group of journalists, using the Portuguese word "pirralha." Thunberg had recently tweeted concerns regarding the deaths of two Indigenous people in the Amazon who were protesting deforestation in the region. The young activist's criticism came as Brazil's environmental policies are under scrutiny by the U.N. International Climate Change Conference. In 12 months, deforestation in the Amazon has increased by nearly 30%.
ANDES
BOLIVIA: The interim government filed a case in the International Criminal Court against ex-President Evo Morales for "crimes against humanity" for alleged attacks committed by his supporters during the unrest that took place in the country between Oct. 27 and Nov. 20. In the Oct. 20 presidential election, Morales was declared winner, which would have given him four more years as the executive leader of the country, which he has led since 2006. But allegations of electoral fraud led to a civilian and military uprising. At least 31 people were killed in the protests, most of whom were Morales supporters. Morales resigned on Nov. 10 and fled to Mexico after being offered asylum by Mexican President Andrés Manuel López Obrador. Morales is currently in Cuba and in talks to travel to Argentina.
CARIBBEAN
DOMINICA: The Dominican Air and Sea Ports Authority issued a statement rejecting the opposition's claim that the authority flew in 8,000 overseas-based Dominicans to vote in last week's election. Dominica held parliamentary elections on Dec. 6 during which Dominica's ruling Labour Party won a majority, earning 18 out of 21 seats and securing Prime Minister Roosevelt Skerrit a fourth term. The opposition United Workers' Party got three seats. The opposition has described the election as "stolen," accusing DASPA of buying thousands of votes.  DASPA Chief Executive Officer Benoit Bardouille dismissed the allegation as fake news, and airport and seaport data shows that around 2,700 people arrived on the island between Dec. 1 and 6. 
HAITI: The U.S. House of Representatives Foreign Affairs Committee held its first hearing on Haiti in 20 years. Lawmakers and guests discussed the crisis in Haiti as well as possible solutions, including a new approach to foreign aid. Democratic Rep. Maxime Waters of California criticized U.S. policy toward Haiti while Pierre Esperance, the executive director of the Haitian National Human Rights Network, called for international aid to bolster Haiti's police force and judiciary to secure rule of law. The hearing comes after months of political instability have paralyzed Haiti as anti-government protesters demand Prime Minister Jovenel Moïse's resignation, leaving more than 40 people dead.
CENTRAL AMERICA
HONDURAS: Lawmakers in Honduras who are allies of President Juan Orlando Hernández are urging the president to shut down an anti-corruption body. The Mission to Support the Fight against Corruption and Impunity in Honduras, known as MACCIH, is part of an agreement with the Organization of American States introduced in 2016. MACCIH has fought against illegal campaign financing and other corruption irregularities in the country. A total of 70 lawmakers from Hernández's party voted against renewing MACCIH on Tuesday night after claiming that MACCIH officials "violated rights," despite most Hondurans approving of MACCIH's work, according to a recent poll.
NORTH AMERICA
MEXICO: Mexican President Andrés Manuel López Obrador plans to send a new regional trade deal agreement among Mexico, Canada and the United States to the Mexican Senate for ratification. The trade deal replaces the North American Free Trade Agreement (NAFTA), and López Obrador says that the new plan will benefit the Mexican economy. Ratification by the senate is a formality, as senators from all parties were already present before the Mexican president signed the trade agreement. 
MEXICO: Protests have emerged in Mexico City over a painting of Emiliano Zapata. Zapata, a leader of the Mexican revolution, is depicted naked and astride a horse wearing high heels in the painting by Fabián Cháirez. Descendents of Zapata protested against the painting alongside around 100 farmers in front of the Palace of Fine Arts, where the painting forms part of an exhibition to commemorate the 100th anniversary of Zapata's death. Zapata's grandson, Jorge Zapata González, wants the painting removed, as he feels it "denigrates" Zapata's memory by "depicting him as gay."
UNITED STATES: U.S. immigration officials have started sending Central American families of asylum seekers to Guatemala, even if they aren't from Guatemala. The policy of sending asylum seekers to a "safe third country" was announced in July after the Trump administration reached an agreement with Guatemala. The policy's goal is for other Central American countries to accept asylum seekers, instead of allowing them to seek asylum in the United States. In November, the United States deported the first asylum seeker to Guatemala under the agreement. On Tuesday, the government began applying the policy to families. At least two families from Honduras were given notice that they would be deported to Guatemala.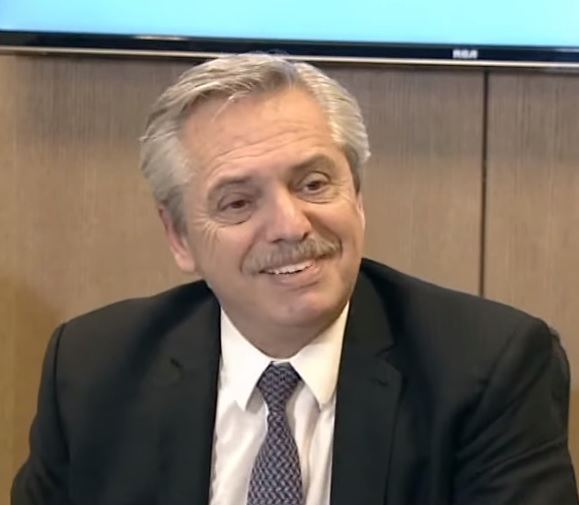 December 11, 2019
> Staff