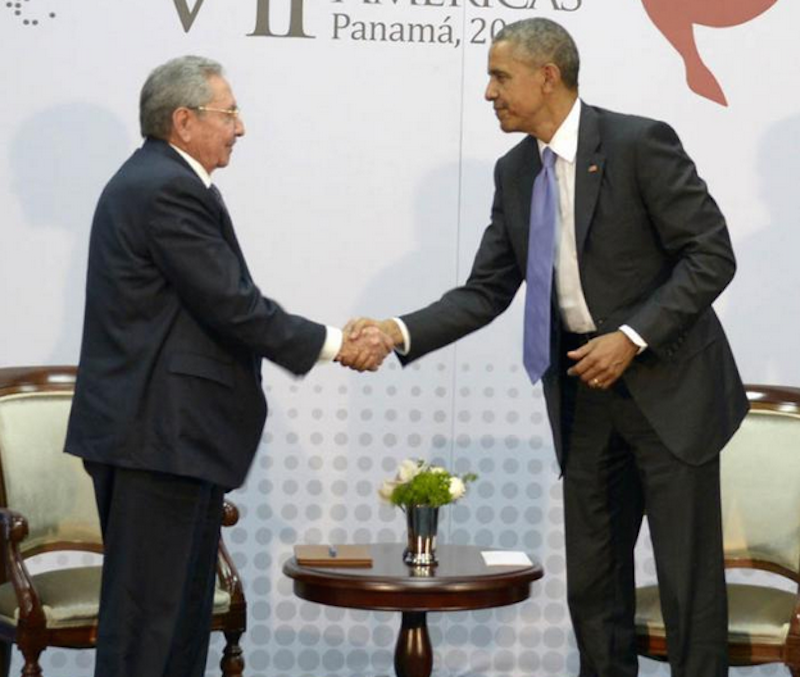 Cuban leader Raúl Castro meets with U.S. President Barack Obama in 2015. (Cuban Ministry of Foreign Affairs, public domain)
Raúl Castro Says Cuba, U.S. To Exchange Ambassadors
May 13, 2015
By Staff
Top Story — Cuban leader Raúl Castro said on Tuesday that the U.S. and Cuba will exchange ambassadors after the U.S. removes Cuba from its list of state sponsors of terrorism, a sign that efforts by two countries'governments to normalize relations are proceeding.
Castro made the announcement at Havana's after the departure of international airport French President Françoise Hollande, The Associated Press reported. Hollande's visit was the first by a major Western leader since the U.S. and Cuba announced in December their intention to normalize relations.
U.S. President Barack Obama's decision in April to remove Cuba from the terror list was seen as a key step toward the normalization of relations, but despite a positive response from Latin American leaders, members of the U.S. Republican Party voiced their criticism. The waiting period for Congress to reverse Obama's action expires at the end of May, the AP reported.
Headlines from the Western Hemisphere
North America
Caribbean
Central America
Andes
Southern Cone