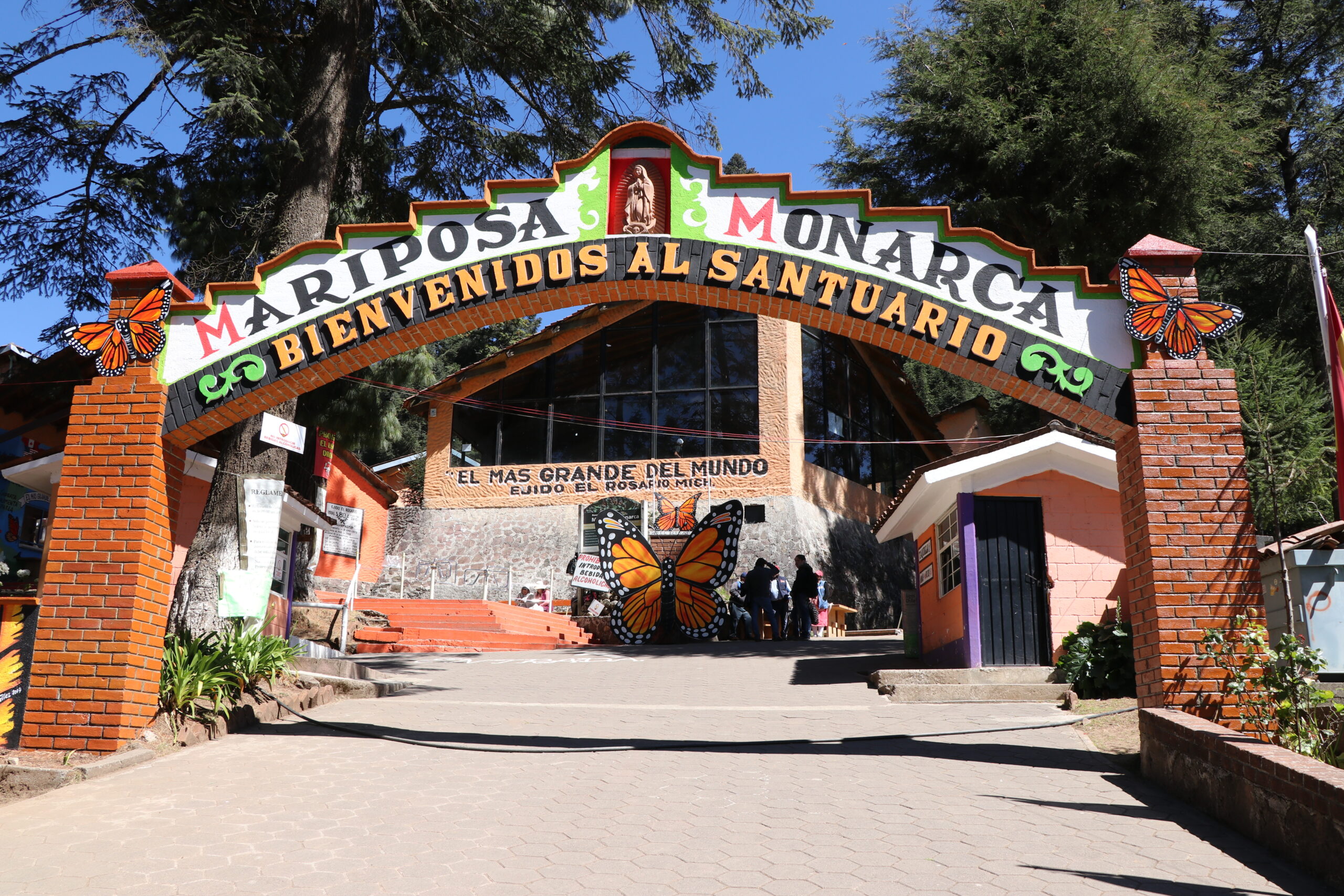 The entrance to the El Rosario monarch butterfly sanctuary in Michoacán. Photo by Richard Arghiris.
Questions Linger in Death of Mexican Monarch Defender 
The village of El Soldado Anónimo is tucked between saddle-like hills, fallow corn fields and fragrant evergreen forests in eastern Michoacán, Mexico. On January 13, the yearly patron saint's festival was in full swing. As the sun set, Homero Gómez González, a gregarious 50-year-old, left the festivities. He never arrived home. His body was found over two weeks later, submerged in an agricultural pond.
A local leader's disappearance in rural Mexico usually wouldn't be international news. But Gómez was the director of El Rosario Monarch Butterfly Sanctuary, the largest of 11 community-managed nature reserves in the core zone of the Monarch Butterfly Biosphere Reserve. The sanctuaries draw thousands of tourists from around the world every year. Gómez's murder appeared to follow a pattern of attacks on environmental defenders.
While environmental advocates and land defenders in Mexico face grave threats, the story of Homero Gómez defies easy categorization. His murder shows how disentangling the causes of violence in Michoacán is not simple or straightforward. Early reports that his death was linked to his environmental activism may have been premature.
According to the Mexican Center for Environmental Law, 21 land and environment defenders were assassinated in Mexico in 2018. The non-profit Global Witness's annual reports consistently list Mexico among the most dangerous countries in the world for environmentalists.
A leader goes missing
Gómez previously was the Commissioner, equivalent to a small-town mayor, of El Rosario. Established on mining lands in the 1930s, El Rosario is an ejido, a form of communal land management in Mexico. Today it is a quiet highland community of around a thousand people. From November to March, 85 residents of the ejidos work as guides and other seasonal staff in the monarch sanctuary.
An agricultural engineer by training, Gómez's family and friends describe him as an intelligent and capable leader, an effective organizer, and an ardent defender of his people and the butterflies. Over the years, he helped restore degraded forests and plant trees. The morning of his disappearance, he posted a video of a path in the sanctuary, blanketed in monarchs.
The search for Gómez involved 300 local volunteers, police and military officers, canine units and helicopters scouring the countryside. On January 20, the state prosecutor ordered the arrest of the entire municipal police forces of Ocampo and Angangueo. The National Guard escorted the 57 officers to the state capital of Morelia, where they were questioned and subsequently released.
At a January 27 press conference, the governor of Michoacán Silvano Aureoles said that opportunists pretending to be his kidnappers had extorted Gómez's family. He added, "We have no information to confirm… if he is alive or dead, but the search has intensified."
On the afternoon of January 29, more than two weeks after Gómez disappeared, a man was feeding cattle on his property in Soldado when he spotted a body floating in an agricultural pool. DNA tests subsequently confirmed that it was Homero Gómez González.
Monarch migration to Michoacán
The forests of eastern Michoacán are alternately lush and brittle, dank under clouds but resplendent in sunshine. Every year they play host to a singular natural phenomenon: the congregation of millions of monarch butterflies.
With distinctive tiger-like coloration and purring wings, the monarch is an iconic migratory insect pollinator and a champion of long-distance travel. Every fall, an extraordinary generation undertakes an epic transcontinental journey from Canada and the United States to Mexico, where they spend the winter in high altitude forests, clustered in fiery bunches among the branches of oyamel fir trees.
On fair days, the clear mountain light supplies the butterflies the warmth and energy they need for flight. Cascading through the sky like blazing cinders, the butterflies swarm in the thousands. It is this rapturous display of insect behavior that draws some 150,000 tourists to the region every year.
The monarch's North American migration may soon be a thing of the past. The species faces three existential threats: climate change, herbicides and logging.
Created in 2000, the Monarch Butterfly Biosphere Reserve (MBBR) is a United Nations' Educational, Scientific and Cultural Organization World Heritage Site. It spans parts of Michoacán and the State of Mexico, incorporating 13 indigenous communities, 21 private holdings and 59 ejidos. The forested 'core zone' covers 33,485 acres and protects eight monarch colonies or approximately 70 percent of the total overwintering population.
Traditional economic activities such as logging, hunting and the extraction of flora are strictly forbidden in the core zone. These restrictions impact the livelihoods of farmers, and Indigenous Mazahuas and Otomís in the area. The conservation regime makes provisions to some communities to continue their traditional activities. These include a payment for conserving trees that would otherwise be cut for timber, technical assistance and infrastructure development for alternative economic activities such as mushroom cultivation, craft production and seasonal ecotourism.
The search for answers
Gómez was buried on January 31. Hundreds of mourners joined the funeral procession.
"He fought for his people and that is what fills me with pride," his widow Valencia Gómez told the Associated Press.
"It is not only that the family lost a loved one. It was a loss for the whole world, the monarch butterfly and the forests," his brother Amado Gómez said.
The state prosecutor determined the cause of death was "mechanical asphyxiation by submersion in a person with a head injury."
In other words, Gómez appeared to have suffered a knock to the head and drowned. Over 9,000 pesos (around $500) were found on his person, ruling out the motive of robbery.
By the time the prosecutor shared these facts, international media and NGOs had already crystallized a narrative in which a brave monarch butterfly defender had fallen foul of criminal interests, probably clandestine loggers or farmers, backed by cartels. Outlets like BBC News reported that relatives said Gómez had received threats from organized crime.
One early media source citing a conflict with loggers was the news agency Reuters on January 20, six days after Gómez went missing. The article quoted Mayte Cardona, communications director of the State Human Rights Commission in Morelia saying the Gómez was likely impacting the bottom-line of loggers in the area.
However, the Human Rights Commission subsequently told LAND that they had had no prior contact with Gómez and did not know if he had been targeted for his work. Meanwhile, Gómez's close family – his wife, a brother and a son – have all stated that he had not received any threats.
Michoacán is one of the most violent states in Mexico. A University of San Diego study published in April 2019, ranked Michoacán as sixth out of 32 states for organized crime-style homicides and highest in the country for political assassinations during 2018. That year, seven mayors were killed. Across Mexico, local politicians are often a target for violence, with dozens killed in the 2018 election cycle.
One possible motive for attacking a butterfly sanctuary is agricultural expansion, especially for avocado orchards, a major driver of deforestation in the region. U.S. demand for avocados has more than quadrupled over the last 20 years. Organized crime is vying for control of the crop and its lucrative supply chains. And along with deforestation and land grabs, the boom in 'green gold' has brought robberies, extortion, kidnapping and murder.
News broke on February 1 of another crime in butterfly country. Guide Raúl Hernández Romero, 44, was found dead in El Rosario. Last seen on January 27, he had bruises all over his body and a head wound from a sharp weapon.
Two murders in close succession fueled fears that the butterfly sanctuary was being targeted. But there are reasons to doubt that the deaths of Gómez and Hernández were connected, or that they were related to logging or other threats to conservation. Raúl Hernández was not from El Rosario, was not politically active and did not have a high-profile in the region.
For one thing, clandestine logging has been practically eradicated from the MBBR core zone since 2012, thanks to the sustained effort and coordination of local communities, civil society, international organizations and the state.
The Worldwide Fund for Nature (WWF) keeps track of forest cover in the core zone using satellite images and fieldwork. From 2005 to 2012, data showed the areas impacted by illegal logging diminish from 1,806 acres to none, mainly thanks to the intensification of state security between 2007 and 2012. That security has apparently been well-maintained. Between 2012 and 2018, just 94 acres in the MBBR core zone were lost to illegal logging. For now, conservation is winning.
Clearing forest for avocado plantations is an issue in Michoacán, but it mostly affects the tierra caliente in the south of the state. The last reported bust in the MBBR appears to have been a 7.4 acre plantation in the buffer zone in 2018.
If these killings were politically motivated, they did not send a clear message.
According to Romain Le Cour Grandmaison, a Michoacán crime researcher and co-founder of Noria Research, a non-profit research center and think tank, we may never know why Gómez was killed. He says that the truth probably lies somewhere in the "grey zone of crime and politics" in Michoacán.
"The way it's usually presented, that you have criminal groups on one side and honest people on the other side, is wrong," Le Cour Grandmaison said. "It doesn't have to be as simple as organized crime versus the state, narco versus the state, bad guys versus the good guys."
Le Cour Grandmaison said intertwined interests of "the licit and illicit, public and private, the state and armed groups" struggle for power in Michoacán.
LAND visited El Rosario Butterfly Sanctuary in February. The reserve was operating normally. Visitors came and went. The new commissioner of El Rosario, Miguel Ángel Cruz Domínguez, stood at the gates to the sanctuary.
"We don't have illegal logging here," he told LAND. "Every day we patrol the forests in groups of ten ejiditarios. For that reason, we don't have illegal logging. We have eradicated it completely."
Cruz said that the events in El Rosario surprised everyone. He emphasized that the sanctuary is well-protected by federal police and safe for visitors. He said that the forests will continue to be conserved "with the same attitude and values" as before.
"What we want is for the prosecutor to clarify events," he said.
"[Gómez was] a very able and intelligent companion [who] liked to look out for the forest and care for the butterflies," Cruz said.
Justice is rare in Mexico. Even with international attention to the case, it is unlikely that the state prosecutor will bring much clarity to the death of Homero Gómez.
While the butterflies have lost an advocate, there are still many questions to understand the death of Homero Gómez. The outpouring of international support following his death shows the importance of the monarch butterfly in Mexico and beyond.