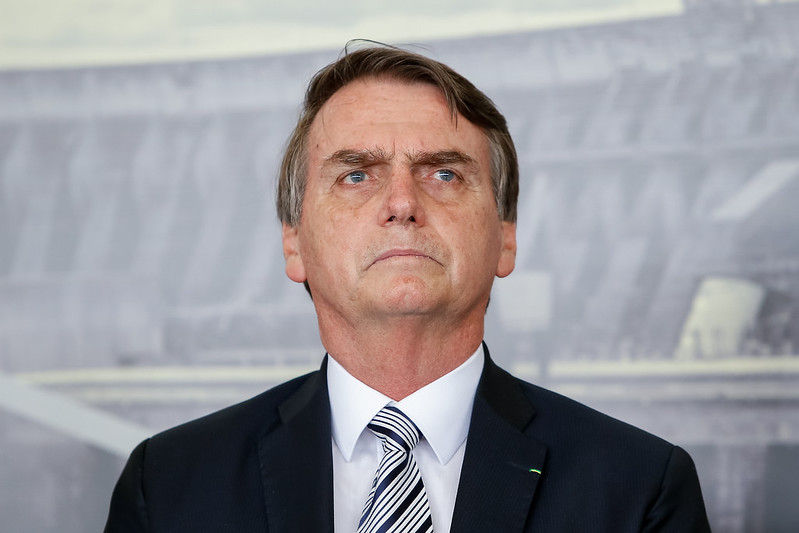 Brazilian President Jair Bolsonaro has been skeptical of the severity of the coronavirus, previously falsely equating it to a "little flu." Photo courtesy of Jeso Carneiro via Flickr.
Brazilians Call For Boycott of Companies that Support Bolsonaro's Far-Right Policies
March 6, 2020
By Staff
TODAY IN LATIN AMERICA
BRAZIL: Brazilians outraged by President Jair Bolsonaro and his policies called for boycotts of major companies that support the authoritarianism of his presidency. While Bolsonaro and his cabinet campaigned on a misogynist platform and frequently attack indigenous people, the LGBTQ community, and journalists, the movement was sparked by a recent attack on democratic institutions. 
Business leaders who support Bolsonaro are calling for a nationwide anti-democratic protest against Brazilian Congress, some even suggesting military rule should return. The investor Otavio Fakhoury offered sound trucks for the protest, according to The Guardian. Other members of Brasil 200, a business leaders organization, are also supporting the demonstration. Opposition parties in Brazil are calling for demonstrations against the attack on the country's democratic institutions. 
Headlines from the western hemisphere
SOUTHERN CONE
BRAZIL-PARAGUAY: Former Brazilian World Cup winner Ronaldo "Ronaldinho" de Assis Moreira was under investigation by Paraguayan police for holding a fake Paraguayan passport. Ronaldinho and his brother Roberto de Assis were travelling to Paraguay to launch a charity project and participate in a book launch. They arrived Wednesday night in the country and were met by police officers at their hotel. "Both Ronaldinho and his brother said they were a gift," according to Federico Delfino, the public prosecutor. After eight hours at the prosecutor's office, Ronaldinho left without charges.
ARGENTINA: President Alberto Fernández ordered the declassification of all documents relating to the terrorist attack against Asociación Mutual Israelita Argentina (AMIA) and the subsequent cover up of documents through a presidential decree on Thursday. The car bomb attack, still unpunished by authorities, occurred in 1994 and killed 85 people. In 2015 and 2017, similar decrees had been issued, but Fernández ordered the declassification of documents, archives, or reports that were not included in previous investigations.
ANDES
COLOMBIA: In an investigation into the murder of the alleged drug-trafficker José Guillermo Hernández Aponte, alias Ñeñe, public prosecutors circumstantially detected a call between Ñeñe and a woman discussing vote-buying in favor of president Iván Duque. During the call, Ñeñe detailed he was ordered by former president Álvaro Uribe to conduct the operation in Colombia's northern coast during election season. Journalist Julián Martínez told Semana the woman from the audio is Maria Claudia Daza Castro, the advisor to senator Álvaro Uribe, and the 'Priscilla' mentioned in the recording is Priscilla Cabrales, who worked in Duque's campaign. 
Uribe publicly refuted Martínez's claims on Twitter, saying Daza Castro is a childhood friend of Ñeñe's wife, and their relationship has not included money solicitations for any vote-buying scheme. Uribe also denied in an interview being involved in the financing of Duque's campaign and personally knowing Hernández Aponte regardless of their picture together. Duque insists the woman on the call should publicly announce who she is.
CARIBBEAN
DOMINICAN REPUBLIC: The ruling Dominican Liberation Party (PLD) has dropped to a 23% approval rating, according to a new Greenberg survey. The 28-point fall is significant, as the PLD was seen by over half of Dominicans as favorable during the country's 2016 election. Approximately two out of every three Dominicans polled believe that the PLD primaries held last year were not free or fair. Referencing the poll results, PLD candidate Gonzalo Castillo has said that "the real poll" will be on Election Day, reaffirming his belief that there are "no doubts" he will win the presidential election. This is a boon for the Modern Revolutionary Party (PRM) opposition candidate Luis Abinader, who is polling at 52% approval. Former president Leonel Fernández had a 17% approval rating.
JAMAICA: In a joint press conference with the World Bank, International Monetary Fund (IMF) managing director Kristalina Georgieva announced that the IMF is available to help Jamaica and other member countries to combat coronavirus. The virus is already beginning to hurt several economies, and the IMF has said it will make about $50 billion available to "low-income and emerging market" countries who may need assistance in dealing with the threats the virus brings. Georgieva said that these emerging market countries can approach the IMF for help, noting that IMF staff is already in the process of identifying vulnerable countries and estimating their financial needs. About $10 billion worth of assistance will be available at zero interest for the poorest member countries, through the IMF's Rapid Credit Facility.
CENTRAL AMERICA
COSTA RICA: After only seven months in office, Costa Rica's Minister of the Presidency Víctor Morales has resigned. Morales was under investigation for his role in creating a data analysis unit, which has come under fire for whether or not the unit violated privacy and collected confidential data from citizens. The administration continues to say that the purpose of the unit was to "guide public policy," but it has still faced opposition, with a motion of censure presented against Morales. Morales resigned before the motion was voted on, admitting that he had failed to read the decree creating the unit closely before he signed it. His resignation follows that of the Deputy Minister of Finance and Vice Minister of Planning.
NORTH AMERICA
UNITED STATES-MEXICO: U.S. authorities have stopped a Grand Princess cruise ship with four people with coronavirus from docking in San Francisco. At least three passengers have tested positive for the virus and another died of the disease on Wednesday. During its voyage, the Grand Princess docked in Manzanillo, Puerto Vallarta, Mazatlan and Cabo San Lucas, Mexico. It remains unclear whether passengers contracted the disease in Mexico, which has five confirmed cases of the virus.
MEXICO: Reuters reported yesterday that Mexico's private sector has submitted an investment proposal of 275 energy projects worth nearly $92 billion to the government. Mexico's business coordinating council collaborated with companies like Shell, Energie SA and Sempra Energy to design the package, which includes natural gas, infrastructure and other power production projects that would last until 2024. Reuters also reported that business coordinating council and Mexican Business Council leaders Carlos Salazar and Antonio del Valle sent the proposal to President Andrés Manuel López Obrador's chief of staff Monday.
MEXICO: President Andrés Manuel López Obrador postponed the sale of raffle tickets for his presidential jet Wednesday. The raffle was scheduled to occur on March 9, but López Obrador decided to delay the event following criticism from feminists that the raffle would occur the same day as nationwide demonstrations for the International Women's Strike. López Obrador launched the raffle on March 3, after months of criticizing the expense of the jet, purchased by his predecessor Enrique Peña Nieto.