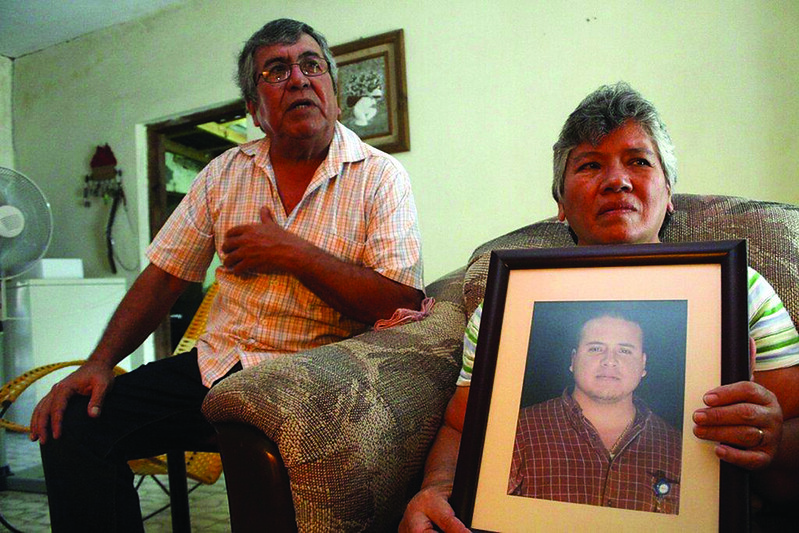 José Alfredo Jiménez and Esperanza Mota hold a photo of their son Alfredo, who disappeared in Mexico in 2005 and has not been found. (Photo courtesy of the Knight Foundation)
Mexican Authorities Tally Over 73,000 Disappearances
July 14, 2020
By Staff
TODAY IN LATIN AMERICA
MEXICO: Since 1964, 73,201 people have disappeared in Mexico, according to a report released yesterday by Mexican Undersecretary of Human Rights Alejandro Encinas. The majority of recorded disappearances happened after 2006 when the U.S.-funded drug war began. Around 288,000 people have been killed during that time. Before 2006, the number of disappeared people stood at 1,523, Encinas said. 
Last year, Mexico's National Search Commission found that the number of disappeared was at least 20,000 higher than previous estimates. President Andrés Manuel López Obrador's administration has been more active than previous governments in tracking disappearances. Even so, families of the missing have largely taken the lead, forming search collectives and taking the cases of their loved ones to court. The police, military and gangs have all been blamed for the disappearances, most of which are never solved.
Headlines from the western hemisphere
SOUTHERN CONE
ARGENTINA: The United Nations asked for an "exhaustive" investigation into the disappearance of 22-year-old Facundo Astudillo Castro, who has not been seen since he was arrested in the province of Buenos Aires on April 30. Police allegedly arrested Castro for breaking quarantine measures imposed because of the coronavirus. His family believes the police are involved in his disappearance. Police say they released him after his arrest. According to Perfil, the investigation into his disappearance has been full of contradictions and inconsistencies.
ANDES
VENEZUELA: Former New Mexico governor and diplomat Bill Richardson is expected to travel to Venezuela this week to ask President Nicolás Maduro to free several detained American citizens. Richardson's visit aims to ease tensions between the United States and Venezuela. The Richardson Center, which works to free Americans detained by foreign governments, maintains the trip will be a private humanitarian mission, not on behalf of the U.S. government. Among the Americans currently jailed in Venezuela are Luke Denman and Airan Berry, who were captured in May for allegedly attempting to overthrow Maduro.
CARIBBEAN
FRENCH GUIANA: The French territory now accounts for a quarter of all of France's new daily COVID-19 cases, despite making up less than 0.5% of the country's population. Prime Minister Jean Castex visited French Guiana on Sunday and insisted in a tweet, "We will not leave anyone on the side of the road." French Guiana borders Brazil, which has the second highest number of COVID-19 cases worldwide. The territory postponed municipal elections that were supposed to be held in June due to rising cases. 
SURINAME: Suriname's Congress elected opposition candidate Chan Santokhi as president, who won the national election in May. Santokhi unseated incumbent Desi Bouterse, who ruled Suriname as a military dictator in the 1980s and was democratically elected as president in 2010 and again in 2015. Last year, Bouterse was sentenced to 20 years in prison for planning and ordering the killing of 15 political opponents in 1982. Santokhi, a former police chief, has previously investigated Bouterse for his alleged role in the 1980 military coup.
CENTRAL AMERICA
COSTA RICA: President Carlos Alvarado said Sunday that his government is making its largest cuts to public spending in history due to the coronavirus pandemic. The cuts will be equal to 1% of Costa Rica's GDP, but will not affect social programs. Alvarado also said he will negotiate a loan with the IMF for financial aid related to the pandemic. Costa Rica has recorded over 7,500 COVID-19 cases and 30 deaths. Costa Rica's economy has gradually reopened in the last several weeks, but certain measures have been slowed or delayed as cases have increased.
EL SALVADOR: The magazine Gato Encerrado reported that Minister of Health Francisco Alabí bought $225,000 of rubber boots for medical workers from his family's company Autodo S.A. de C.V., which sells car parts. The boots were manufactured for medical workers treating COVID-19 patients. Alabí told the magazine that he did not see the purchase as a conflict of interest. A Salvadoran citizen filed a complaint about it in the Government Court of Ethics yesterday. Alabí is the latest official in the government of Nayib Bukele accused of corruption. Others include Jorge Aguilar, former president of the Environmental Fund of El Salvador, whose family business sold masks to the government for $250,000.
NORTH AMERICA
MEXICO: The country has overtaken Italy in deaths due to COVID-19 and now has the fourth highest total in the world. The Ministry of Health reported Sunday that just under 300,000 people have tested positive since the start of the pandemic, with more than 35,000 deaths. Latin America has also passed the United States and Canada to become the region with the second highest number of deaths after Europe. Latin America has recorded 145,000 deaths and Europe has recorded 200,000.
MEXICO: A government official said Mexico is considering an offer from an unnamed source to buy the country's presidential jet for $120 million, paid with a combination of cash and medical supplies. In January, President Andrés Manuel López Obrador said he received an offer of $125 million, but he turned it down because it was below the $130 million value set by the United Nations. Selling the presidential jet was one of López Obrador's earliest campaign promises. Since he took office in December of 2018, López Obrador has only left Mexico once, when he visited President Donald Trump in Washington last week. He flew commercial.