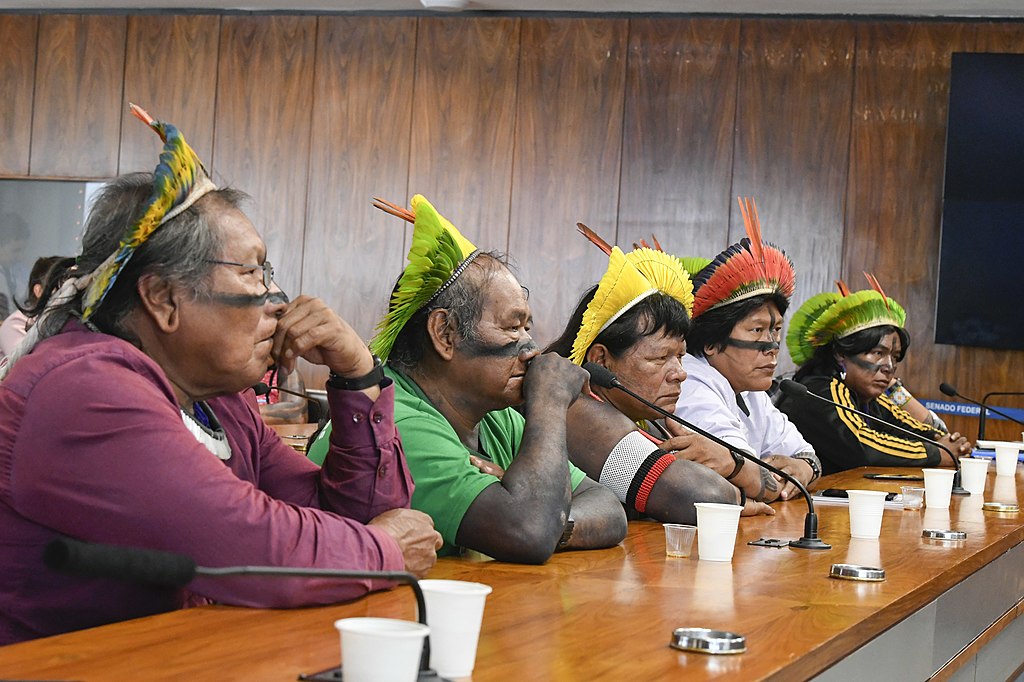 The Kayapó are among the Indigenous groups in the Brazilian Amazon at risk of COVID-19. (Photo by CDH - Comissão de Direitos Humanos e Legislação Participativa via Wikimedia Commons)
COVID-19 Cases Grow in Brazilian Amazon
July 20, 2020
By Staff
TODAY IN LATIN AMERICA
BRAZIL: COVID-19 continues to make inroads into the Brazilian Amazon, and the New York Times reports that health workers may be partly responsible. More than 1,000 workers for Brazil's Indigenous health service, known as SESAI, have tested positive for the virus. Without adequate testing, they may have unknowingly brought the virus into protected areas. More than 15,000 Indigenous Brazilians have been infected with COVID-19, with more than two-thirds of them living in protected Indigenous territories.
SESAI has reported 220 confirmed cases so far in the Javari Valley, a region in western Brazil with one of the largest concentrations of Indigenous groups in the country. An 83-year-old Marubo man died earlier this month, marking one of the region's first recorded deaths. Indigenous Kayapó leader Paulinho Paiaka died from COVID-19 in June. Kayapó leader Raoni Metuktire was also hospitalized last week, though his nephew reported Raoni tested negative for the virus.
Headlines from the western hemisphere
SOUTHERN CONE
ARGENTINA: A German newspaper on Friday reported that a former naval officer suspected in the deaths of at least 150 people during Argentina's military dictatorship between 1976 and 1983 has been living in Berlin. Luis Esteban Kyburg has been living in Berlin since 2013, hiding from an international warrant for his arrest for crimes against humanity. The Argentine judiciary tried to extradite Kyburg in 2015, but their request was rejected because Kyburg has dual citizenship with Germany. Around 30,000 people were killed in Argentina during the dictatorship.
ANDES
ECUADOR: Ecuador's Congress elected a new vice president Friday after Otto Sonnenholzner resigned earlier this month. María Alejandra Muñoz, a lawyer, will serve in the position until the end of the term next May. Muñoz was third on the list sent to Congress by President Lenín Moreno, but she received the most support. Ecuadorians will vote in the next election in February. 
VENEZUELA: Former New Mexico Gov. Bill Richardson failed to convince President Nicolás Maduro to release several Americans who are jailed in Caracas. Richardson ended his four-day trip on Friday. Among the detained Americans are Luke Denman and Airan Berry, who were arrested in May for trying to overthrow Maduro. Richardson traveled to Venezuela as part of a private mission, but he said he coordinated with the U.S. government. It was the most important diplomatic mission to Venezuela since the United States threw their support behind Juan Guaidó and recognized him as interim president.
CARIBBEAN
CUBA: Cuba reported no new daily COVID-19 cases for the first time in 130 days yesterday. On Saturday, the public health ministry reported just one new case. Even as Cuba sent its doctors abroad to help care for COVID-19 patients in hard-hit countries, the island has kept its own confirmed cases to fewer than 2,500, with 87 deaths. Cuba reopened parts of the country to tourism on July 1, but Cubans have not been allowed to have contact with tourists.
DOMINICAN REPUBLIC: The Senate unanimously approved yesterday a 45-day state of emergency requested by President Danilo Medina due to the coronavirus pandemic. Medina asked for the declaration as cases continue to grow. Medina declared a state of emergency earlier in the pandemic, but he lifted it July 1 before the presidential elections. The Dominican Republic has reported 52,855 confirmed cases, with 981 deaths, making it the hardest hit Caribbean nation.
CENTRAL AMERICA
HONDURAS: A Honduran journalist who was jailed last year for defamation died on Saturday from COVID-19. David Romero, the director of Radio Globo and a critic of President Juan Orlando Hernández, contracted the virus in prison. When he was arrested in March last year, Romero said, "I know they can kill me and, if that happens, the person responsible is the president." He was arrested after reporting on government fraud and was charged with defaming Sonia Inez Gálvez, the wife of former Attorney General Rigoberto Cuellar. The Committee to Protect Journalists stated that Romero "should have never been imprisoned."
NICARAGUA: On Friday, the United States imposed sanctions on Juan Carlos Ortega Murillo, the son of President Daniel Ortega. The U.S. Treasury Department accused Juan Carlos and José Jorge Mojica Mejía, a representative of the family, of money laundering and distribution of propaganda. Juan Carlos is the fourth member of the Ortega family to be sanctioned by the United States. His mother, Vice President Rosario Murillo, was sanctioned in 2018 for alleged corruption and human rights abuses.
NORTH AMERICA
MEXICO: The remains of at least 23 people were found in a clandestine grave near a police station in the city of Guadalajara last week. Only three of the bodies have been identified so far. The state of Jalisco has reported the most bodies found in clandestine graves since President Andrés Manual López Obrador took office. The state also reported the largest number of missing persons, at 9,413. Last week, the Mexican government said more than 73,000 people are missing in the country, most having disappeared in the last 14 years.