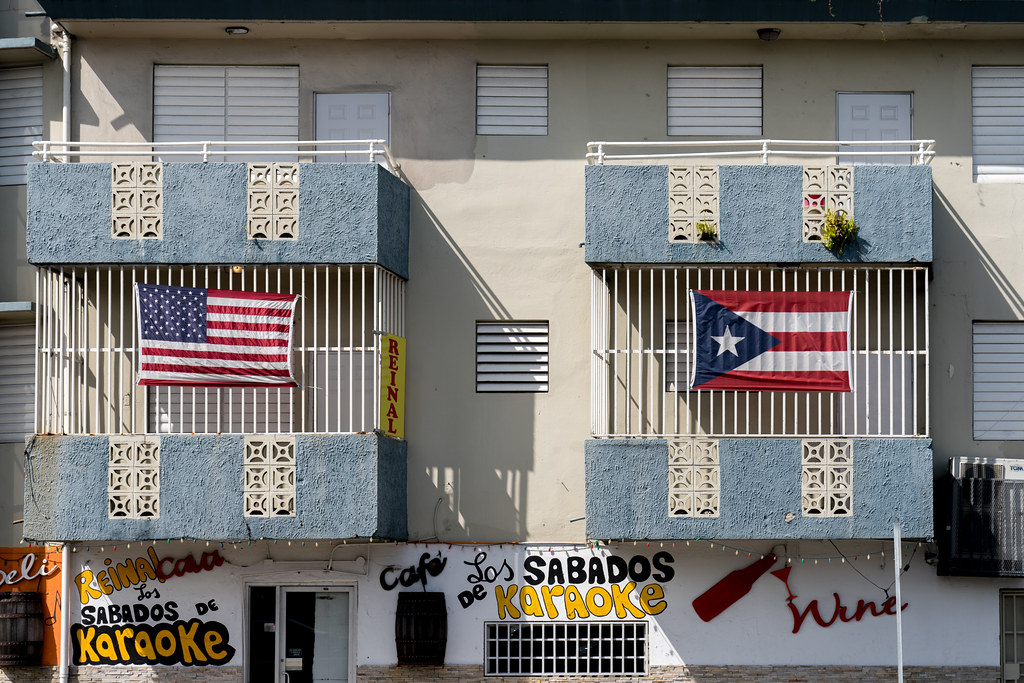 United States and Puerto Rican flag on a building in Puerto Rico in 2018. Photo courtesy of Lorie Shaull via Flickr.
Trump Designates New Member to Puerto Rico Oversight Board
October 8, 2020
By Staff
TODAY IN LATIN AMERICA
PUERTO RICO: President Donald Trump plans to appoint a new member to Puerto Rico's financial oversight board, the White House said Wednesday. Justin Peterson is a managing partner at DCI, a public affairs firm based in Washington, D.C. His past experience includes advising financial disputes involving Puerto Rico and Argentina to a federal control board and working on the campaigns of former Sen. Elizabeth Dole and former President George W. Bush. The board (JSF) was created four years ago to restructure Puerto Rico's then-debt of $70 billion, and now continues to control public finances of the island.
The announcement comes after the resignation of José B. Carrión, the former president of the JSF. With the additional resignation of two people, the board was left with only four members and the power to approve restructuring plans. Carrión, an insurance businessman who also served as a director of public agencies such as the State Insurance Fund Corporation, was often linked to the Republican party. During his four year run, he received harsh criticism for being a donor to political figures in federal circles and joining the campaign for the reelection of President Trump.
Headlines from the western hemisphere
SOUTHERN CONE
BRAZIL: The coronavirus has paved its way into the Amazon, infecting the Indigenous Yanomami tribe — a uniquely vulnerable group due to their lack of resources and isolation. Indigenous people, who make up the bulk of Amazonas' population, are taking a disproportionate hit. Of the estimated 27,000 Yanomami in Brazil, government health officials have reported about 700 positive COVID-19 cases and at least six deaths. With limited healthcare, an already low life expectancy and inhospitable environments, experts fear the tribe could be wiped out by COVID-19. Communal traditions have also contributed to the increase in contagion. Yanomami leaders assert that 20,000 gold miners invaded their territory and carried the virus.
ANDES
PERU: In March, President Martín Vizcarra signed off on a purchase of 1.6 million antibody tests — mostly cheap alternatives from China — but the country's rapid bet on tests may have been dangerous, according to experts. In the early days of the pandemic, Peru did not have the labs or the supplies to carry out molecular tests, and alternatives from China would guarantee results within minutes. Health officials now warn that importing millions of antibody tests, even though they were not designed to identify active cases, may not have been prudent. However, Peru's number of daily COVID-19 infections marked a significant decrease on Monday. The country, which had one of the highest numbers of COVID-related deaths per capita in the world, reported under 100 fatalities a day.
VENEZUELA: Migrant routes have reportedly become more dangerous since the pandemic broke out. Thousands of Venezuelans are walking towards cities in Ecuador, Colombia and Peru as the economies of these countries recover after almost six months of restrictions — but land border closures imposed by these governments have forced migrants to turn to criminal groups. Venezuelan migrants walking along the road of Cúcuta have paid fees, ranging from $1 to $20, to groups controlling illegal crossings. Those without cash have paid by "donating" their phones. The closure of shelters has been tough on migrants traveling with children, with many being stranded for days or dying of hypothermia.
CARIBBEAN
HAITI: The United Nations Security Council warns that, if violent protests continue, Haiti is bound to be in dangerous instability. In a council meeting, representative Helen La Lime pointed out that key aspects of the country's  electoral process must be addressed "to reduce the risk of contested elections & further violence." Since the beginning of Jovenel Moïse's presidency in February 2017, the country has been affected by street protests and economic stagnation. Opposition leaders have demanded his departure, claiming corruption has only worsened. Public revolt heightened in August, when scholar Monferrier Dorval, president of the Port-au-Prince Bar Association, was assassinated after a radio interview by gunmen.
CENTRAL AMERICA
COSTA RICA: Protests and road blockages continued to erupt across the country on Wednesday in response to a new International Monetary Fund (IMF). President Carlos Alvarado has withdrawn the proposed economic measures which caused the revolts this week. However, protests continue to revolt, as demonstrators believe an agreement with the IMF can still occur. Although police claim protests are mostly peaceful, organized crime are believed to have infiltrated the blockades and are still collecting illegal vehicle tolls.
NORTH AMERICA
MEXICO: Hurricane Delta made landfall on southeastern Mexico's Yucatán Peninsula on Wednesday morning, roughly between Cancún and Playa del Carmen, according to the U.S. National Hurricane Center. By Wednesday afternoon, the hurricane moved to the Gulf of Mexico, with maximum estimated winds of 110 miles per hour, forcing nearly 40,000 people to take shelter, including dozens of tourists who had to evacuate their resorts and hotels. Delta is anticipated to move to the Gulf Coast of the United States on Friday and, so far, no one has been hurt or dead in Quintana Roo, according to Governor Carlos Joaquín González. 
MEXICO: Former Federal Secretary of Public Safety Genaro García Luna pleaded not guilty to five drug trafficking charges on Wednesday, including a new charge added in July involving cocaine trades in 2002, 2003, 2007 and 2008. García Luna is also facing charges for accepting bribery to protect the Sinaloa cartel from law enforcement. Local newspaper Debate disclosed that Judge Brian Cogan had to suspend the hearing because reporters did not silence their phones and would not stop speaking during the hearing. After reprimanding the reporters, Cogan continued the Zoom audience, but not without clarifying first that recording and transmitting hearings is illegal in the United States. Next hearing is scheduled for Dec. 7 and, if declared guilty, García Luna will face at least 10 years jail time.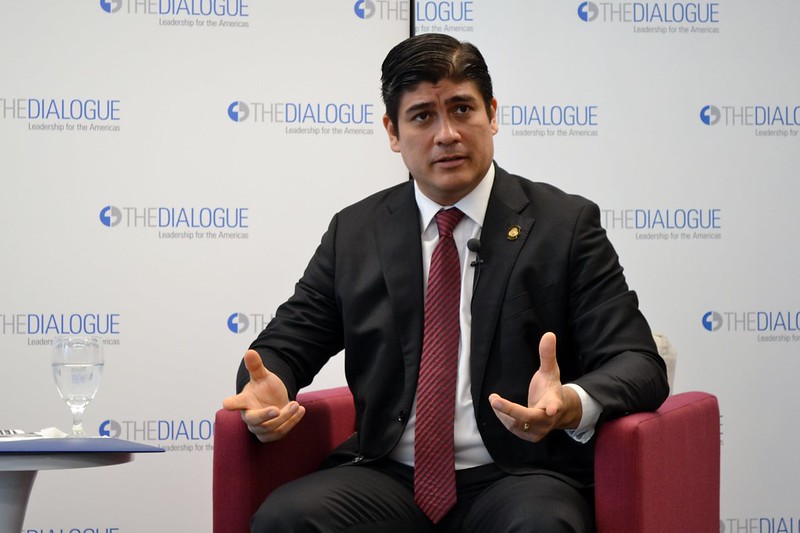 October 7, 2020
> Staff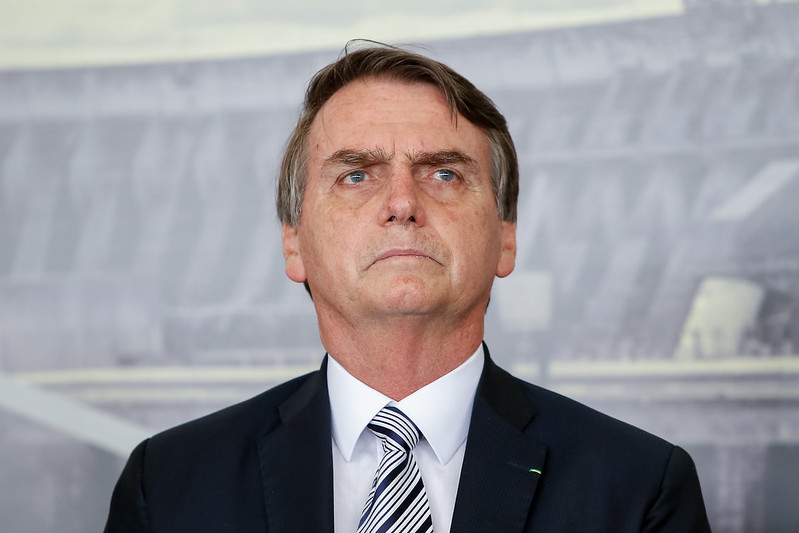 October 9, 2020
> Staff