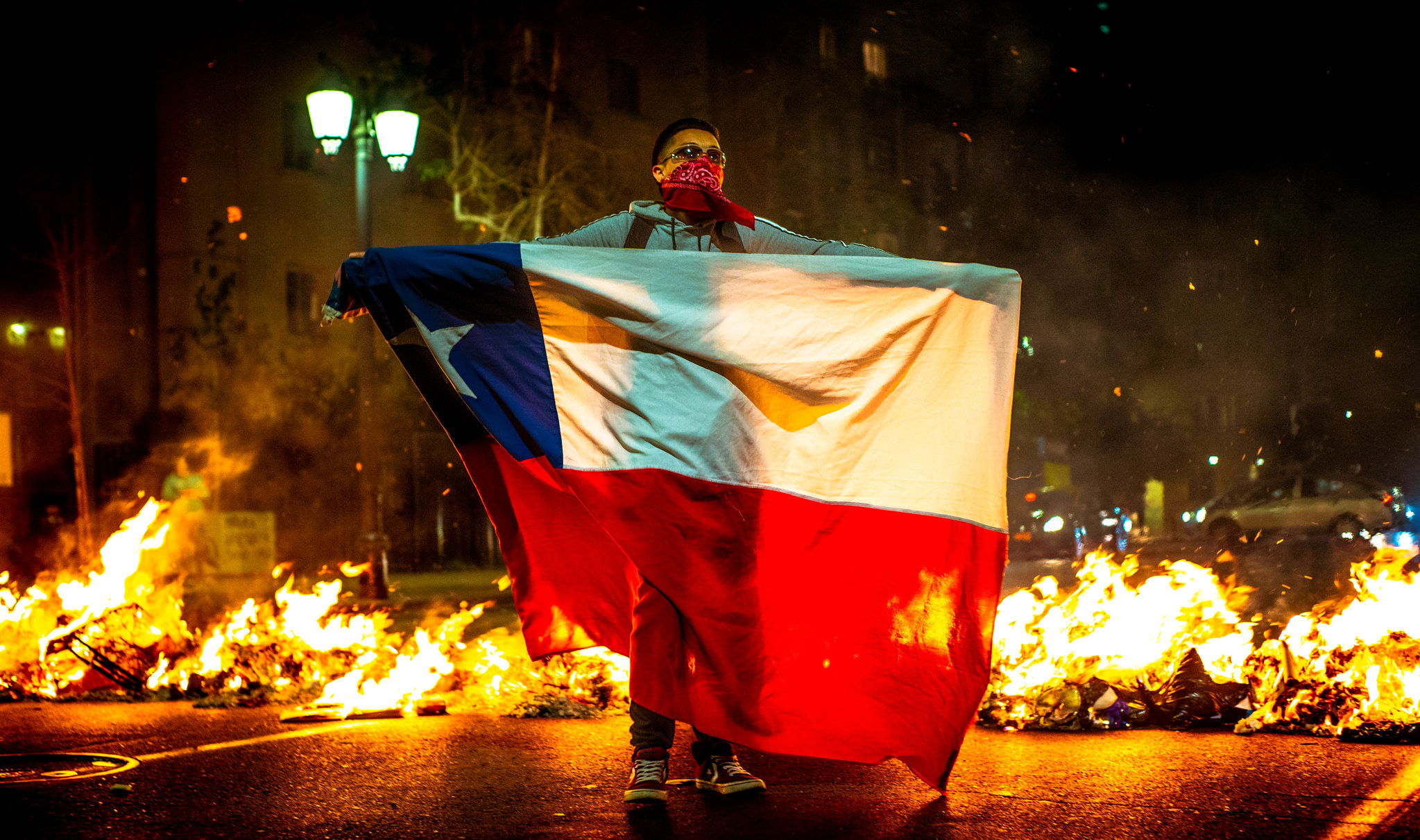 A protester in Chile in 2019. Image courtesy of Fiorella Gonzaga via Flickr.
Chile Votes On Whether to Rewrite Constitution
October 26, 2020
By Staff
TODAY IN LATIN AMERICA
CHILE: Voters went to the polls on Sunday to overwhelmingly approve a plebiscite to change the country's dictatorship-era constitution. President Sebastián Piñera agreed to the plebiscite demand after a month of violent protests of the "social explosion" that rocked the country last year. Chile's current constitution was devised in 1980 during the dictatorship of Gen. Augusto Pinochet. The constitution enshrined free market principles and limited the government's capability to provide public options in pensions and healthcare. Crowds gathered to celebrate the approval of the referendum in Plaza Italia in Santiago de Chile and were dispersed by riot police. Voters also chose the way the constitution will be drafted: by chosen citizens, who will be elected on November 11 of next year.
Headlines from the western hemisphere
SOUTHERN CONE
PARAGUAY: Police found the remains of seven migrants in a fertilizer shipment from Serbia on Friday. According to the investigator assigned to the case, the remains belong to four Moroccans, two Algerians and one Egyptian. One of the Algerians published on social media his plans to travel by container on a train to Italy or Belgium. The migrants did not know that the container would travel by train to a port in Croatia where it would be loaded on a cargo ship to Paraguay on a journey that would take three months.
ANDES
COLOMBIA: The country passed 1 million confirmed coronavirus cases on Sunday. The capital of Bogotá and the department of Antioquia have been the hardest hit. Antioquia declared red alert over the weekend due to the high occupation rate of intensive care units. Colombia, which recorded its first COVID-19 case on March 6, is the eighth country to reach the 1 million milestone and the third in Latin America after Brazil and Argentina.
VENEZUELA: Opposition leader Leopoldo López arrived in Spain on Sunday after slipping out of the Spanish embassy in Caracas. López lived in the embassy for 18 months after attempting a failed military coup against President Nicolás Maduro in April 2019. Venezuelan security forces raided the homes of several members of Spain's police attached to the diplomatic mission in the country and arrested embassy workers believed to have information on the leader's whereabouts. The government of Venezuela called Spanish Ambassador, Jesús Silva, the "main organizer" in López's escape, but stopped short of expelling the diplomat. López reunited with his wife and daughter who have been exiled in Spain since last year. The opposition leader now joins the millions of Venezuelans who have been forced to leave the country.
CARIBBEAN
CUBA: Remittances sent to Cuba via companies under Cuban military control, including Western Union, will be banned by the United States. The new prohibition will be published in the U.S. Federal Register on Oct. 27, taking effect 30 days after publication. The U.S. Treasury Department currently allows up to $1,000 in remittances per person per quarter. U.S. officials have said their intent is to force the Cuban government out of the remittance market and stop the flow of funds to all Cuban security agencies. Critics say the move will mostly impact Cuban families already suffering from an economic crisis as a result of the pandemic. President Miguel Díaz-Canel Bermúdez denounced the move on Twitter, and others questioned the timing of the announcement ahead of the U.S. presidential elections. 
HAITI: Haitian President Jovenel Moïse announced Friday that no elections will be held in the country until a new constitution is adopted. He called for a referendum to decide on the change, but did not provide further details on how that would take place. Moïse has been under pressure from the Trump administration and the Organization of American States to hold elections that were expected to take place last October after Haiti fell under rule by decree without a parliament last January. Elections were not held in part because of violent anti-government protests, as many demanded Moïse's resignation and accused him of overreaching his executive powers. While some Haitian scholars have denounced Moïse's move as treasonous and a violation of the current constitution, the United Nations has been supportive of the president's decision.
CENTRAL AMERICA
PANAMA: Beaches in Panama reopened on Saturday after seven months of restrictions due to the coronavirus pandemic. The public is allowed to visit between 6 a.m. and 4 p.m., as long as they visit in groups of up to seven people. Masks remain mandatory at the beach, as they are required in all public spaces in the country, only to be taken off for swimming. The country's Ministry of Health prepared for the anticipated influx of people and will be randomly testing beachgoers. Panama reopened its borders to U.S. tourists on Oct. 12, requiring visitors to provide proof of a negative coronavirus test upon arrival. Panama has the highest number of reported cases of COVID-19 in all of Central America, with over 2,500 deaths.
NORTH AMERICA
MEXICO: The coronavirus pandemic claimed one of its most high-profile victims in Mexico on Saturday: Senator Joel Molina Ramírez, a member of the ruling Morena party who represents the state of Tlaxcala. Four days before his death, Molina Ramírez participated in an in-person Senate session that lasted 12 hours. According to Mexican health authorities, there were 193,170 excess deaths in Mexico between January and September of this year—only 40.6% of which are confirmed as having been caused by COVID-19. That represents an increase of 36.8% compared with the same period in 2019. Health authorities said the excess deaths could be directly or indirectly related to the pandemic. As of Oct. 25, there have been 88,743 confirmed COVID-19 deaths in Mexico and 103,706 estimated deaths.
Meanwhile, surging cases in Chihuahua pushed public health authorities on Oct. 23 to raise the state's COVID-19 alert level to red, making it the first state in the country to revert to a partial lockdown.
MEXICO: Even as Mexican migration authorities insist they are following procedures to prevent the spread of COVID-19 within its facilities, the country's National Human Rights Commission (CNDH) detected 19 positive cases in a detention center in Tapachula, Chiapas. The CNDH also found that the detention center does not have running water or electricity, detainees with COVID-19 symptoms are not isolated, social distancing is not respected and detainees are not provided with masks or hand sanitizer.
UNITED STATES/MEXICO: A bipartisan group of U.S. senators and members of the House of Representatives wrote a letter on Oct. 23 to President Donald Trump requesting that he take action to protect U.S. energy interests in Mexico, which they say are threatened by the Mexican government. The letter expresses concern that the government of President Andrés Manuel López Obrador will not respect the 2014 Energy Reform, which opened Mexico's energy sector to private investment. The lawmakers accused López Obrador of giving preferential treatment to the state-owned energy companies over private firms, which they say "undermine[s] the spirit of the United States-Mexico-Canada Agreement." In response, López Obrador admitted that he is protecting Pemex, the state oil company, and defended his right to do so. López Obrador has been a longtime critic of the Energy Reform. However, he has also said that all existing contracts with private companies will be respected.