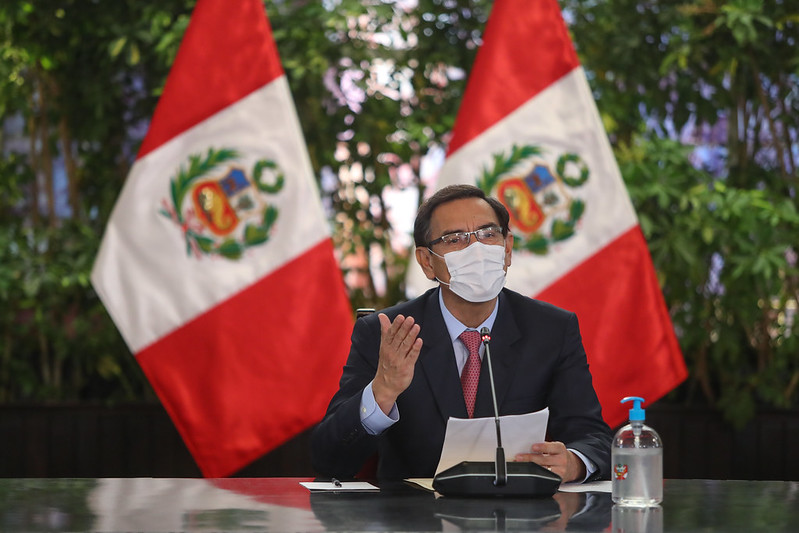 President of Peru Martín Vizcarra in August 2020. Photo courtesy of Presidencia Perú via Flickr.

Peruvian President Impeached By Congress
November 10, 2020
By Staff
TODAY IN LATIN AMERICA
PERU: The 130-member Congress of Peru voted to impeach President Martín Vizcarra for allegedly accepting over $600,000 in bribes when he was governor of Moquegua. Vizcarra defended himself in Congress on Monday during his second impeachment hearing, repeatedly rejecting the accusations of corruption. In a heated debate, Vizcarra reminded the legislative body that 68 members of Congress are also being investigated for crimes, and asked if they should also be kicked out of office. 
Congress' first impeachment attempt in September received less than half of the 87 votes necessary to remove Vizcarra from office, during which he faced separate charges of allegedly signing irregular government contracts. The president warned Congress of "unpredictable consequences" if he were to be impeached just months before the presidential election this coming April. Vizcarra's position would typically be filled by either the vice president or second vice president at this time, but both positions are currently vacant. Manuel Merino, the head of Congress from a minority political party, is set to assume the presidency until July 2021.
Headlines from the western hemisphere
SOUTHERN CONE
PARAGUAY: The leader of the Supreme Court took the legal oath of the country's first transgender lawyer. Kimberly Ayala finished law school and was rejected three times in a span of five years from becoming a lawyer. She has also been discriminated against since the beginning of her career. President of the Supreme Court Alberto Martínez Simón personally received her oath. According to Martínez, the constitution clearly states that every person can freely construct their own identity. Ayala expressed happiness for finally being able to become a lawyer and called the achievement a step for the LGBT community.
ANDES
COLOMBIA: According to audio recordings leaked on Monday, the United States Drug Enforcement Agency (DEA) carried out an undercover operation against leaders of the Revolutionary Armed Forces of Colombia (FARC) who had negotiated a peace deal with the government. Undercover DEA agents, posing as Sinaloa Cartel members, repeatedly requested a meeting with FARC leaders Iván Márquez and Jesús Santrich to link them to five kilos of cocaine provided by the Colombian government. Santrich was arrested in 2018 by authorities for allegedly attempting to send the five kilos of cocaine to the U.S. despite them being provided by the Colombian government. The lack of evidence provided by the prosecution and the DEA to the transitional justice system, led to the release of Santrich. Both Santrich and Márquez would eventually abandon the peace process and rearm to join the FARC dissidents.
BOLIVIA: Former President Evo Morales returned to Bolivia from exile on Monday. Morales was seen off by Argentinian President Alberto Fernández at the border town of Villazon. Morales was forced to leave Bolivia a year ago after military and opposition forces ousted him from office in 2019. In a speech, Morales accused the "North American empire" of failing in its objective to keep the Movement Toward Socialism (MAS) party out of power. Morales returned to Bolivia the day after his former economic minister, Luis Arce, assumed the presidency.
CARIBBEAN
PUERTO RICO: Electoral Commissioner Nicolás Gautier asked Judge Francisco Rosado Colomer to carry out an "immediate" investigation on early mail-in ballot counting after discovering 14,800 more state ballots than legislative, municipal and plebiscite ones. The request came after New Progressive Party's Pedro Pierluisi won the island's gubernatorial race with nearly 33% of the votes against Carlos Delgado, who received 32% of the vote. Gautier demanded Rosado Colomer to begin the investigation before the General Scrutiny on Monday. Judge Rosado Colomer responded that he would have to wait until the end of the scrutiny to have a final result for the investigation. Rosado Colomer also confirmed on Monday that votes from up to five regular polling stations had not been counted due to loss of cards recording votes. Citizens' Victory Movement (MVC) party also denounced the preliminary certifications issued by the State Election Commission as "a lie," in which several elective positions were awarded with narrow margins of advantage.
CENTRAL AMERICA
HONDURAS: Honduras reported on Monday that 57 people have died due to Hurricane Eta so far, and more than 1.8 million are currently affected by the natural disaster. President Juan Orlando Hernández thanked U.S. soldiers from a joint task force and its neighbor El Salvador for providing assistance to victims. Hondurans lost critical health services after destruction caused by Eta, and the United Nations Population Fund (UNFPA) joined the response effort by acquiring thousands of dignity kits containing information about how to distribute hygiene supplies to Honduran women and girls with funds from Canada. UNFPA is also prioritizing efforts to prevent and respond to gender-based violence, as women and girls often face more abuse in humanitarian crises.  
EL SALVADOR: The General Attorney's Office visited the Ministry of Health to extract documents and investigate purchases made during the COVID-19 pandemic. Health Minister Francisco Alabi authorized a questionable $225,000 purchase of rubber boots from one of his family members' company. The Ministry of Health has previously been questioned for similar strange purchases. Last June, they acquired 300,000 of 400,000 protective masks at $2.50 each, a 111% surcharge, through a "new" company, and 100,000 more from Indesa, owned by Jorge Aguilar, former president of the Environmental Fund of El Salvador. It is also not known if the $28,000 allocated for funeral services by the Ministry of Health in August has been used. Irregularities also include the non-obligation to register the processes in the Electronic Public Procurement System, and use of emails to receive offers or quotes which reduced transparency, according to experts.
NORTH AMERICA
MEXICO: Twenty-eight people have been registered dead in Tabasco, Chiapas and Veracruz due to devastating floods on Monday. All three cities and 184,000 people are suffering the aftermath of Hurricane Eta, due to rivers overflowing and inundating communities. The deaths have been confirmed by the national Coordinator for Civil Protection Laura Velázquez Alzúa, who also announced that multiple municipalities in the affected cities have undergone severe damage. Almost 40,000 houses are currently underwater and authorities are still searching for bodies. Federal institutions are working to create programs along with National Security to help people who are suffering the aftermath of the storm.
MEXICO: Journalist Israel Vásquez Rangel was killed by gunshot while covering a story in Salamanca, Guanajuato. The journalist was assaulted and killed while preparing to work on a story of human remains, and was later transferred to a hospital where he died due to the gunshot wounds, Animal Político reported. Local newspapers are urging local and state authorities to unify in an effort to find the killers who immediately flew the scene after the shooting.
MEXICO: At least 18 deputies in the program for National Development have been accused of abuse of power, nepotism and sexual abuse. The functionaries are currently being investigated by the Ministry of Public Function, with most of the accusations presented in 2019 and 2020. Three of the functionaries, Juan Carlos Loera de la Rosa, Indira Vizcaíno Silva and Pablo Amílcar, are currently running for local governmental candidacy. President Andrés Manuel López Obrador is currently facing backlash by his opposition, who accuses him of being an accomplice and not holding the functionaries accountable.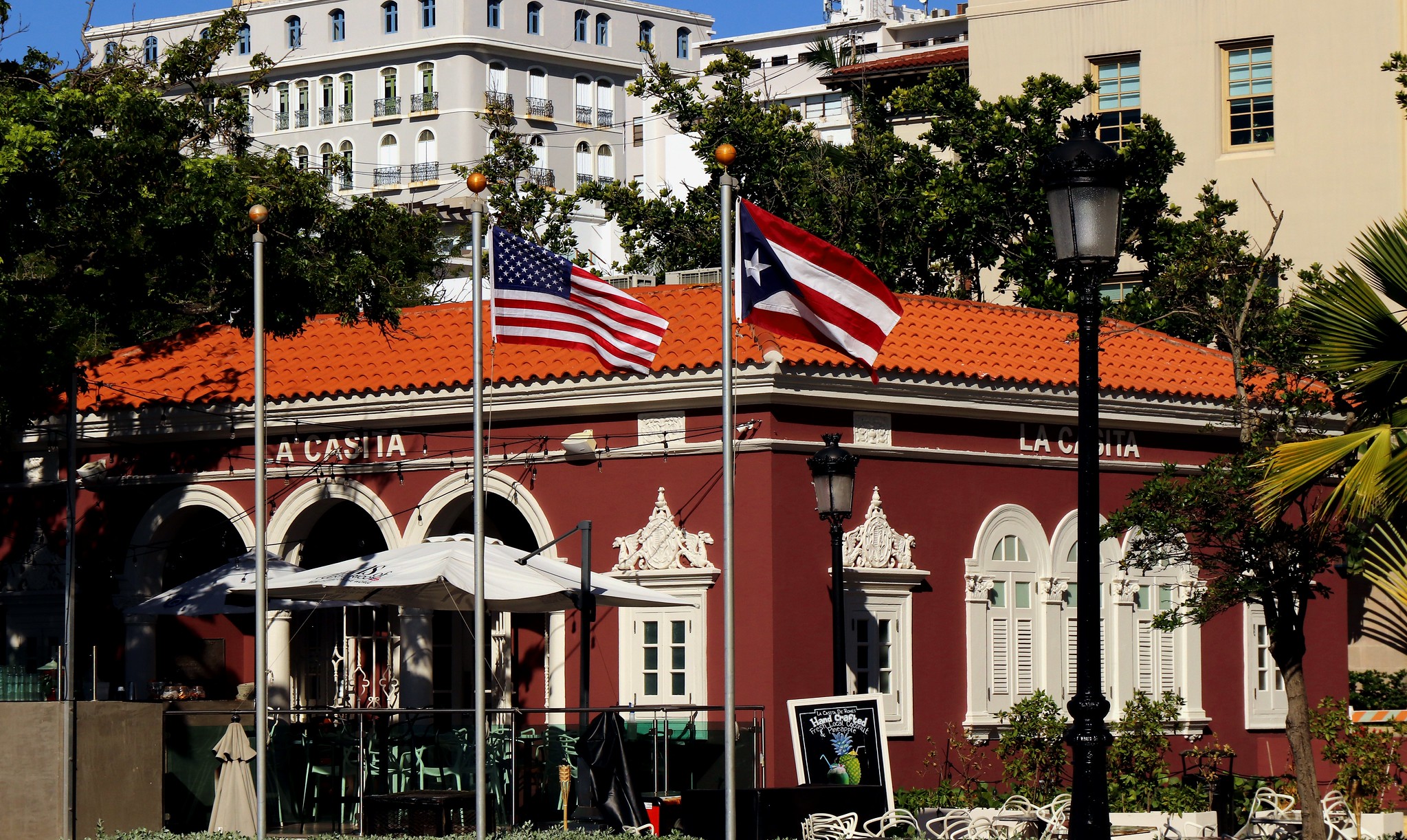 November 9, 2020
> Staff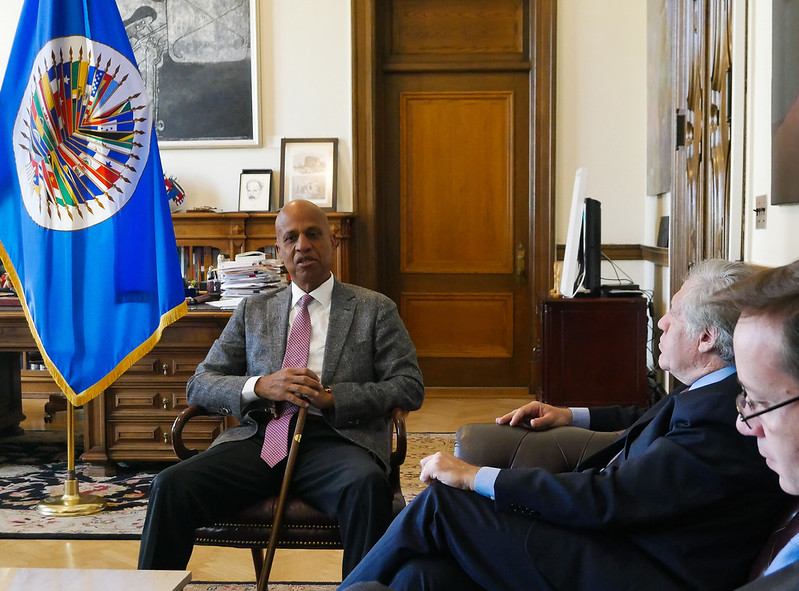 November 11, 2020
> Staff