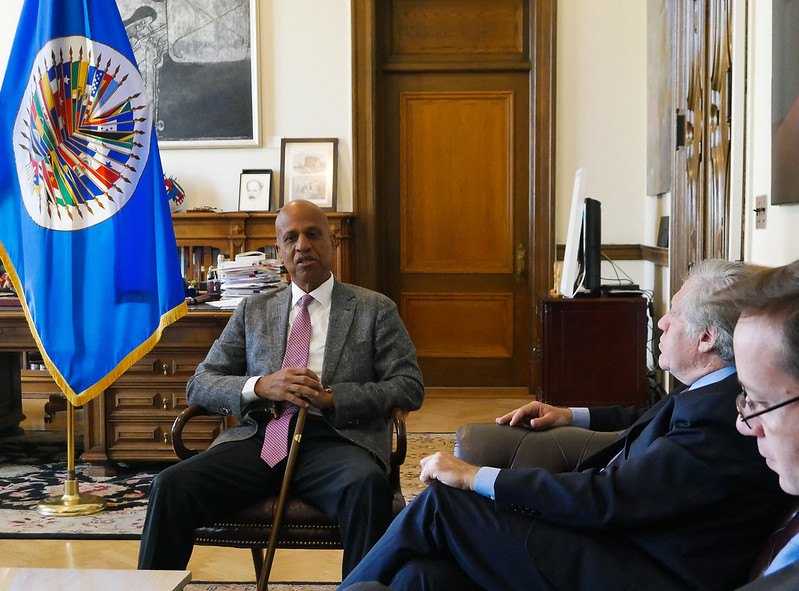 Prime Minister of Belize Dean Barrow in 2018. Photo courtesy of OEA-OAS via Flickr.
Belize Will Hold General Election Despite Hurricane Eta
November 11, 2020
By Staff
TODAY IN LATIN AMERICA
BELIZE: Prime Minister Dean Barrow said the general election will continue on Nov. 11 despite floods caused by Hurricane Eta. Barrow said that the Constitution of Belize doesn't mention deferrals, and that the process to postpone an election would require a longer preparation time to be effective. Chief Elections Officer Josephine Tamai said that the Elections and Boundaries Department is working with the National Emergency Management Organization (NEMO) to monitor the flooding in the country. She acknowledged that some polling sites are dealing with challenges to remain open and may need to relocate. 
Police Commissioner Chester Williams said that law enforcement will be present to make sure that the election process runs smoothly. Throughout Central America, Hurricane Eta has brought heavy rains and strong winds, leading to severe flooding and landslides in Guatemala, Honduras and Cuba. Nicaragua and Honduras remain on alert following the aftermath of the storm. In Belize, around 50,000 to 60,000 people have been affected by Eta. NEMO warned that although the water is moving south in the country, the Cayo region continues to experience intense flooding.
Headlines from the western hemisphere
SOUTHERN CONE
BRAZIL: The Brazilian health agency suspended human trials of the COVID-19 vaccine developed by Chinese pharmaceutical company Sinovac on Monday. The testing was stopped after the death of one volunteer on Oct. 29 despite reports that the incident was unrelated to the trials and Sinovac officials insisting that testing is safe to continue. President Jair Bolsonaro celebrated the announcement, saying that "he won" over São Paulo Gov. João Doria, who supports the vaccine trials. Bolsonaro has said that Brazil will not purchase the vaccine from China, refuting his own health minister's statements and earning criticism for creating a political fight around the development and purchase of the vaccine.
URUGUAY: Secondary school teachers began a 48-hour national strike today in protest of proposed budget cuts for 2021. The protests were organized by the The National Federation of Secondary Education Teachers of Uruguay (FENAPES), with a day of strikes on Nov. 10 and an assembly of representatives on Nov. 11. The budget cuts being protested would include a decrease of 43,000 teaching hours and eliminate information and technology teaching positions. This is the second protest by Uruguayan teachers in the last month.
ANDES
COLOMBIA: Former Vice President Oscar Naranjo was mentioned as an accomplice by Colombian drug traffickers in conversations with the United States Drug Enforcement Administration (DEA) released by El Espectador. The newspaper received access to over 24,000 audio files on the case, which involves former guerilla leader Jesús Santrich and a Cuban ambassador to Colombia. The DEA agents were posing as drug traffickers in an undercover operation against the Revolutionary Armed Forces of Colombia (FARC) between 2017 and 2018. Naranjo has denied the allegations.
PERU: Manuel Merino was sworn in as the new president of Peru on Tuesday after Congress voted to remove former President Martín Vizcarra from office Monday night. The impeachment process was proposed based on allegations of corruption, but many legislators referenced anger at Vizcarra's handling of the pandemic as their reason for voting against him. Peruvians gathered in the street to protest Vizcarra's removal, with some supporters calling it a coup by corrupt legislators. Vizcarra had made himself unpopular with Congress by pursuing an anti-corruption agenda and changing policies determining who can hold political office.
CARIBBEAN
DOMINICAN REPUBLIC: More than 3,000 people were evacuated in the country due to flooding and landslides. An Emergency Operations Center report indicated that a total of 744 homes have been affected by the storm, with four being destroyed after Hurricane Eta made landfall. The report also noted that four communities that have been isolated due to downed bridges and impassable roads. Traffic was brought to a halt on a highway in the San Rafael-Enriquillo region because of landslides. Aqueducts covering 21 regions have been affected by the rain, leaving about 250,000 households without proper water service. There are now 24 provinces that are on alert for possible flooding as well as landslides.
CENTRAL AMERICA
NICARAGUA: President Daniel Ortega made his first public appearance in 19 days to comment on the United States elections. In a televised speech, Ortega said that he "respects" President Donald Trump for his claims of voting fraud. He went on to state that the election results are a "problem" the U.S. will "have to solve," emphasizing that Nicaragua will stay out of the decision in the same way that the U.S. should stay out of Nicaragua's elections. During his speech, Ortega also talked about opening up a dialogue with opposition groups in the country about economic and social issues. He didn't acknowledge the opposition's demand for electoral reform ahead of the 2021 elections. The president also commented on Hurricane Eta, saying there wasn't "one single death" because of the country's preparedness. He did acknowledge the deaths of two miners, attributing them to a mining accident.
NORTH AMERICA
BORDER: The number of children in United States migrant detention facilities whose parents cannot be found is higher than previously reported. Lawyers appointed by a federal judge to reunite migrant children and parents had previously said they were not able to find the parents of 545 children who were separated during the "Zero Tolerance" family separation policy. But on Monday, the lawyers stated that they cannot find the parents of an additional 121 children who were separated. Most of the parents in question were deported back to their countries of origin without their children.
MEXICO: The Chamber of Deputies' budget commission voted 34-15 on Tuesday to approve a draft spending budget for fiscal year 2021 and sent it to the floor. Members of parties of the governing coalition as well as the Green Party voted to approve the budget, while other parties voted against it. The Mexican government will spend almost 6.3 trillion pesos (USD $310 billion) in 2021, 0.3% less than it spent in 2020, in real terms. Morena Deputy Pablo Gómez said that the budget will cut funding for what he sees as bloated bureaucracies in certain government agencies, while directing more resources to help Mexico recover from the pandemic.
UNITED STATES: Top members of the Republican party are supporting incumbent President Donald Trump's refusal to concede the country's election. Prominent Republican senators like Senate Majority Leader Mitch McConnell and Lindsey Graham are defending Trump's right to mount legal challenges to the election results. Only a few Republican senators have congratulated President-elect Joe Biden on his victory. Meanwhile, members of Trump's cabinet are hinting that they do not see Biden taking office on Jan. 20 as a given. Attorney General William Barr announced an investigation on Monday into claims of irregularities in the election which could have impacted the outcome, while Secretary of State Mike Pompeo told reporters he expects "a smooth transition to a second Trump administration" on Tuesday.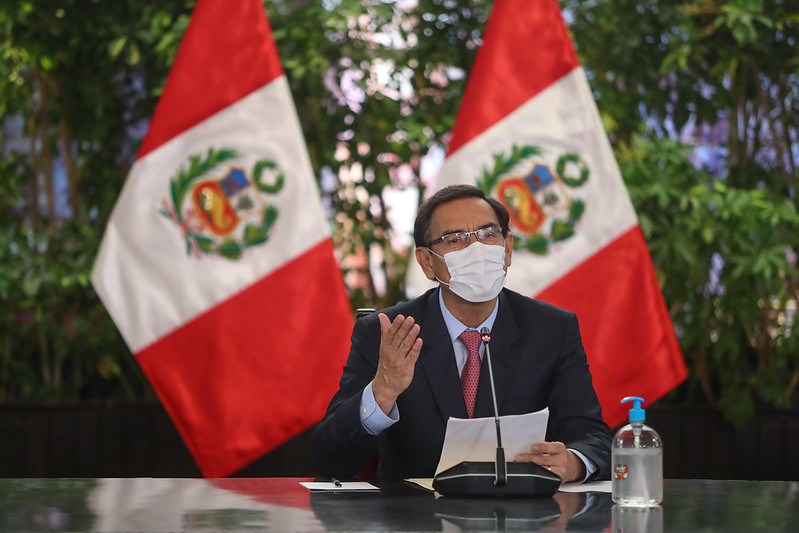 November 10, 2020
> Staff
November 12, 2020
> Staff