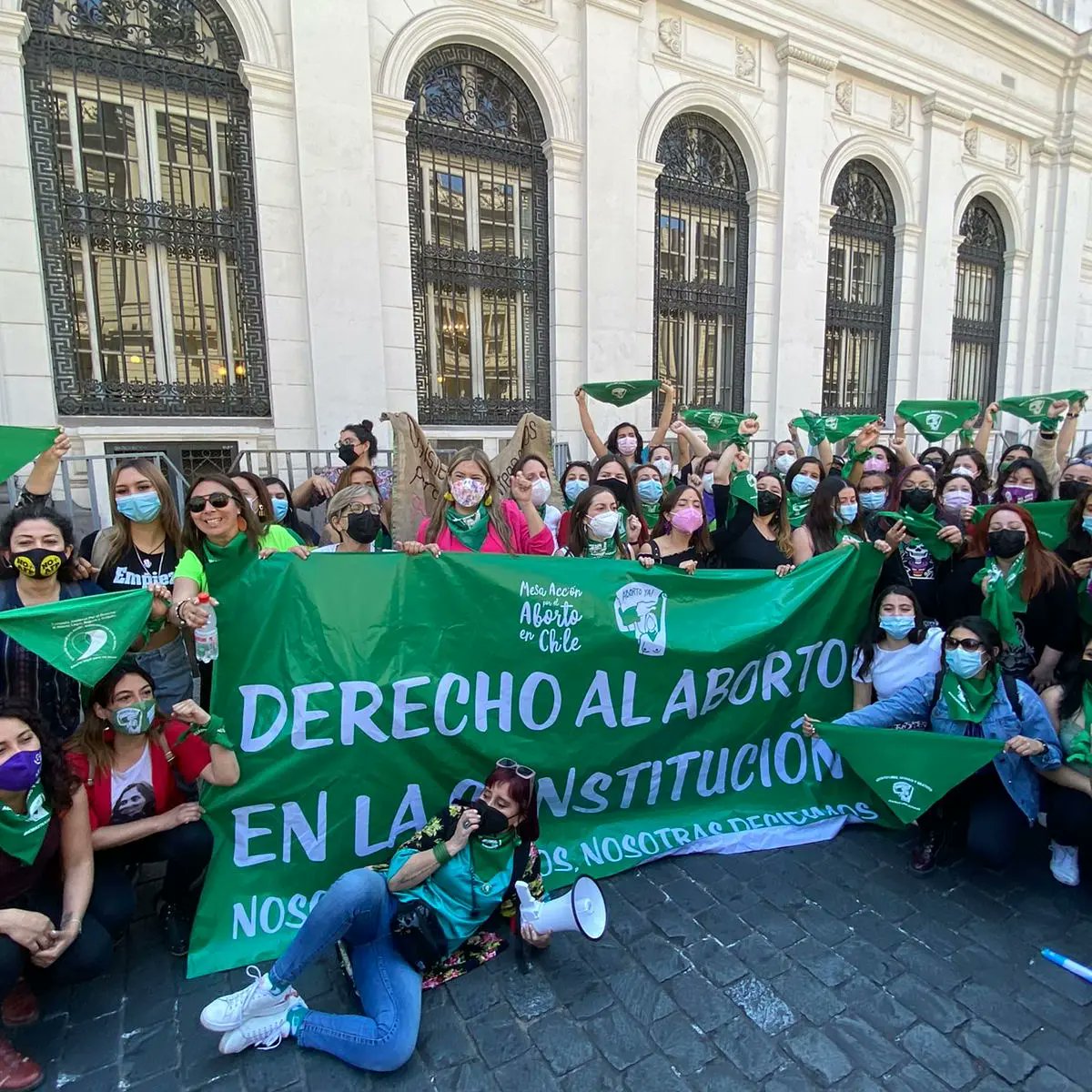 Abortion rights demonstrators in Chile. Photo: Mesa Acción Aborto/Twitter
Latin American and Caribbean women demonstrate in support of International Safe Abortion Day
October 4, 2021
By Staff
THIS WEEK IN LATIN AMERICA
REGION: Women took to the streets across Latin America and the Caribbean on Tuesday in recognition of the Global Day of Action for access to legal, safe and free abortion. Large demonstrations took place in Mexico, El Salvador, Colombia, Venezuela, Ecuador, Peru and Chile.
In Mexico, protesters were met with a heavy police presence, and violent clashes occurred outside the official residence of the President. Three weeks ago, Mexico's Supreme Court declared the criminalization of abortion in the state of Coahuila unconstitutional, setting a historical precedent for the rest of the country.
Lawmakers in Chile moved towards decriminalization of abortion on Tuesday, voting to debate a bill that would eliminate prosecution of women who get abortions in the first 14 weeks of pregnancy. Tuesday's legislation is opposed by the government, and the path to decriminalization still faces obstacles. 
In San Salvador, feminist groups marched to the Congress to demand reforms. President Nayib Bukele weeks ago ruled out any possibility that abortion will be included in proposed constitutional reforms. El Salvador is known for some of the strictest abortion restrictions, which carry severe punishments and make no exceptions in cases of rape or medical complications. 
Currently, abortion is legal in only a few countries in Latin America, including Uruguay, Cuba, Argentina, Guyana, French Guiana, and parts of Mexico. 
SOUTHERN CONE
BRAZIL: Thousands of Brazilians demanded the impeachment of President Jair Bolsonaro in protests held in cities across the country on Saturday. Protestors decried the President's mismanagement of the COVID-19 pandemic; almost 600,000 persons have died of the coronavirus in Brazil.
According to the results of one poll released on Thursday, public disapproval of Bolsonaro's governance hit a record high of 58% in the past week. Despite this widespread disapproval and the almost 130 impeachment requests that have been submitted to Brazilian congress over the course of Bolsonaro's tenure, commentators believe it is unlikely that the President will be impeached. The current Speaker of the Lower House, like his predecessor, has been reluctant to initiate proceedings. Moreover, Bolsonaro is thought to have enough allies in Congress to block an impeachment attempt.
PARAGUAY: Indigenous and peasant communities protested in Asunción this week against a constitutional amendment that increased penalties for occupation of private land. Protesters argued that the law represents an infringement on rights to defend territorial claims. 
In violent scenes outside the Congress building, police attempted to disperse demonstrations using water cannons, tear gas and rubber bullets. Some protesters were pictured with slingshots, bows and arrows, and rocks, and there were reports of cars being set on fire. 
During the dictatorship of Alfredo Stroessner (1954-1989), millions of hectares of indigenous lands were confiscated. A 2006 report from a state Commission for Truth and Justice, estimated that two-thirds of this land was redistributed to allies of the regime. Indigenous and peasant movements have since employed occupation tactics as a form of protest to reclaim the stolen territory.
ANDES
ECUADOR: 116 inmates were killed in riots at a prison in Guayaquil on Tuesday when violence between rival gangs broke out. Gruesome footage reveals multiple beheadings and dismemberments.  
Ecuador's president Guillermo Lasso Wednesday called a state of emergency across the country's penitentiary system. The decree allowed armed forces to enter the nation's prisons to restore order. The head of Ecuador's prison authority announced Friday that 2,000 prisoners would be pardoned in order to reduce overcrowding in the country's detention centers. 
The events mark the third deadly riot in Ecuadorian prisons so far this year. In February and July of 2021, similar upheavals left over 100 dead. The surge in prison violence in recent years is accredited to increased competition between criminal gangs vying for drug routes.
VENEZUELA: Venezuela announced on Friday that it will launch a new currency that will feature six fewer zeros in response to the hyperinflation that the nation faces.  Venezuela's central bank said the currency "will not be worth more or less; it is only to facilitate its use on a simpler monetary scale," which does little to mitigate the nation's economic crisis. 
Minimum wage is around $2.50 per month and year-on-year inflation is 1,743%, according to the Venezualan Finance Observatory. The inflation has forced citizens to limit cash transactions at banks and use U.S. dollars or other electronic payment means for transactions. 
The Bolivar note has lost nearly 73% of its value in 2021. The International Monetary Fund estimates a 5,500% inflation rate for Venezuela by the end of 2021.  Venezuela's banks no longer publish national inflation statistics.
CARIBBEAN 
HAITI/REGION: Bahamian and Cuban authorities have been intercepting Haitian migrants believed to be heading to the US in recent weeks. The Bahamian Defense Force and the Cuban Ministry of Foreign Affairs released statements in the past week informing that hundreds of migrants were detained either at sea or within the respective territories. Both governments announced intentions to return migrants to Haiti.
The UN migration agency reported Friday that over 6000 migrants had been deported to Haiti since September 19. This came one day after multiple UN agencies released a joint statement calling on countries of the Americas to "refrain" from mass deportations and to collaborate on formulating a regional response that protects the rights of migrants. The US as well as Mexico and the Bahamas have been conducting deportation flights.
PUERTO RICO: Hundreds gathered outside the Governor's Mansion on Friday to protest a week of widespread power outages across the island. Throughout the week, at least 270,000 clients were subject to 4-hour long blackouts. 
The demonstrations mainly targeted LUMA Energy, a privately-owned company that has been responsible for the distribution of the island's electricity since June. Reports indicate an increase in outages over the last three months compared to the same period last year. LUMA stated that the "selective outages" became necessary to manage the inadequate supply of electricity generated by the public power authority.
Puerto Rico's power infrastructure has not been fully repaired since the damages caused by Hurricane Maria in 2017.
CENTRAL AMERICA
HONDURAS: More than half of the Honduran Island of Guanaja was destroyed by a large fire  on Saturday.  Authorities have not made it clear how the fire began, only that it began before dawn. 
Honduran Air Force helicopters flew in and dropped water to help stop the fire from spreading. Guanaja residents had tried to control the flames, as the island does not have a fire department.  No "human losses" were reported; only substantial "material losses," according to Max Gonzalez, minister of the National System for Risk Management and National Contingencies agency.  
Guanaja's 6,000 residents rely on tourism for income. Some homes were used as businesses. The island's deputy mayor, Mireya Guillen, said that the island is in need of supplies including "water, food and oxygen tanks."  
NICARAGUA: Nicaragua's health agency authorized on Saturday two Cuban-made COVID-19 vaccines, Soberana and Abdala, for emergency use. The World Health Organization has yet to approve Cuba's development of three vaccines against COVID-19.  Iran, Vietnam and Venezuela currently use Soberana and Abdala. 
Nicaragua's vice president, Rosario Murillo, informed on Saturday that the vaccines will arrive on October 20, and that the doses will be reserved for minors between the ages of 2-17. 
As of Saturday, the country has fully vaccinated less than 5% of its population – and a slightly higher number with only one dose.  Murillo expects to bring more vaccines through Covax Mechanism to "very soon" cover people ages 18 and over.
NORTH AMERICA
MEXICO: Mexican journalist, Manuel González Reyes, was shot and killed in Cuernavaca, Morelos' state capital, on Tuesday afternoon.  The journalist was identified as the director of the news site, Portal Morelos Agency. State prosecutor's office made the announcement on Wednesday.
The United States embassy in Mexico made a formal announcement on their official Twitter account demanding an investigation that considers González Reyes' work as a journalist. Artículo 19, an organization that protects and promotes press freedom worldwide, claimed that González Reyes' attackers were on motorcycles. 
So far this year, Mexico has reported at least seven killings of journalists including González Reyes. According to government data, between December 2018 – July 2021, 43 journalists have been killed. Mexico is known as a country with one of the highest number of assassinated journalists.