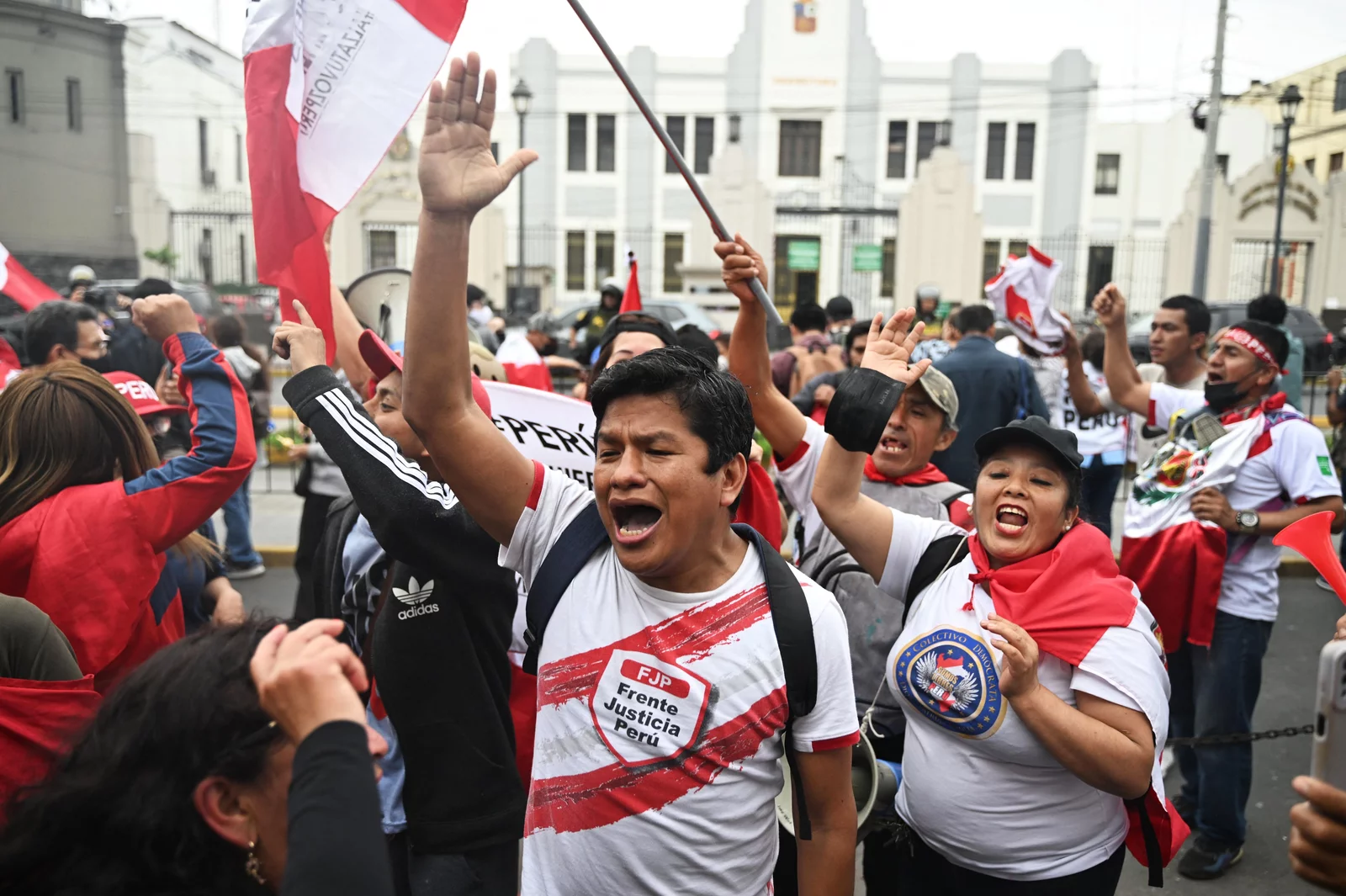 Opposers to Peruvian President Pedro Castillo protest outside the Lima Prefecture on Wednesday. (Ernesto Benavides/AFP/Getty Images)
Peru's Castillo Ousted from Presidency
December 12, 2022
By Staff
PERU: President Pedro Castillo was impeached and arrested on Wednesday on rebellion charges after he attempted to dissolve the legislative body and take control of the government. Ahead of the impeachment vote, he announced that he would dissolve Congress, install an emergency government and impose a curfew. Several government officials resigned and the military made a statement withdrawing their support.
Former Vice President Dina Boluarte replaced Castillo, making her Peru's first female president. She called for a political truce and the installation of a national unity government. But some in the electorate and Congress call for early elections. On Saturday, she named a cabinet while protests grew around the country. 
Two teens were killed and four people injured on Sunday during protests. For several days, following the impeachment, pro-Castillo demonstrators demanded fresh elections and also called for Congress to be closed down. 
SOUTHERN CONE
ARGENTINA: Vice president Cristina Fernández de Kirchner was found guilty of corruption and sentenced to 6 years in jail by an Argentine court on Tuesday. The sentence included a lifetime ban from holding political office. 
Federal judges in Buenos Aires held a livestreamed sentencing, in which they said she was found guilty as the "criminally responsible author of the crime of fraudulent administration."
Fernández de Kirchner— who was president from 2007 to 2015 — holds temporary immunity due to her political status and will not face immediate prison time. She denies the charges and is expected to appeal the sentence.
URUGUAY: Tensions erupted between Mercosur member states Uruguay, Argentina, Brazil and Paraguay at a two-day summit in Montevideo that began on Mon. Dec 5. 
Uruguayan President Luis Lacalle Pou said his country intended to strike a free trade agreement with China and join the Trans-Pacific Partnership (TPP). Lacalle Pou, who has long sought unilateral trade agreements beyond the South American trade bloc, wants to open Uruguay "to the world". 
Foreign ministers from Argentina, Brazil and Paraguay responded with threats of legal and trade sanctions, saying that Uruguay's plans would represent a violation of the bloc's consensus rule.
ANDES
VENEZUELA: Local authorities in the state of Anzoátegui closed several beaches due to an oil spill that polluted more than 2.5 miles (4 kilometers) of coastline on Tuesday. Lechería, one of the country's top tourist destinations, suffered substantial damage. 
Maduro's government and the state owned PDVSA oil company have not made statements on what caused the oil spill nor have an exact estimate of how much oil was spilled. 
Critics of Maduro blame faulty infrastructure and poor maintenance, stating that system failures and spills have become more frequent.  
CARIBBEAN
JAMAICA: The Jamaican governments declared a state of emergency on Tuesday amid rising gang violence and violent crime. The country has seen 1,421 killings so far this year.
The state of emergency allows authorities to arrest and search property without a warrant and has been heavily criticized by political opponents and activists who fear excessive police violence and mass incarceration. 
Most of the killings in Jamaica are blamed on gangs known as "posses" who are often linked to political parties. Jamaica has implemented several other states of emergency in recent years that have been opposed by human rights activists. 
CUBA: Cuba is allowing women to compete in boxing for the first time in sixty years, officials announced on Monday. Until now, Cuba was one of very few countries who did not allow women to compete in the sport. 
The island is well-known for their success in men's boxing — with 41 Olympic gold medals since 1972 — but women boxers who wanted to pursue the sport either had to leave the country to compete or abandon their dreams altogether. 
CENTRAL AMERICA
REGION: The United States sanctioned on Friday two officials from El Salvador and three from Guatemala for corruption, according to a press release by the Treasury Department.
The move is a significant implementation of the Biden-Harris administration's Strategy on Countering Corruption (SCC). According to the White House, the SCC is the first of its kind and is a "whole-of-government approach to elevating the fight against corruption," and its "transnational dimensions." The Treasury Department said it "is working diligently to implement other elements of [the SCC], including efforts to curb illicit finance related to corruption."
Corruption costs Central America $13 billion USD annually, according to the Council on Foreign Relations.
A study by Americas Society/Council of the Americas and Control Risks assessing the ability of countries in Latin America "to detect, punish and prevent corruption" shows Guatemala scored a 3.38 out of 10 this year. The score has declined since 2019, showing Guatemala's decreasing capacity to address corruption.
Under the state of exception in El Salvador, legal mechanisms dictating the use of public funds have been eliminated. This has weakened transparency in the management of public resources, which according to Transparency International is a key component in combating corruption.
NORTH AMERICA
UNITED STATES: The Biden administration  announced extended protections for Haitians residing in the U.S., a result of what the Department of Homeland Security deemed "extraordinary and temporary conditions in Haiti," in a press release Monday. 
The protections include an extension of Temporary Protected Status (TPS) for Haitians for 18 additional months, through Aug. 3, 2024. The administration has also redesignated Haiti for that status, which will allow all those who arrived from the country as of Nov. 6, 2022 to apply.
The announcement is expected to expand TPS eligibility to 110,000 Haitians, the New York Times reported. 
MEXICO: Pilgrimages are converging in Mexico City ahead of the Dec. 12 feast day of Our Lady of Guadalupe to visit the basilica of the same name. The mayor of Mexico City, Claudia Sheinbaum has stated that the city expects 10 million visitors this season. 
Last year, under COVID restrictions, the crowd was above 3.5 million. In 2020, the pandemic substantially limited pilgrimages. 
The pilgrimage finds its fate on a small hill along the northern boundary of Mexico city called Tepeyac, where the Virgin Mary is said to receive requests for miracles, outpourings of gratitude and affirmations of faith.