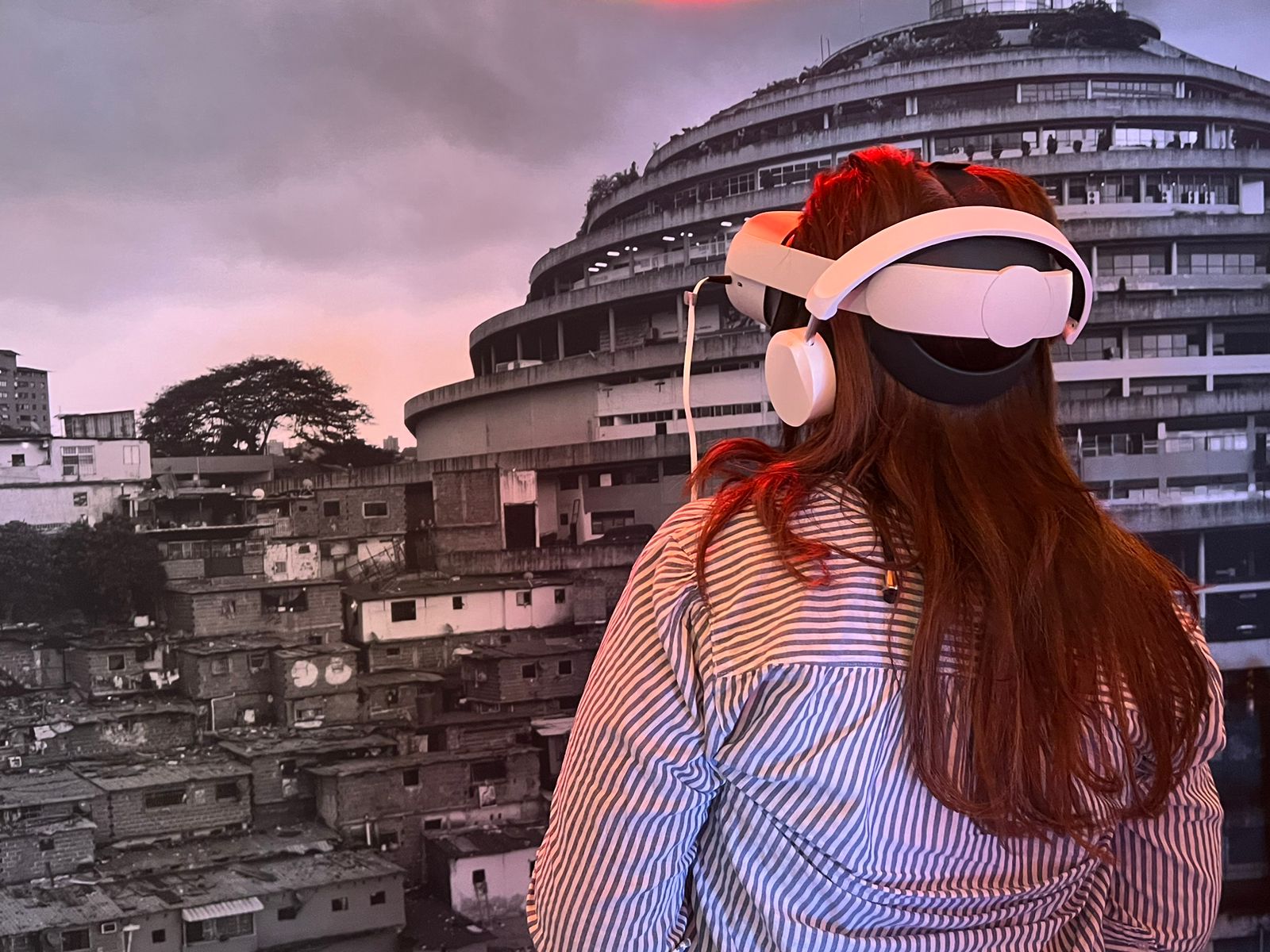 Through a virtual reality headset, users can walk through parts of El Helicoide, Venezuela's largest torture center. Credit: Voices of Memory
Virtual Reality Opens Doors to Venezuela's Largest Torture Center
BOGOTÁ — A foul smell of sewage permeated the overcrowded prison cell. Rays of light came through under the door. Screams and cries emanated from the cells and reverberated around the prison.
"It was constant torture," says former political prisoner Víctor Navarro, 27, of his time in Venezuela's largest torture center, El Helicoide. Now, he's the founder and director of Voices of Memory, an NGO that created a virtual reality museum of this notorious prison.
Today, on the United Nations International Day in Support of Victims of Torture, Navarro and his team are launching a virtual campaign about "Realidad Helicoide." The experience takes users on a tour where they meet face-to-face with guards and political prisoners. They move around a prison cell, a torture room, and a museum, where they can watch, touch, and listen to the insides of El Helicoide.
While countries like Colombia and Brazil are now normalizing relations with the Venezuelan leader Nicolás Maduro and his government, and as Venezuela's 2024 presidential elections are coming closer, arbitrary detentions and torture continue to occur under the Venezuelan government's watch.
Navarro wants the world to know what it's like inside Venezuela's primary torture center, and he wants El Helicoide and other torture centers in Venezuela to shut down.
A Torturous Hell
Leading up to my interview with Navarro, his team guided me through the virtual reality experience of the torturous hell inside El Helicoide.
Strapping on the virtual reality headset, I entered another world. I jumped and my legs shook as I turned around and saw the prison guard. The environment was tense, so I was easily startled. My whole body was alert, my heart rate increased, and I held my breath. Caught inside a detention center for a moment, I felt the power of this virtual reality experience — what was a real and haunting experience for Navarro and other former political prisoners.
Navarro spent 130 days in the headquarters of the Bolivarian National Intelligence Service (SEBIN) in the center of Venezuela's capital city, Caracas, accused of being the center of a terrorist cell, financed by the United States to end the government of Nicolás Maduro.
He grew up right across the hill that El Helicoide sits on. He comes from a low-income "Chavista" family, meaning his close family members supported the socialist ideals of Venezuela's former leader, Hugo Chávez. Navarro was a youth leader in Embajadores Comunitarios, an NGO that organizes educational activities for vulnerable youth in Caracas.
Navarro began questioning the Venezuelan government, especially as it cracked down on university students. One day, his criticisms of Venezuela's socialist government became too much for his grandmother. "You should leave this house," she told him. She elaborated that Chávez's government had given the house to her. "If you don't love Chávez, you don't love me," Navarro recalls her saying.
He moved to a student residency, continuing his social work which increasingly became focused on helping young protesters with housing and other urgent needs. That stopped when he was arrested on January 24, 2018 and sent to El Helicoide.

Inside the seven-story spiral-shaped prison, originally supposed to become a state-of-the-art shopping mall, Navarro suffered all kinds of violations.
"They put a gun in my mouth, hit me, prevented me from seeing natural light, made me defecate in the food trays that I had eaten from," Navarro recalls.
"I don't even know what's worse, being tortured or seeing others tortured," Navarro says. He learned that psychological terror can be just as difficult to endure as physical harm.
Coming Up With the Idea
When the United Nations Fact-Finding Mission on Venezuela reached out to Navarro to collect his testimony, he faced again the memories of the torturous hell he had tried to repress.
"I would open my eyes and see the prison. I had nightmares. I woke up at 4:30 in the morning, thinking they were after me," Navarro recounts suffering post traumatic stress syndrome.
He decided to write a book about what had happened. Educated as a journalist, he reached out to the other political prisoners to get their permission to share their stories.
They all struggled to process what had happened to them and reinsert into society. "It was like, wow, I have to do something. I don't know what," Navarro thought.
Walking through a museum in Washington D.C., he recalls thinking: "a museum."
Finally, when the pandemic hit, Navarro found himself locked in his house in Buenos Aires. Glued to his screen in virtual meetings, it occurred to him that the museum should be done virtually.
A Collaborative Project
In showing the world what life is like in Venezuela's largest torture center, Navarro wants to go beyond telling just his own story.
Explaining why he collaborated with 30 other political prisoners to create a virtual reality experience of El Helicoide, Navarro says, "We want to give people the chance to enter where no one can. To live through the things they're hiding, that they want no one to see."
Victims remembered different parts of the prison and filled the gaps in each other's memory. "It was important to show that each victim has a different experience," Navarro says.
In particular, he insisted on including the experiences of female political prisoners, who are usually located in a different part of El Helicoide. One of them is Sairam Rivas, 29, a student leader from the Central University of Venezuela, where she is finishing her degree in social work.
Rivas was detained in El Helicoide for five months after being accused of instigation to disobey laws, conspiring, and using minors to commit crimes — a consequence of leading peaceful youth protests against the government.
Rivas has been part of reconstructing what El Helicoide is like, a process that helped her work through trauma and build community with other former political prisoners.
"There's a need for this," Rivas says about the virtual reality experience.
By leveraging technology and innovation, and directly engaging the user, the experience can help create awareness about what's happening in Venezuela, reach decision makers, and prevent a history of human rights violations from repeating itself, she argues.
A brochure about the virtual reality experience reads: "When we talk about memory, we think about the past. But this is a space that talks about the present."
More Relevant Than Ever
In September last year, a United Nations Independent International Fact-Finding Mission found reasons to believe that Venezuelan authorities committed crimes against humanity.
The Chair of the Mission, Marta Valiñas, says that "some of these practices are still ongoing." In fact, the International Criminal Court opened its first-ever investigation in the Americas, in Venezuela.
Ahead of primary elections in October this year and presidential elections planned for 2024, free and fair elections in Venezuela are dubious, with social leaders, journalists, and opposition politicians locked up in torture centers.
On July 30 last year, Venezuelan President Maduro announced that nobody could enter El Helicoide. International organizations and local NGOs object to not being able to access the prison. "It makes our work really hard," says Humberto Prado, director of the Venezuelan Observatory of Prisons, a local NGO that advocates for the rights of Venezuelan prisoners. The organization releases regular reports about conditions in Venezuelan prisons. Something Prado says is becoming increasingly difficult as the government restricts access. "The consequence is opacity about these detention centers," he says.
It is precisely when Maduro's government is trying to hide what's going on in El Helicoide that Navarro and his team launch their experience, where "you can live through what they're hiding, what they don't want anybody to see," Navarro explains.
Today, there are more than 280 political prisoners in Venezuela, according to Foro Penal, a Venezuelan NGO offering pro bono legal services to people who are arbitrarily detained, like Navarro, Rivas, and other participants in the virtual reality experience were. Last week, a U.S. delegation arrived in Caracas to pursue the release of at least four U.S. prisoners who, according to U.S. officials, are wrongly detained in Venezuela. More cases remain unresolved despite pressure from international human rights groups, like that of Javier Tarazona, a human rights defender who has been detained in El Helicoide for 724 days.
Conditions in Venezuelan prisons are dreadful. In 2022, the Observatory of Venezuelan Prisons reported that prisons were overpopulated by more than 160 percent. Prado tells that both physical and psychological torture are common in Venezuelan prisons.
As the virtual reality experience launches today, hopes are high. "The goal is to close El Helicoide and other torture centers in Venezuela once and for all," Navarro concludes.
Mie Hoejris Dahl is a Danish freelance journalist based in Bogotá, Colombia. She covers human rights, conflict, economics, and environmental issues in Latin America. She's a graduate of Copenhagen Business School and the Harvard Kennedy School of Government. She can be found on Twitter at @miehdahl or www.miedahl.com.