Colombian President Álvaro Uribe
Chávez and Uribe Squabble At Rio Group Summit; New Latin American and Caribbean Organization Created
February 24, 2010
By Staff
Today in Latin America
Top Story — Colombian President Álvaro Uribe and Venezuelan President Hugo Chávez engaged in a war or words on Monday at the Rio Group summit in Mexico.
The quarrel happened in a private meeting where Uribe complained about the Venezuelan trade embargo imposed on Colombia. Chávez allegedly retorted by accusing Uribe of plotting an assassination attempt on Chavez by paramilitaries.
Chávez then allegedly threatened to leave the conference and Uribe shouted that Chávez was "a coward when it comes to talking face to face."
Chávez allegedly then told Uribe to "go to hell."
Mexican President Felipe Calderón and Cuban leader Raúl Castro tried to calm the dispute between the two other leaders.
Relations between Venezuela and Colombia been tense in the past few years, due mainly to the joint U.S.-Colombia military deal that Chávez fears is aimed at overthrowing his government.
. . .
In other news from the Rio Group Summit, 32 nations from Latin America and the Caribbean created a new regional bloc that excludes the United States and Canada.
While few details about the nascent group are prepared, the newly named Community of Latin American and Caribbean States plans to meet in Venezuela in 2011 and Chile the following year.
Mexican president Felipe Calderón said the new organization hopes to create cooperation between Latin American states and defend human rights and democracy in the region. There have been rumors that the organization will replace the Organization American States (OAS), which is strongly influenced by the United States, but as of now Latin American leaders are split on this issue.
"It's very important that we don't try to replace the OAS. The OAS is a permanent organization that has its own functions," said Chilean President-elect Sebastian Pinera, according to the Washington Post.
Just published at the Dispatch: Latin America Experts Assess President Obama's First Year.
Headlines from the Western Hemisphere
North America
Caribbean
Central America
Andes
Southern Cone
Images: Álavro Uribe from Center of American Progress @ Flickr.
Subscribe to Today in Latin America by Email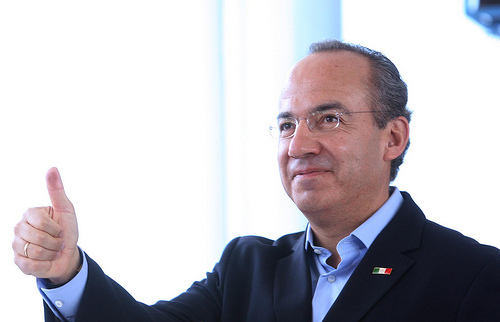 February 23, 2010
> Staff