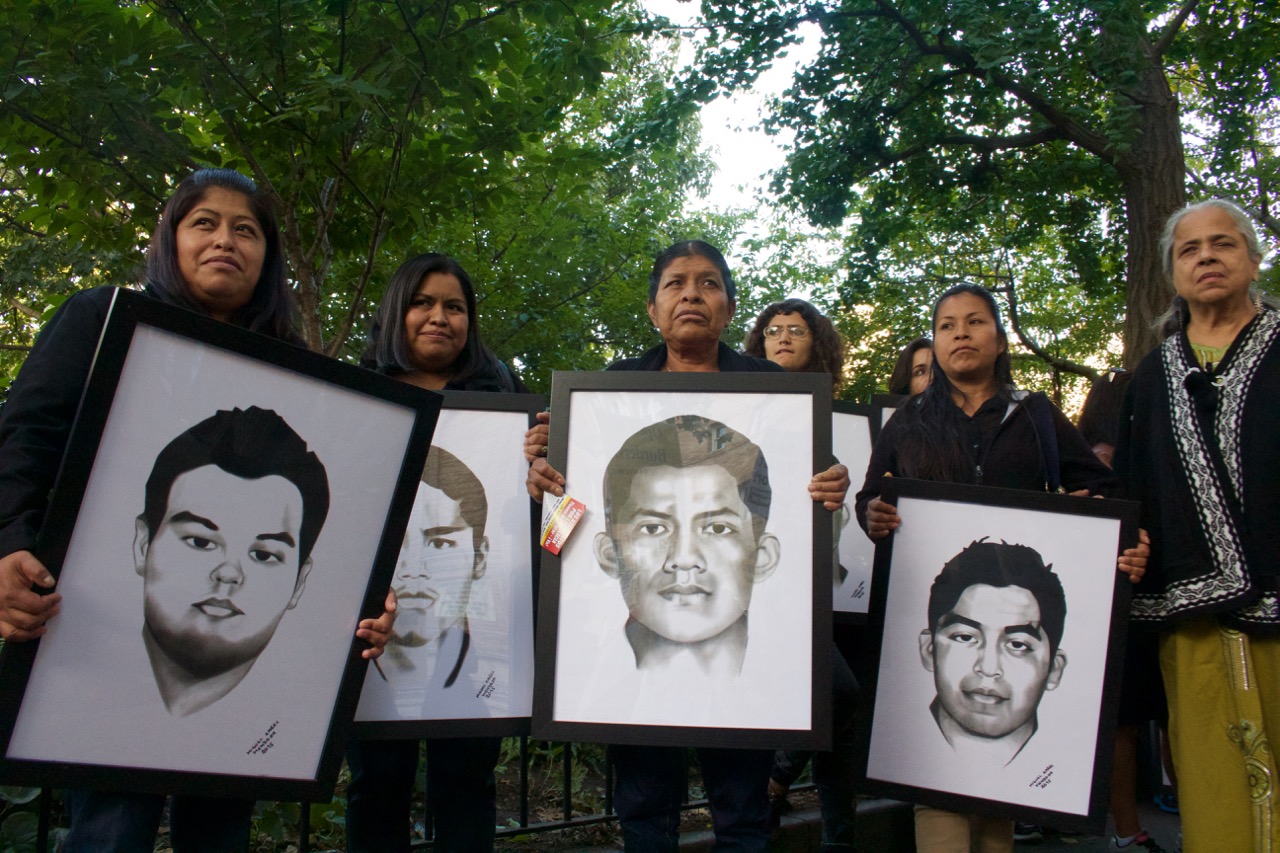 Demonstrators in New York City hold portraits of the 43 students who went missing in Iguala, Mexico.
Mexico, Facing Human Rights "Crisis," Refuses to Release Records on Mass Killing
March 3, 2016
By Staff
Top Story — Mexico is currently undergoing a "crisis of gross violations of human rights," according to a report released Wednesday by the Inter-American Commission on Human Rights. On the same day, Mexico's transparency monitor refused to release the autopsy records of 42 people killed by federal police last May in Michoacán state — a case whose investigation the IACHR characterized in their report as containing "irregularities."
The report was based on observations made during an IACHR visit to Mexico last fall, and focuses particularly on the issues of forced disappearances, extrajudicial killings and torture, impunity as well as violence against journalists and human rights activists. While it acknowledges the actions that the state has taken to address the current human rights situation, it "confirmed a deep gulf between the legislative and judicial framework and the daily reality millions of people face in accessing justice, violence prevention and other public initiatives."
The National Institute for Information Access, Mexico's partially independent agency for transparency oversight, agreed with the government's decision to deny a Freedom of Information Act request by The Associated Press for access to the Michoacán autopsy reports. They ruled that the records should be kept as a state secret for five years, and stated that they did not contain any evidence that serious human rights violations were committed during the Michoacán killings on May 22, 2015. Yet according to the IACHR report, "photographs and statements from locals appear to indicate possible acts of torture, extrajudicial executions, crime scene tampering and the planting of weapons." Furthermore, "there was reportedly confirmation that more than 70 percent of the victims had been shot in the back of the neck at point-blank range."
Mexico has seen a surge of protests during the last year and a half over escalating human rights violations throughout the country. The most recent wave of outrage was touched off by the disappearance of 43 rural teachers-college students just outside of Iguala, Guerrero, on Sept. 26, 2014, launching a global movement to find them. According to government records, they are among some 26,798 individuals registered as missing in Mexico as of Sept. 2015. Among its numerous recommendations throughout its report, the IACHR urged the Mexican government to improve transparency measures and create an independent forensic service agency for the investigation of disappearances and violence involving state security forces.
Headlines from the Western Hemisphere
North America
Caribbean
Central America
Andes
Southern Cone