Mexico Holds Elections In 14 States In Wake Of Violence
July 5, 2010
By Staff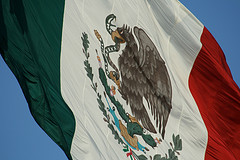 Today in Latin America
Top Story — Mexicans went to the polls Sunday in 14 of the country's 31 states to elect governors and mayors after a campaign season marred by threats and violence by drug cartels.
Sunday's elections are being viewed as a referendum for President Felipe Calderón and his National Action Party's (PAN) offensive on drug traffickers.
The Institutional Revolutionary Party (PRI), which controlled Mexico for seven decades, is gaining ground in the popular vote, in large part due to Mexicans' frustrations with Calderón's drug war.
The PRI has used the assassination of one of its gubernatorial candidates in the Tamaulipas state, Rodolfo Torre Cantú, as a evidence that Calderón's plans are failing.
On Saturday, the PRI's gubernatorial headquarters in Sinaloa state were attacked by two homemade bombs. Sinaloa is one of Mexico's states that has seen a rise in drug-related violence in the past three years.
While Mexicans are nervous about violence that could accompany the elections, many seem ready to go to the polls.
"We're a bit nervous, but we have to go out to vote because it's our only weapon for the future," said Pedro Esparza, a factory worker in the border town of Nuevo Laredo, according to AFP.
Just Published at the Latin America News Dispatch
Alison Bowen takes a look at what President Obama will discuss at his speech on immigration on Thursday, at Beyond Borders.
Headlines from the Western Hemisphere
North America
Five to six foot waves have hampered efforts to connect an oil-collecting vessel to the leaking Macondo well in the Gulf of Mexico.
Caribbean
Workers at the home of Jamaica's Industry Minister were held up by armed gunmen Wednesday after stealing arms, cash, and ammunition.
Prison conditions in Haiti's prisons are particularly bad for women, where the country's main female penitentiary, built for 30, now holds 300 inmates.
Central America
Andes
Southern Cone
Image:Esparta @ Flickr.

Subscribe to Today in Latin America by Email