Chevron's corporate offices in Houston, Texas.
Chevron Fined For Environmental Damage By Ecuadorean Court
February 15, 2011
By Staff
Today in Latin America
Top Story — Chevron Corp. will appeal an Ecuadorean court's order on Monday to pay more than $8 billion dollars for decades of environmental damage.
The lawsuit accuses Texaco, the oil company which merged with Chevron in 2001, of dumping approximately 18 billion gallons of toxic material into the Ecuadorean Amazon between 1972 and 1992.  The case on behalf of 30,000 Ecuadoreans says that water and soil contamination has destroyed parts of the rainforest and caused higher cancer rates among the local population.
According to the BBC, Pablo Fajardo, a lawyer for the plaintiffs, called the court ruling "a triumph of justice over Chevron's crime and economic power".
Fajardo added, "This is an important step but we're going to appeal this sentence because we think that the damages awarded are not enough considering the environmental damage caused by Chevron here in Ecuador."
Chevron will fight the ruling as well, which it called "illegitimate and unenforceable" in a public statement.  Bloomberg reported that Chevron's market shares underperformed somewhat on Monday following the ruling. According to Bloomberg, Chevron's $195 billion market valuation is more than three times the size of Ecuador's annual economic output and that the fine may be unenforceable.
The case, Maria Aguinda v Chevron, went to trial in Ecuador in 2003 after a decade in U.S. courts.
Headlines from the Western Hemisphere
North America
Caribbean
Central America
Andes
Southern Cone
Image: jonathan mcintosh @ Flickr.
Subscribe to Today in Latin America by Email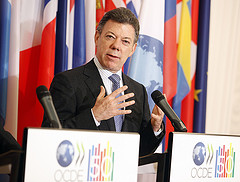 February 14, 2011
> Staff