Mexican President Felipe Calderón.
16 Mexico Police Officers Arrested Under Accusations Of Helping Zetas With Mass Grave
April 15, 2011
By Staff
Today in Latin America
Top Story — In the northeastern Mexican town of San Fernando, authorities arrested 16 municipal police officers Thursday for allegedly providing cover to drug cartel members behind the mass graves uncovered in the region over the past few days, the country's attorney general said.
The arrested policemen are said to have protected four members of the Los Zetas drug cartel, one of the most violent groups of its kind in all of Mexico.
At least 126 bodies have been unearthed from the mass graves found in the state of Tamaulipas 93 miles away from the U.S. border with Mexico.
According to the Governor of that state, Morelos Jaime Canseco, there is no evidence the arrested officers were directly involved in the massacres that produced the recently found bodies.
"The government promises … to get to the bottom of these regrettable and deplorable events and put an end to police corruption," said Mexican attorney general Marisela Morales, according to Reuters.
The Mexican government has offered a reward of $3.8 million for information leading to the capture of the killings' four chief suspects, according to AFP.
The level of violence in the northeastern town has prompted Mexican news anchor Joaquín López-Dóriga to call it a "reference point for a region without any law, other than that of organized crime and impunity," in a column (in Spanish) Thursday. He added that "the incomprehensible magnitude" of recent massacres in Tamaulipas "can only happen in the atmosphere of a failed state."
Last year, Mexican authorities found the bodies of 73 Central and South American migrants on a ranch neighboring San Fernando. The Los Zetas drug cartel is also deemed responsible for that massacre.
Just Published at the Latin America News Dispatch
Headlines from the Western Hemisphere
North America
Caribbean
Central America
Andes
Southern Cone
Image: Gobierno Federal @ Flickr.
Subscribe to Today in Latin America by Email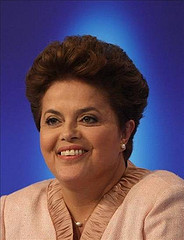 April 14, 2011
> Staff