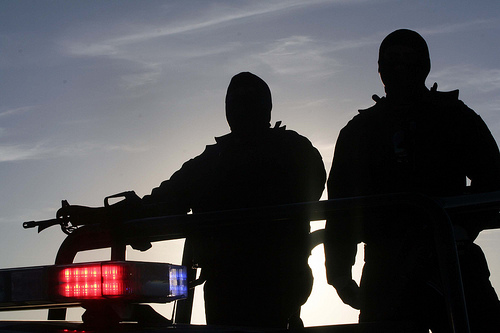 Mexican federal security forces in Ciudad Juárez.
Ciudad Juárez Prison Riot Leaves At Least 17 Dead
At least 17 people, inlcuding one woman, were killed during a shootout in a prison in the Mexican border of Ciudad Juárez.
Authorities said that inmates who were attempting to breakout took weapons from security forces late Monday night and exchanged gunfire with police and soldiers for over an hour inside the prison in the city that lays directly across the U.S.-Mexico border from El Paso, Texas. After the shootout police entered the prison to find at least 17 people dead, according to Ciudad Juárez city spokesman Manuel del Castillo Escalante.
Castillo added that no prisoners escaped and that order was restored around two in the morning. The riot broke out at about nine in the evening on Monday.
Following the violence, it was announced that visitation rights in the prison were suspended indefinitely and authorities added that more information would be released soon.
Riots, killings and escapes are frequent occurrences in Mexican prisons as the country battles widespread corruption and the on-going war between the government of President Felipe Calderón and drug cartels. Earlier this month 59 inmates escaped from a prison in Nuevo Laredo during a riot that left seven prisoners dead.
Photo: Jesús Villaseca Pérez @ Flickr.