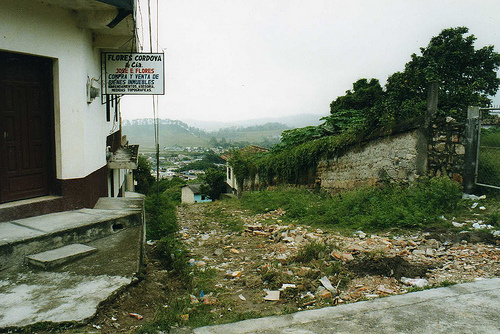 A view of the Santa Rosa Department in Guatemala.
Guatemala: 5.8 Magnitude Earthquake Strikes Near Guatemala City
Update: A a spokeswoman in the office of Guatemalan President Álvaro Colom confirmed that three people died in Monday's earthquake.
"There are people buried in the rubble," Evelyn Ruano said to CNN.
Seven vehicles were buried by the quake, and several houses in the area also suffered damage, according to Guatemala's state-run AGN news agency.
Two strong earthquakes rocked Guatemala around noontime Monday, damaging homes and burying a family in the department of Santa Rosa.
At 11:59 a.m. in Guatemala a 4.8 magnitude earthquake about 50 kilometers southeast of Guatemala City, followed 35 minutes later by a 5.8 magnitude quake that was centered in Santa Rosa with a depth of 39.4 kilometers. According to local media accounts, the quake was felt in the towns of Villa Nueva, Amatitlán, Escuintla, Santa Rosa Cuilapa, Mixco, Alta Verapaz, among others.
Local residents said that a family from the town of Cuilapa in the department of Santa Rosa was buried after the earthquake and crews were on the way to rescue the family, Guatemalan officials said. Firefighters on the scene reported that walls had collapsed in the town, but did not confirm if there were any victims.
Three vehicles were also trapped in a mudslide on a road leading to El Salvador, but no injuries were reported.
"We felt some strong termors. We heard that the first tremor registered about 4.8 and the second, 5.8," Evelyn Ruano, a spokeswoman with the President's office, told CNN. "There are people buried in rubble. Firefighters are on the scene in the department of Santa Rosa. We have one confirmed dead."
The Latin America News Dispatch will continue to update this story as the latest information comes in.
Photo: wallygrom @ Flickr.
[adsenseBottomBanner]