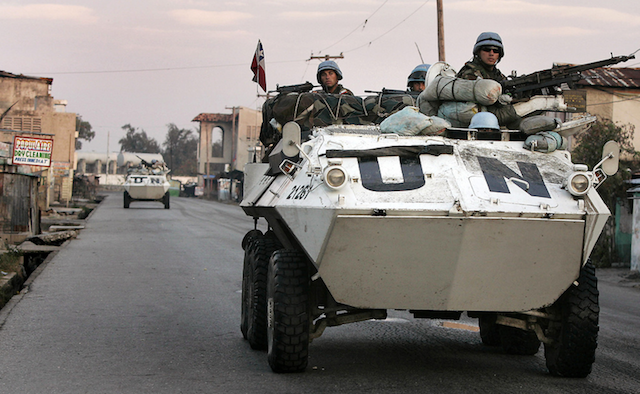 Uruguay: Six Peacekeepers Detained For Alleged Sexual Abuse In Haiti
Upon their return from Haiti, five Uruguayan peacekeepers accused of sexually assaulting an 18-year-old Haitian man were jailed Sunday, and a sixth was detained Monday, the local press reports.
A military judge ordered the imprisonment of the first five sailors, who were recalled to Uruguay after blurry cell phone images showing a group of Uruguayans pinning down the young Haitian man surfaced in the local media. The former peacekeeping soldiers cannot appeal their preventive detention, military spokeswoman Marta Iturvide said Monday.
The sailors, who have not been identified, face charges of disobeying orders and dereliction of duty. If convicted, they could be dishonorably discharged. They also face charges in Uruguay's civilian courts, and both U.N. and Haitian authorities are investigating the allegations.
A sixth Uruguayan peacekeeper has also been detained, Uruguayan Defense Undersecretary Jorge Menéndez said Monday. Menéndez identified the sixth peacekeeper as a Navy Lieutenant, who was responsible for overseeing the Uruguayan peacekeeping troops on the night the abuse allegedly occurred.
The allegations of sexual abuse have fueled a series of protests in Haiti, where the United Nations maintains a 12,000-person strong peacekeeping forced charged with fostering the conditions for political stability.
Uruguayan President José Mujica apologized on behalf of his country for the incident on Sept. 6. "I come at this terrible time to offer you and the dear and heroic people of Haiti my apologies for the outrage that some soldiers of my country committed," Mujica said. "I share your sadness, which I feel as my own."
The swift Uruguayan response may help Minustah put the episode behind it, according to Peacekeeping Operations Director Edmond Mulet. "I think that people in Haiti recognize that you cannot hold the entire mission responsible," Mulet said in a telephone interview.
[adsenseBottomBanner]
Image: MATEUS_27:24&25 @ Flickr.