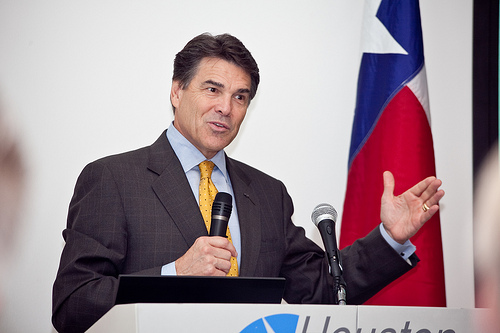 Texas Gov. Rick Perry.
Perry's Immigration Stance Challenged By Romney & Bachman During GOP Debate
Texas Gov. Rick Perry's chances of garnering the nomination for the GOP's presidential candidacy took a beating Thursday night during a debate in Florida thanks in large part to his stance on immigration.
Republican presidential hopefuls such as Massachusetts' Gov. Mitt Romney and Congresswoman Michelle Bachman of Minnesota jumped on Perry's policy that allows the children of undocumented immigrants to pay in-state tuition rates at Texas colleges. The GOP candidates claimed that the policy was a "magnet" for people crossing the border from Mexico as well as a taxpayer subsidy for law-breakers and evidence that Perry is not the ardent conservative he appears to be.
After the debate , Perry defended his state's version of the so-called DREAM Act and said that it was appropriate for a state that shares a long border with Mexico. "If you say that we should not educate children who have come into our state for no other reason than they have been brought there by no fault of their own, I don't think you have a heart," Perry said.
Perry is currently the GOP front-runner and also heads a state that is over 37 percent Hispanic, according to 2010 Census data. He has recently found his stance on immigration to be a hindrance as he battles to maintain his lead in the polls.
Both his opponents and conservative commentators have criticized the Texas governor for his position before and it seems likely that they will continue to harp on the point as the election season heats up. "As president of the United States, I will build a fence on our border against illegal immigration," Michelle Bachman said, speaking to the Conservative Policy Action Conference of Florida. "And we will not have taxpayer-subsidized benefits for illegal immigrants or their children."
Mitt Romney also latched on to Perry's comment that if you're opposed to undocumented immigrants than "you don't have a heart."
"I think if you're opposed to illegal immigration, it doesn't mean that you don't have a heart. It means that you have a heart and a brain," Romney said. The Massachusetts' governor is no stranger to controversy surrounding the immigration debate, as in his 2008 presidential bid it was revealed that he had hired a company that employed undocumented immigrants to work on his lawn.
He fired the company shortly soon thereafter.
Former Utah Gov. Jon Huntsman, a moderate conservative who sits low in the polls, came to Perry's defense during the debate. "I believe immigration is a human as well as an economic issue, and that children of illegal immigrants shouldn't be punished for the sins of their parents," Huntsman said.
While leading the polls in the GOP race, Perry is still a controversial figure among many Republicans. A onetime Democrat who switched to the GOP in the late 1980s, Perry is known for his strong support of a path to citizenship for children of undocumented immigrants and his opposition to a barrier between the U.S. and Mexico.
During the debate Perry did try to appeal to the more hardline Republicans by touting his state's $400 million investment in border security and saying that he sided with Arizona on the state's controversial law aimed at deporting undocumented immigrants. However, Perry has said in the past that Arizona's model is not right for Texas.
Immigration will be a key issue as Republican hopeful's vie for the GOP candidacy in the upcoming months. While the candidates need to maintain their conservative base, they also need to appeal to the rapidly growing Hispanic population in the U.S.
Many Hispanic in the U.S. have become frustrated with the Obama administration's lack of progress when it comes to comprehensive immigration reform, especially after this week's report that he has sent home over 1 million undocumented immigrants while in office – on pace to deport more in one term than former President George W. Bush did in two.
"In addition to our concerns about the administration's apparent abandonment of immigration enforcement, we also have significant concerns about how this new policy was developed." said Clarissa Martínez de Castro, Director of Immigration and National Campaigns for the National Council of La Raza. "(Obama) support was dropping among Latinos … If at the end of the day what you have is an announcement that is sound from a policy perspective and it is actually good politically — we should be so lucky to have more of those."
Photo:eschipul @Flickr.