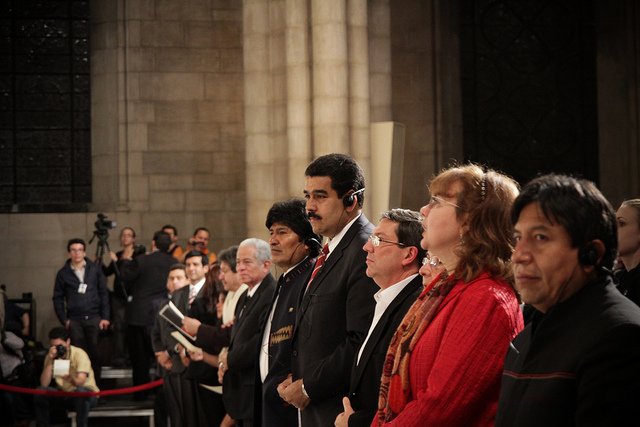 Venezuela's Hugo Chávez Rallies Supporters By Phone In New York
NEW YORK — When faced with serious illness, many people turn to religion for solace and inspiration. It's not the reaction most would expect to see, however, from the Western Hemisphere's most prominent left-wing leader.
In what seemed more like a political rally than a prayer service, a group of more than 400 people gathered at Riverside Church in northern Manhattan to pray for the health of Venezuelan President Hugo Chávez, who finished his fourth round of chemotherapy in Cuba this week.
It wasn't just the scarcity of praying that made the service unique. There was also the rapport established between the crowd and the visiting dignitaries, which included Bolivian President Evo Morales, Venezuelan Foreign Minister Nicolás Maduro, the foreign ministers of Cuba, Argentina and Nicaragua, and actor Sean Penn (who only stuck around for about 20 minutes).
A room full of foreign dignitaries doesn't always turbocharge a crowd, but this wasn't an ordinary crowd. It consisted of many of New York's most ardent supporters of the Venezuelan president and the Latin American left. Each of the government representatives that rose to speak was greeted by a standing ovation and a series of chants.
"Cu-ba! Cu-ba!" the crowd chanted as Foreign Minister Bruno Rodríguez strutted toward the podium, which was adorned with a poster of Chávez reading "we will pray for his recovery." The crowd erupted once more into cheers when Rodríguez told them he brought greetings from Fidel Castro.
Crowd applauds for Cuban Foreign Minister Bruno Rodríguez (Sept. 21, 2011) by Latin Dispatch
The outpouring of emotion was not surprising. Rodríguez's superstar status emanates from his position as the representative from one of the world's last communist holdouts, and a potent symbol for the Latin American left. The setting was no less symbolic. As Rodríguez pointed out in his speech, Castro had visited the same church in September 2000, and was received by thousands of cheering supporters.
Venezuelan Foreign Minister Nicolás Maduro thanked those who attended for their "beautiful act of love," in a speech that emphasized the themes of world peace and anti-imperialism. There's a rumor in Venezuela that if anything were to happen to Chávez, Maduro would be first in line to take the mantle of "Chavismo." (Political philosophies and movements in Latin America tend to become associated with people more closely than ideas, hence the adjective derived from Chávez's name.)
Not everyone in the crowd was a fervent supporter of Chávez, however. "Independent of politics, he's our president and I respect him. He's a human being," said Ivonne Hernández, a Venezuelan and evangelical Christian who moved to the United States five years ago after marrying an American. "Like any Christian, that's what motivates me," she said.
If Venezuela's contentious politics have a tendency to divide families, the Hernández family manage to see past their differences. Ivonne's sister Luisa, a Chávez supporter who resides in Venezuela and works with the government as a nutritionist, also attended the event. "This is an act of humanity, to be here with the president," Luisa Hernández said.
Most of the people who attended, however, supported Chávez and the political changes he has initiated since first becoming Venezuela's president in 1999 — changes that include a partial nationalization of the economy and a confrontational stance toward U.S. and Western European influence in world affairs.
Critics, on the other hand, charge that in Chávez's 12 years as president, the country has become more dangerous and economically unstable. Venezuela's murder rate is estimated at somewhere between 48 per 100,000 people (government estimate) and 57 per 100,000 people (Venezuelan Observatory of Violence estimate). Either figure makes the country one of the most violent in the world. Venezuela's GDP shrunk 1.9 percent in 2010 and 3.3 percent in 2009, according to U.S. government estimates.
Regardless, Chávez continues to dominate at the polls, winning three presidential elections, defeating a referendum against his rule in 2004 and overturning a ban on term limits in 2009. The controversial leader intends to run for president for a fourth term in elections slated for October 2012.
The climax of the night came as Lucia Solano offered a prayer for Hugo Chávez's health. Solano served as a founding member of Petro Bronx, an organization founded in 2005 with the mission of distributing charitable funds in the New York City borough on behalf of Citgo, the U.S. subsidiary of the Venezuelan state oil company.
In a slip of the tongue, Solano inadvertently offered a prayer to the "memory" of Chávez. Quickly realizing her misstep, she corrected herself, saying her prayer was for Chávez's recovery. It was at that moment that Chávez's disembodied voice, spirit-like, rang through the stone walls of the church, beamed in by telephone from Havana.
When the crowd finished cheering and chanting, Chávez directed his attention to Solano. "This is an extraordinary moment in my life," she said, as she began conversing with Chávez. "How's Petro Bronx going?" Chávez asked.
She answered that the organization "continues to struggle on," but that it hit a roadblock this year, when the pro-Chavez grassroots organizations in the South Bronx were defunded.
"Listen, Lucia, I tell you it makes me ashamed to hear this! I swear I didn't know about it!" Chávez replied, promising to attend to the problem.
It wasn't the only promise he made that night. "I promise you that I will live," Chávez told the crowd. "We will live and we will triumph."
Other community leaders rose to the podium after Chávez bid his farewell. The Venezuelan Ensemble "Alma Llanera" closed the event, which ended after 10pm — a full hour later than the scheduled time.
In the following pages, view images from the event at Riverside Church taken by Juan Víctor Fajardo.