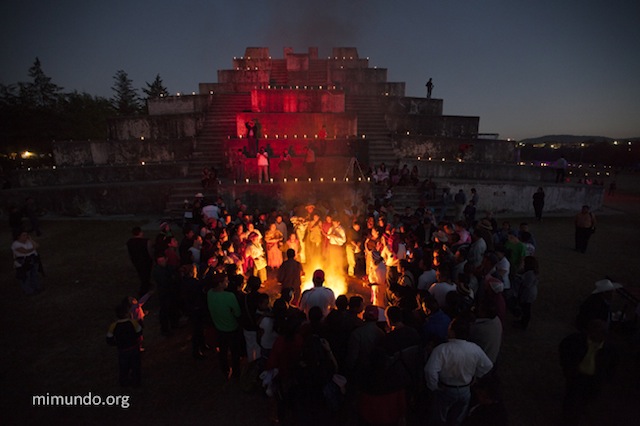 Oxlajuj Baktun: Maya Era Ends, As Longstanding Tensions Remain
HUEHUETENANGO, Guatemala — Events here during the much-awaited end of the Oxlajuj Baktun, a 5,129-year period in the long Mayan calendar, provide a clear reflection of the divisions and challenges faced by Mayan communities today.
The media exploited inaccurate apocalyptic rumors the Maya never predicted, the government and business sectors viewed it as an opportunity to gain economically through tourism, and progressive groups like the Consejo del Pueblo Maya del Occidente seized the opportunity "to strengthen ancestral wisdom and never-ending search for balance" while vindicating what seem like never-ending struggles for justice, inclusion, and self-determination.
Official government-sponsored activities began on Dec. 20th in Huehuetenango's central park. According to a United Nations Development Program report from 2011, Huehuetenango has an indigenous Mayan population of 64 percent — equivalent to about 725,000 people — of which 85 percent live in poverty.
See how the people of Huehuetenango marked the ending of Oxlajuj Baktun in the photo essay below by James Rodríguez.
To view the photo essay, click on the first image below. All images are reproduced courtesy of James Rodríguez, whose work can be viewed at MiMundo.org. 
[nggallery id=2]
James is an independent photojournalist based in Guatemala who specializes in documenting that country's post-war social movement. Raised in Mexico City, James holds a B.A. in Cultural Geography from the University of California at Los Angeles. His work has appeared in numerous publications, including the Indypendent of New York and Yes! Magazine, and can be viewed at Mi Mundo.