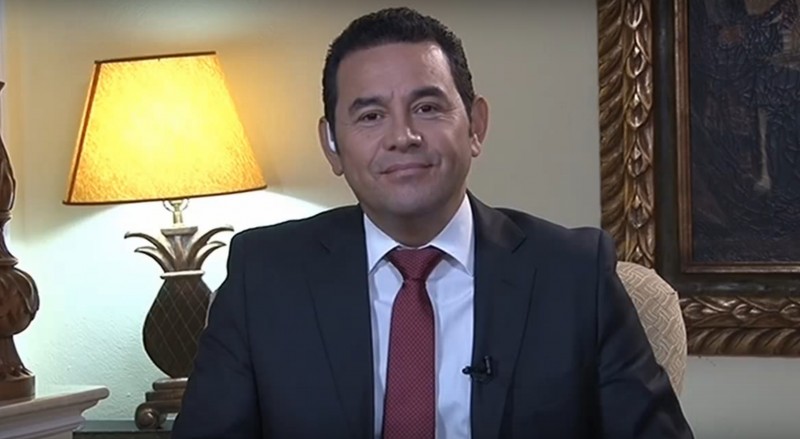 Guatemalan President Jimmy Morales. (Image:
Youtube
)
Guatemala President-Elect Doubles Down on Anti-Corruption Pledges
November 4, 2015
By Staff
Top Story — In an interview with The Associated Press on Tuesday, Guatemala's President-elect Jimmy Morales said he will work to strengthen the mandate of domestic and international anti-corruption bodies within the Guatemalan government when he takes office on January 14, after winning a landslide election amid nationwide protests over a massive graft scheme.
Morales said he has already petitioned Guatemalan prosecutors as well as the U.N.-backed International Commission Against Impunity in Guatemala (CICIG) to help vet his cabinet. He also promised to extend CICIG's mandate to 2021.
Investigations led by CICIG with the help of Guatemalan prosecutors led to the resignation and arrest of ex-President Otto Pérez Molina, a former military general, amid a wave of anti-corruption popular protests. Morales, a television comedian, rode that sentiment and claims of being a political outsider to claim 67 percent of the vote in the October 25th run-off presidential election against former first lady Sandra Torres.
Despite this overwhelming political mandate, doubts have been raised over what critics see as Morales' lack of concrete policy positions and his ability to pass legislation as the head of his party, the National Convergence Front, which holds just 11 of 158 seats in the Congress. Founded in 2004 by military officers who, similar to Pérez Molina, participated in anti-insurgency campaigns against Marxist guerrillas during the 1980's Civil War, the FCN has attempted to "restore dignity" to the military within the country and minimize the prosecution of military officials.
Morales has claimed that he will not appoint any former military commanders to his cabinet with the exception of the defense ministry. Nevertheless, after the election, one political analyst predicted Morales would be forced to strike up alliances with the same elites who supported Pérez Molina.
In a recent interview with Morales, Univisión anchor Jorge Ramos asked the president-elect to detail his personal wealth and to promise that by the end of his term he would not be further enriched.
Headlines from the Western Hemisphere
North America
Caribbean
Central America
Andes
Southern Cone